The Yamaha R6 is a cutting-edge sports bike from the engineers at Yamaha – a company that prides itself as one of the best motorcycle manufacturers on the planet.
If you are thinking of buying an R6, then you might be interested to know if the bike is durable and the right choice for you.
Is the Yamaha R6 reliable and long-lasting? This article will discuss the longevity of this model.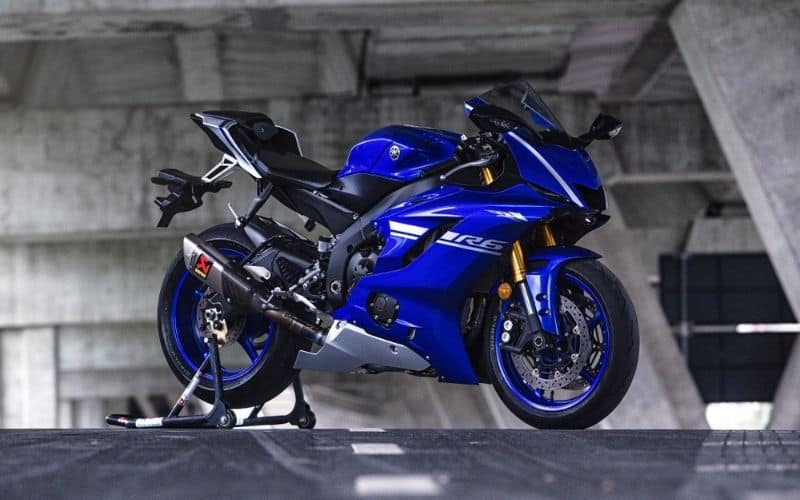 Here is the short answer to how long a Yamaha R6 will last:
The Yamaha R6 is a top-of-the-range sports bike designed to last approximately 100,000 miles under normal conditions and can last for around 10-15 years on the road before it starts to break down. However, this long-lasting relationship with your R6 is only possible with proper maintenance and regular service.
How Many Miles Can You Expect From A Yamaha R6?
Since its introduction back in 1999 as a supersport model based on the YZF-R1 superbike, the Yamaha R6 has cemented its name as a race-winning and extremely powerful vehicle.
It was the first 600 cc supersport bike that could produce over 108 hp in stock form and quickly became a hit.
This was due largely to its innovative design, and AMA Championship winning track record.
Although the Yamaha R6 is not known for its durability but more for its agility, speed, and power, the model is built to be able to endure the toughest of conditions.
Thus, it is no surprise that a Yamaha R6 with high mileage is a common sight on the roads, as most owners look after their investment.
According to the reports of several owners, a Yamaha R6 is expected to last up to 100,000 miles before it starts to show signs of significant wear or break down.
These miles are towards the higher end for a bike of its size, but such mileage is only possible through careful use, regular maintenance, and service.
If you take care of the bike, the bike will take care of you and will last much longer than you might expect.
On the other hand, if you neglect your R6, your bike may end up on its last legs within only 15,000 miles on the odometer.
Keep in mind, the Yamaha R6 is not a bike designed to travel long distances and isn't comfortable for long rides.
The riding position can leave the uninitiated sore and reluctant to climb back in the saddle.
Carving canyons at high speeds for the afternoon, or racing on your local track is what this bike was built for.
Even though the four-cylinder, liquid-cooled, sixteen valve engine of the Yamaha R6 is uncompromised and durable, its purpose is not to accommodate such high mileage.
As a competitive, high-revving bike, the purpose of the R6 is to push past limits to deliver a high speed and powerful performance.
How Soon Should You Expect Rust on A Yamaha R6?
Based on the reports of owners, you can expect rust to settle on your Yamaha R6 after about 1-2 years, however rust prevention measures can go a long way to help keep rust at bay.
Keep in mind that this is just a general prediction and that your Yamaha R6 might rust earlier or later based on several factors.
These factors include where you live, how much you drive your bike, and how often you service it.
Coastal owners are at higher risks of rusting earlier than expected because they are exposed to the salty air from the sea.
Additionally, bikes rust quicker in colder locations where road salt is used to melt the ice on the roads in the winters because the salt tends to corrode the bike's parts.
Bikes that aren't maintained and serviced at recommended intervals tend to face problems from rusting more often.
Washing your R6 meticulously and using anti-corrosion products to protect your bike's steel parts can help prevent rust from creeping in.
One of the most common complaints we received from Yamaha R6 owners had to do with rusting in the gas tank.
Another common area where rust can accumulate on your R6 is on the radiator loop.
Your Yamaha dealer or your own trusted mechanic can point this out.
Related: 11 Common Problems With the Yamaha R6 (Solution Guide)
How Long Do Yamaha R6 Last Compared to Similar Bike Models?
We know now that the Yamaha R6 engine is reliable, but how does it compare with similar models on the market?
Below, we compare the durability of a Yamaha R6 with the competition.
Yamaha R6 vs. Honda CBR600RR
For years the Yamaha R6 and Honda CBR600RR have been strong contenders for the manufacturer's titles in the World Superbike Championships with the CBR600RR getting the upper hand.
Of the two models, the Honda CBR600RR is definitely more reliable in terms of longevity.
With proper care and maintenance, you can expect your Honda CBR600RR to last for well over 100,000 miles.
One owner even reported his CBR600RR to have lasted for 175,000 miles and is still running, which is much higher than most CBRs.
This just goes to show that bikes that are regularly serviced and cared for last much longer than expected.
The Honda CBR600RR is priced at $11,799, while the Yamaha R6 is priced at $12,199 – a difference of $400 between the two.
So not only is the CBR600RR the more reliable option (at least in terms of longevity), it is more affordable as well.
Yamaha R6 vs. Suzuki GSX-R600
The Yamaha R6 and the Suzuki GSX-R600 are both acceleration monsters with state of the art braking systems, exceptional stability, and high-end suspensions, that are designed to shine on the track.
Both models will clock up to 100,000 miles on the road, which is better than most supersport bikes.
Ultimately, the R6 has better brakes and a more powerful engine, but no additional extraordinary features that the GSXR doesn't already have.
The GSXR is priced at $11,399 so if you're looking for a more affordable option, the GSXR is the way to go.
Similarly, if you are going to take your bike to the race track, then investing a little more money into an R6 would be an option worth considering.
Yamaha R6 vs. Kawasaki ZX-6R
With regular oil and filter changes, valve adjustments, and servicing every few thousand miles and heedful of riding habits, the Kawasaki ZX-6R can also last for around 100,000 miles- just like the Yamaha R6.
The Yamaha is better known for its stability and handling while the Kawasaki has a reputation for its speed.
The Kawasaki is priced at $11,399 – $800 cheaper than the R6.
So we'd suggest that if you're on a tight budget and don't care much for stability or the design of the bike, then purchase the Kawasaki.
Yamaha R6 vs. Triumph Daytona 675
While the R6 can last up to 100,000 miles, the Daytona 675 hangs around 70,000-80,000 mile mark.
However, with proper care and servicing, the Daytona 675 can last as long as the Yamaha R6.
Do you see a common theme? Take care of your bike!
In terms of reliability, the Yamaha R6 holds a better record and also has more reasonable annual maintenance costs.
This is partly because the Daytona 675 is less popular than the R6, so parts are hard to find sometimes.
The Best and Worst Years for Yamaha R6
The best model years for the Yamaha R6 are the 2017 and the 2008-09 models.
Although all Yamaha R6 models are exceptional in terms of speed and engine power, these models received minimal complaints and proved to be the most reliable bikes.
The 2008-09 model came with a variable-length intake system and had top engine power.
The 2017 Yamaha R6 had better traction control, which made it more durable. According to the reports of R6 owners, the worst years for the bike are the 2006 models or before.
Updates were made to the models following the 2006 model, with better suspension and slipper clutch.
In fact, Yamaha even announced that it would buy back the 2006 model from owners due to an error in the tachometer.
Related: Yamaha R6: 16 Most Common Questions
What About Recalls for These Models?
Here are all the recalls for the Yamaha R6 models:
1999: 1 recall
2000: 1 recall
2005: 2 recalls
2006: 2 recalls
2008: 1 recall
2009: 1 recall
2010: 1 recall
2011: 2 recalls
2012: 2 recalls
2013: 2 recalls
2014: 1 recall
2015: 1 recall
Yamaha R6 Model Year List
Below are listed all the model years of the Yamaha R6 since 1998:
1998
1999
2000
2001
2002
2003
2004
2005
2006
2007
2008
2009
2010
2011
2012
2013
2014
2015
2016
2017
2018
2019
2020
Related: How Long Do Kawasaki Ninja 650 Last?
Is Yamaha R6 expensive to maintain?
Based on a number of estimates, we would say that yes a Yamaha R6 is an expensive bike to maintain.
If you are looking to buy a Yamaha R6, make sure to save at least $1000 – $2,000 annually for service and repairs.
How Long Do the Brakes Last?
The brakes of a Yamaha R6 have an average life between 25,000 to 65,000 miles.
How Long Do The Tires Last?
The tires of a Yamaha R6 don't last very long and need replacing around every 5,000-8,000 miles.
How Long Do the Transmissions Last?
The life expectancy of the transmission on a Yamaha R6 is around 100,000 – 120,000 miles.
How Long Do the Spark Plugs Last?
The Yamaha R6 owner's manual states that its spark plug should be changed every 8,000 miles.
What About Insurance Costs?
The insurance rates for a Yamaha R6 depend upon a number of factors such as the insurance coverage, the state where you live, and your age. But an estimated cost of insuring a Yamaha R6 would be within the range of $20 – $200 / month which works out at $240 – $2400 / year.
Tips To Prolong the Life of Your Yamaha R6
Here are a few tips to prolong the longevity of your Yamaha R6:
Replace your engine oil regularly (around every 4000 miles);
Clean or replace the air filter regularly; 
Avoid sudden and hard accelerations and braking. 
Related: Are Yamaha Motorcycles Any Good?
Resources
https://www.yamahamotorsports.com/supersport/models/yzf-r6