Launched in 2015, the Yamaha R3 is a beginner's sportbike dream.
It looks, sounds, and handles similar to its championship-winning older sibling the R1, but its engine is smaller and tuned to be comfortable for entry-level riders.
If you're considering buying an R3, you might be wondering about its reliability.
We'll cover that in this article, read on to find out…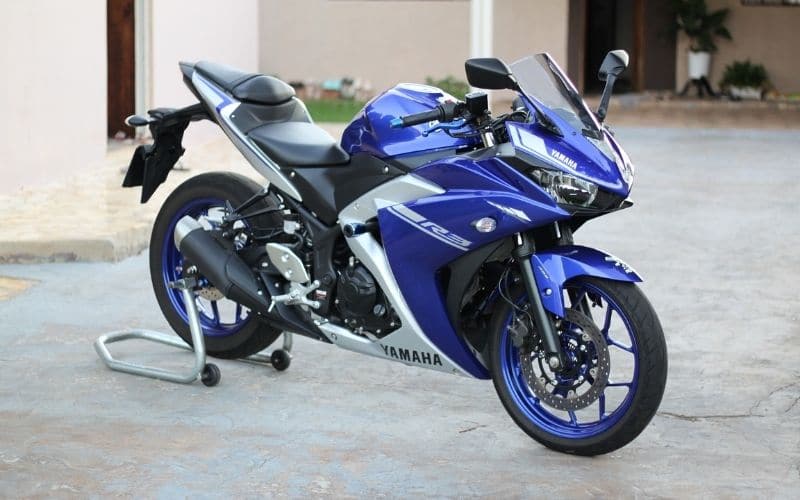 Here is the short answer to whether Yamaha R3s are reliable:
The Yamaha R3 is highly reliable and most owners will experience very few problems. Yamaha is well known for producing high-quality, dependable bikes and the R3 is no different. However, the reliability of the R3 is dependent on proper storage, routine maintenance and conservative riding habits.
How Reliable Are Yamaha R3s?
If you speak to Yamaha R3 owners they'll all usually say the same thing – these bikes are well built, high-quality and very reliable.
This should come as no huge surprise keeping in mind the moto brand behind the R3; Japanese automakers Yamaha have consistently ranked as one of the most reliable motorcycle brands on the planet.
A consumer report study that surveyed 11,000 owners of motorcycles of the top 10 selling brands in the world found Yamaha to have the lowest amount of failures of any brand in the world.
No motorcycle has a perfect record though, including the R3 – however, Yamaha has a strong history of proactively addressing issues via recall with minimum responsibility left to the owner.
Reliability is generally the first topic that motorcycle window shoppers consider, especially new riders on a learning curve.
The R3 comes stocked with a robust 332 cc twin motor that sits on a 6-speed transmission with accessible torque up the gears.
The R3 is intended for beginners, so its engine isn't a high revving race machine like its big brothers and like most other sportbikes.
A low revving motor means less wear and tear on the moving engine components, as they run at moderate RPMs. This translates to consistent, reliable performance with fewer break-downs.
Reliability considers how often the bike fails, not to be confused with how long a motorcycle lasts, which we will cover in the next section.
As is the case with most bikes, R3's have increased in reliability with time as Yamaha have fine-tuned their product.
This means as a general rule, older models will tend to be slightly more problematic than the more recent ones and have more recalls.
Yamaha introduced the R3 in 2015, so it's a young machine.
A few kinks in the early days needed to be worked out, making the pre-2019 models slightly less reliable than the modern, post- 2019 concept available today.
For example, a recall in 2016 affected 11,280 R3 units.
It essentially involved the clutch pressure plate that was susceptible to breaking due to a low load rating – this caused the clutch not to disengage and prevented the transmission from shifting properly.
If the clutch cannot be disengaged, the rider may not be easily able to stop the motorcycle, increasing the risk of a crash.
Yamaha notified owners and rectified this fix free of charge.
It's noteworthy enough to mention that a percentage of first-year production models are almost always recalled.
Problems happen.
It's how a brand deals with it that's important as far as we're concerned.
In the case of the R3 recall mentioned above, Yamaha Motorcycles got the faulty clutch plates swapped out and upgraded and got the bikes back on the road asap.
Safety recalls aside, there are few mechanical problems reported and its engine is considered rock solid by bike enthusiasts.
In 2019, Yamaha upgraded the whole R3 concept, making the modern versions some of the most reliable beginner rippers on the market.
And to be clear, the older models are still reliable, providing they have been taken in for recalls, stored and ridden responsibly, and serviced in the intervals outlined by Yamaha.
In summary, the Yamaha R3 is reliable and a top choice for an entry-level sportbike.
How Many Miles Can a Yamaha R3 Last?
A Yamaha R3 can last over 60,000 miles if it's well-kept per the service schedule, appropriately stored, ridden responsibly, and broken in per Yamahas instructions. There are multiple real-life examples of R3's on the road with 60,000+ miles that have never had a major issue.
We did a bit of digging on r3-forum.com to try and find some real-world examples.
We came across a few riders who had upwards of 60K miles and some with up to 80K who had experienced no major issues.
One owner posted:
"I'm at a solid 50k and hoping for 100k out of the R3 (…MILES, and not kilometers, as, of course, 100k km is only about 60k miles). To be honest, if you can make it 100,000 miles without ever wadding up a street bike, you're doing quite well! Still, I like to think I can avoid physically destroying the R3 and myself before something lets go in the powertrain."
The longevity of this bike becomes more evident when looking on used bike sites, such as cycletrader.com where models are listed with well over 40,000 miles.
Keep in mind though, how long your R3 lasts will be largely dependent on how you treat your bike – an aggressive riding style will lead to faster deterioration of major components.
And while its robust engine design may last for years without a problem, there is special maintenance required to make sure your rugged little ripper lives up to its potential lifespan, this is outlined in the owner's manual (we've attached a copy in the resources section below).
Related: 7 Most Common Yamaha R3 Problems (Explained)
What is Considered High Mileage for a Yamaha R3?
Although a Yamaha R3 can last for well past 60,000 miles under responsible ownership, on the used market an R3 with over 25,000 miles on the clock is generally considered high mileage.
It is often assumed that newbies ride their R3's hard and fast and that they are poorly maintained, this means the bikes are considered high mileage even when they may still have plenty of life left.
If you're considering buying a used R3, don't place too much emphasis on the odometer reading alone, it's important to assess the bike as a whole.
High numbers on the odometer can result from responsible riding and regular maintenance, while a low mile R3 could've sat unused in a damp shed.
A well-kept 30,000-mile R3 is more desirable than a 5,000 mile YZF-R3 with damaged bar ends, levers, and footpegs.
Important Points to Consider when Buying a Used R3:
Run the VIN: Yamaha sportbikes are light and easy to steal. Therefore, they tend to have a higher theft rate than other bikes. If you want to make sure you're not looking over a stolen bike – you'll need to physically check the numbers and make sure they haven't been re-stamped.
Consider the Bike's Overall Condition: If you can see signs of neglect or repairs that have been left for a long time, it can give you an idea of the type of owner you're dealing with. At the same time, if the owner has all related receipts and you can detect attention to detail with the more minor points on the bike, such as waxed paint, and properly paired tires, you can assume the motorcycle was appreciated and adequately cared for.
Ask for Service Records: Some owners are more thorough than others. Ask if they kept receipts and a documented history of their R3 ownership. If they have, this is good evidence that they valued their bike.
Test Ride the R3: A test ride can bring attention to any significant issues with the superbike. It helps to bring a friend who knows about sportbikes and let them take it for a test ride too. Leaving someone behind with the owner will put them at ease while you're off on their bike.
Bring a checklist: Familiarize yourself with the R3 ahead of time, and write yourself a checklist before you get there. Don't give in to the pressure of rushing through the process, and don't hesitate to walk away from the sale if the bike doesn't meet your expectations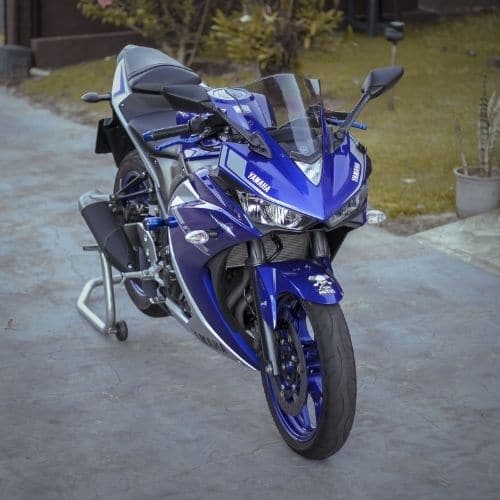 You may also be interested in our article: Are Yamaha Motorcycles Any Good?
What Are the Best Model Years to Buy and Avoid?
Best Year:2022
The best year Yamaha R3 to date is the brand-spanking-new 2022 YZF-R3.
Signature R-Series Style
The 2022 R3 features an aggressive bodywork design. 2022 also brought about some new vibes as far as colors and graphics are concerned, making it the sleekest, most refined, and aerodynamic year model to date.
Powerful and Reliable Engine
Yamaha's industry-respected and championship-winning engineering team gave the 2022 YZF-R3 a broad power spectrum and high-rpm performance.
Upgraded Suspension
The 2022 R3's come stock with inverted forks up front, of which we're big fans. That said, I'm always more interested in the rear package, to be honest, and the inverted front forks couples with an impressive Monocross rear shock to provide this beginner ripper with world-class handling. With a balanced chassis rigidity, a near 50/50 weight balance, and damping and spring settings designed for a wide range of road conditions, this entry-level bike sets high standards.
Speaking of the Chassis…
The 2022 R3 sits at 375 pounds, fully fueled. With a seat height of only 30.7 inches, the YZF-R3 is slick and nimble in every situation, from crowded city streets to private racetracks.
Practical Performance
The YZF-R3 fuses Yamaha's recognized refinement and reliability with exhilarating performance, thanks to a performance-packed 382cc powerhouse. Speaking of refined, the 2022 year model gently nips at its fuel with high efficiency of 56 mpg.
Worst Year: 2015
2015 introduced the world to the first-year model R3, it's considered the 'worst' year simply because its faced more significant recalls than other model years.
While a good-condition 2015 R3 is by no means a bad choice for an entry-level sportbike, Yamaha works around the clock to develop and refine their technology, meaning the bikes only get better as the years pass.
The first-year R3 suffered a few recalls, four to be exact. Here's a quick summary of each:
October 5, 2020, NHTSA CAMPAIGN NUMBER: 20V611000. Reason: Decreased Reflectiveness of Rear Reflector Lens. Risk: A less reflective rear reflector increases the risk of a crash.
February 21, 2017, NHTSA CAMPAIGN NUMBER: 17V111000. Reason: Fuel Leak due to Fuel Tank Abrasion. Risk: A fuel leak in the presence of an ignition source can increase the risk of a fire.
February 21, 2017, NHTSA CAMPAIGN NUMBER: 17V112000. Reason: Water may Enter the Ignition Switch and cause a Stall. Risk: An engine stall increases the risk of a crash.
September 23, 2015 NHTSA CAMPAIGN NUMBER: 15V593000. Reason: Upper Triple Clamp may Fracture. Risk: If the upper triple clamp fractures, a loss of steering control may result, increasing the risk of a crash.
Recalls aren't the end of the world though, despite the common misunderstanding of the internet forums.
Not only do they improve the reliability and performance of the affected year model, but recalls also help to refine the brand's technology in the long run.
What Usually Breaks First on a Yamaha R3?
The first thing to wear out on a Yamaha YZF-R3 is the Valves.
The R3 motor is a powerhouse of reliability, providing the valves are inspected and adjusted per the spec-intervals in the owner's manual.
Many riders neglect this inspection, making the valves the first thing on their R3 to break.
A valve inspection and adjustment is something any capable Yamaha-literate mechanic can do.
That said, should the examination determine that the valves are off or near the end of their life, both adjusting and replacing the valves require the whole motor's removal.
Unless you're a fully equipped home mechanic, this can be an intense job best left to the professional mechanics at Yamaha.
If you do the inspection yourself to determine whether an adjustment is required, consult your service manual before you get started and view Yamaha's spec instructions.
Yamaha R3 Maintenance Costs
New tires every 15,000 miles, or every five years, regardless of how much tread is left: $450.
Oil changes every 5,000kms/3,000 miles: $200 at the dealership, or you can get a YamaLube oil change kit online and do it yourself for $45.
Fuel: $10 to fill up with premium every 260kms/160 miles
Quarterly dealership inspection (not including fluid changes or labor), $100
Protective riding Jacket: $150-$800
Helmet: $80-$400
Motorcycle Insurance: $500-$1000 a year.
Winter Storage: $75-$600
Related: Is a Yamaha R3 a Good Beginner Bike? (11 Important Facts)
5 Tips to Make Sure Your Yamaha R3 Is Reliable
Break your R3 in per Yamaha's spec.
Adjust, and replace your R3's Valves as needed, inspecting every 24,000 miles or so.
Change your R3's Oil. To keep your 382cc motor running reliably, you'll need to change the oil every 5,000 miles or more often when riding in dusty conditions.
Clean or replace your R3's Air Filter per Yamaha's Spec Intervals.
Maintain your R3's Tire Pressure And Tread.
Change your R3's liquid coolant per the service schedule.
Keep your R3's chain-drive clean, lubed, and tightened to spec.
Store your R3 out of the elements and away from corrosive chemicals.
Ride your R3 regularly, prepping it for storage before long stints without use.
Resources:
https://www.yamahamotorsports.com/supersport/models/yzf-r3
https://www.consumerreports.org/cro/news/2015/04/who-makes-the-most-reliable-motorcycle/index.htm
https://www.nhtsa.gov/vehicle/2015/YAMAHA/YZF-R3#recalls
https://www.nhtsa.gov/vehicle/2016/YAMAHA/YZF-R3#recalls
https://www.yamaha-motor.co.th/docs/owner-manual/commuter/en/r3-en.pdf?Status=Master&sfvrsn=76dfe7c6_4