The Indian Scout is a century-old American legend.
In 2014, a year after acquiring the iconic brand, Polaris resurrected the Indian Scout.
Nowadays it features a liquid-cooled V-Twin, 6-speed transmission, and 100 horsepower; the modern classic cruiser is more fun to ride than ever.
And that's not to mention how easy this stylish little ripper is on the eyes, but what are some of the common problems with the Indian Scout?
Scroll down to scout out the most common issues riders have had with the entry-level Polaris Indian!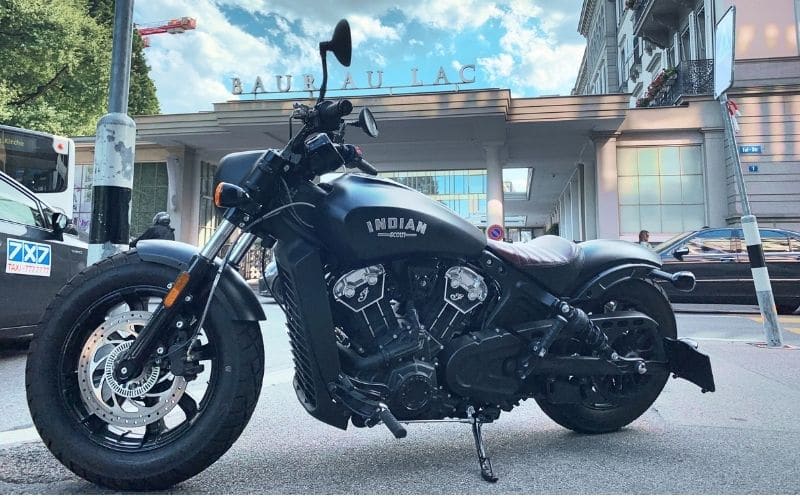 1. Indian Scout Has Trouble Starting
One of the most infamous problems with the 2014-2017 model Indian Scout is that the bike coughs and then dies at a start-up.
Here's how one Scout owner describes the symptoms:
"My 17′ scout has had a terrible time starting. Especially when it's cold, it usually turns over 4-5 times when the engine is cold before it cranks. Last night it was 45 degrees out when I got off work, and it turned over about 14-18 times before it started. I was starting to worry that my battery was bad after only a year old. But then I thought it'd be bad if it wouldn't have turned over so many times and still cranked. "
The common starting problem on the early Polaris Indian Scouts was a bad batch of starters. In some cases, techs told riders that the problem was due to oil leaking into the starter motor. The word on the street was that the starters came defected from the factory.
Here's one of many real-life examples showcasing how frustrating this problem can be:
"I just got the starter bug; 1st had issues about a month ago. It cranks longer than normal to start now. It takes about three or so times to push the start button for the bike to kick over. Went on a ride with it to the dealer 120 miles away from where I live to get some goodies and to have them take a look, and without hesitation, they said it's the Starter and will order one for me when they get it in they'll call me to set-up a time to bring it down for repair under warranty. This frustrates me because of how far I have to go and how much it costs me in gas to trailer it down there in my truck."
The mixed answers and lack of official recall had riders flustered for a few years.
The problem started surfacing as early as 2015, and owners were frustrated to hear the news from dealership employees unofficially, on a need-to-know basis.
Then, in 2017, the Indian Motorcycle higher-ups issued an official service bulletin explaining the situation and extending the warranty on all starters for five years.
The notice claimed the issue was a bad batch of starters that were defected during the manufacturing process.
These starters were distributed across all 2015-2017 year model Scouts.
The official Indian service notice encouraged dealerships to replace all starters on qualified Indian Scouts without requiring corporate pre-authorization.
The program also covers the cost of parts and labor of relevant starter repairs on affected models for up to five years.
As far as we're concerned, it's a noble effort to rectify an unfortunate situation, but riders still having problems might disagree:
"I called the dealer a week later since I did not hear from them, and they explained the Scout has a design issue with the starter. The starter is undergoing a redesign, and this is a systemic problem. Although they disassembled mine, cleaned it, and applied new grease to the brushes, the commutator was fine. It still has the issue. They said they will issue a recall when Indian gets the new design."
Related: Indian Motorcycle Won't Start? (Solved & Explained)
2. Indian Scout Clutch Cable Breaks Easily
Indian came under fire due to complaints about clutch cables breaking due to defects. When they finally issued a recall, Scout owners were frustrated to find that it only covered the Thunder Stroke models.
To be fair, it was much more common on the big twin models, and the clutch cables might not even be the same.
One mechanically inclined Indian owner had this to say regarding a possible connection:
"There are two main reasons for the clutch cable breaking. I imagine the recent lever recall was for reason 1.
Reason 1. The cable strands fray against either top or bottom of the slot that it exits through from the lever. Having a rounded edge on the lever gap is a precaution.
Reason 2. The nipple at the end of the cable does not rotate in the lever when you pull in the clutch. This means the slight change in direction has to be taken up by the cable. However, the cable is soldered into the nipple, and some solder travels along the strands for a small distance. When the cable tries to take up the change of direction, this stiffer part of the cable gets stressed, and the strands start to break, typically where they exit the nipple."
3. Indian Scout Brakes Unintentionally
In 2019, Polaris's Indian Motorcycle division issued a recall regarding the front brake lever of the 2019 year model Scouts.
According to the official notice from Indian, the factory may not have installed the free-play adjustment screw correctly on all Scout models.
The consequences of brake failure can range from annoying to potentially fatal, typical symptoms include:
Front Brake Drag and Resistance
Unintentional front brake application.
Front Wheel Lock Up
As you can see, these are quite serious.
If you're the owner of a 2019 Indian Scout, you might want to stop by the dealership and ensure your front brake lever is up to snuff; they'll replace incorrectly assembled levers at no cost.
4. Indian Scout Handlebar Grip Comes Off While Riding
Here's an issue I know for sure is common because it happened on my '16 Indian Scout a few years ago; due to inadequate glue sealing, the handgrip can slide off while you're riding.
I'll tell you how I solved the problem, but first, don't take my word for it – check out this owners account:
"Once I began accelerating again, I noticed the left handgrip had broken loose, slid toward the end of the handlebar, and was only holding on by a couple of inches.
It could've gotten ugly trying to accelerate with a loss of equalizing hand pressure on the left side of the bar.
On the rest of the ride home, it turned very freely.
It was very loose, taking almost no force to remove/replace it.
Had I let go of the left grip for more than a few seconds, the wind and vibration would've slid it completely off.
It is not a stretch-fit handgrip like I am accustomed to seeing.
Upon inspection, there was only about a 2″ to 3″ inch squiggle of adhesive residue only on the upper part of the bar."
Sounds a lot like my situation.
So what did I do?
I took it to the dealership and showed them the lazy glue application that appeared to be the culprit, and they were gracious enough to replace the whole grip on the house!
5. Indian Scout Brake Rough Suspension
This section is more about a common complaint than a frequent failure; it's common enough to be worth mentioning.
The suspension on the Indian Scout isn't as smooth and forgiving as a bike this ripping should have, especially considering how low to the ground the bike is.
Although the Scout's stock suspension is adjustable to a certain extent, many owners still opt out in favor of Fox Racing's aftermarket Scout suspension package.
6. Indian Scout Leaking Engine Gaskets
Another common Indian Scout issue that pops up in online consumer reports is that the engine gaskets develop oil leaks due to loosening bolts.
Here's an excerpt from one such claim:
"Oil started to leak out of the top of the rear cylinder area near the cams. The gasket had just gotten old. I took that part of the engine apart and found bolts that had loosened over time/vibration, so I tightened them to spec during gasket replacement."
Inspecting and tightening these bolts to spec is part of routine maintenance, as bolts will loosen due to engine rattle on any motorcycle, especially one that revs as high as the Scout.
Related: Are Indian Scouts Reliable? (9 Important Facts)
7. Indian Scout Air in the Brake Circuit
This unfortunate problem affected enough 2017-2019 year model Indian Scouts to result in two different recalls.
In 2019, Indian Motorcycle issued an official recall to rectify an issue with the Scout and Scout Bobbers equipped with Antilock Braking Systems. A follow-up recall was issued the following year.
The recall was due to the presence of air in the brake circuit, resulting in a soft brake lever and pedal feel and a resulting dip in braking performance.
The presence of air in the brake system and the resulting dip in brake performance add dangerous variables to the rider's safety.
We suggest having a technician look at your Scout's brake circuit if you're on a year model 2017-2019 Scout and you've noticed a decrease in your brake performance.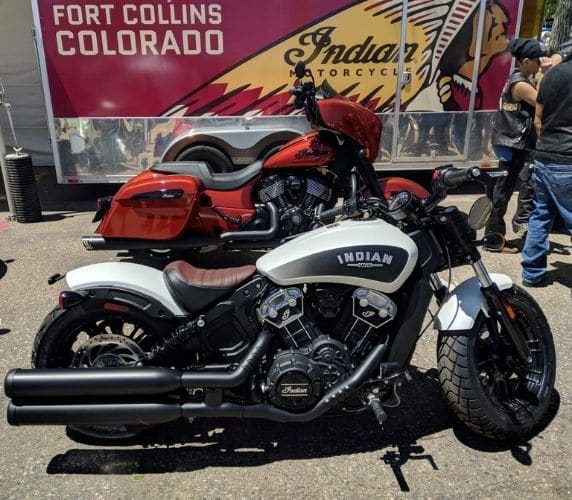 Pros and Cons
Pros
Lightweight and Nimble
Reliable, High-powered/High-performance engine.
Six-Speed Transmission
100+ Horsepower
Stable highway handling
Handles aggressive technical riding with ease
Fun to Ride
Cons
Radiator Fan gets Noisy
The seat gets uncomfortable after long rides
Fuel Tanks Too Small
Starters die early (on 2014-2016 models)
Suspension is soft/ needs upgrading.
Related: 7 Most Common Indian Chieftain Problems (Explained)
What Do the Reviews Say?
"Great bike with a superb engine. Seat comfort is not great. Fuel range limiting. Not for the shy as everywhere, I go, it draws people with positive comments. I'd love a fiver for every comment I've had saying, "It's nicer than a Harley!". I'd be pocketing a lot! Having ridden the Harley Sportster, there is no comparison. It's far better!"
"Suspension travel limited, front brake average with an annoying groan. Handling is surprisingly good for a cruiser with better ground clearance than expected. The seat was re-foamed for comfort. An hour and a half at a time are enough before aches start spoiling the fun. One of the very best engines I've ever ridden with. Amazing torque, silky-smooth, sounds fantastic and surprisingly revvy."
"Great bike. I have covered 5000 miles on my Scout. Apart from the handlebar grip coming away from the handlebar mid-corner (Warning to all Scout Riders, please check your left grip, I have raised my concerns with Indian regarding What I consider a safety issue but have had no response). A faulty brake master cylinder that took a year to sort out, I have had nothing but hours of joy riding my Indian. It would have 5 out of 5 if communication with the manufacturer was possible! (it needs to be a two-way thing). "
"Pillion position not the best. I find no issue riding as far as the tank will allow (about 120 miles). The performance is stunning. I love this engine. It pulls like a train and Revs like a jet. It feels alive."
Fabulous – Smooth, sounds nice even with the standard pipes, has a good rev range to hold a gear for overtakes, and feels modern and well developed. It's everything a Harley-Davidson engine should be. The bike's only real drawback is that, similar to most cruisers. The suspension isn't up to enthusiastic riding. If you enjoy yourself, the front end bottoms out fairly quickly, and the rear isn't much better. The seat and ergonomics are good, though (I'm 6'00").
Source: https://www.motorcyclenews.com/bike-reviews/indian/scout/2014/
What's the Resale Value of an Indian Scout?
| | | |
| --- | --- | --- |
| Year | Mileage | Price |
| 2018 | 3,290 | $10,700 |
| 2017 | 3,573 | $8,900 |
| 2022 | 5 | $13,399 |
| 2019 | 1,178 | $9,999 |
| 2016 | 10,423 | $11,599 |
What are Some Alternatives to the Indian Scout?
| | |
| --- | --- |
| Make/Model | MSRP |
| Indian Scout | $11,499 |
| Harley-Davidson Sportster | $14,999 |
| Triumph Bonneville | $10,700 |
| Yamaha Bolt | $8,499 |
| Kawasaki Vulcan | $7,199 |
Related: 7 Most Common Harley Davidson Iron 883 Problems (Explained)
Sources:
https://www.motorcyclenews.com/bike-reviews/indian/scout/2014/
https://www.polaris.com/en-us/recalls/on-road/indian-motorcycle-issues-recall-on-2017-2019-indian-scout-scout-sixty-scout-bobber-motorcycles/
https://motorcycles.news/en/recall-more-indian-scout-and-scout-bobber-with-brake-problems/