The Chieftain is the top-shelf cruiser from the new-and-improved Polaris Indian line.
It's stacked with industry-leading accessories like a remote-locking hard bag, electronically adjustable windshield, and a stylish fairing stocked with the GPS-equipped, Bluetooth-integrating Ride Command Infotainment system.
The Chieftain's powerhouse of a motor, the Thunderstroke, is now available in 111 and 114 ci capacity, but what problems are common to the Indian Chieftain?
All bikes develop issues over time–let's dive into the most common issues with the Indian Chieftain!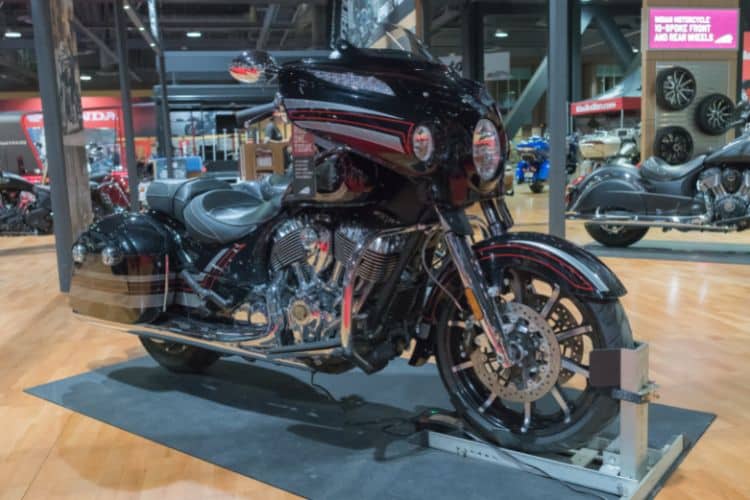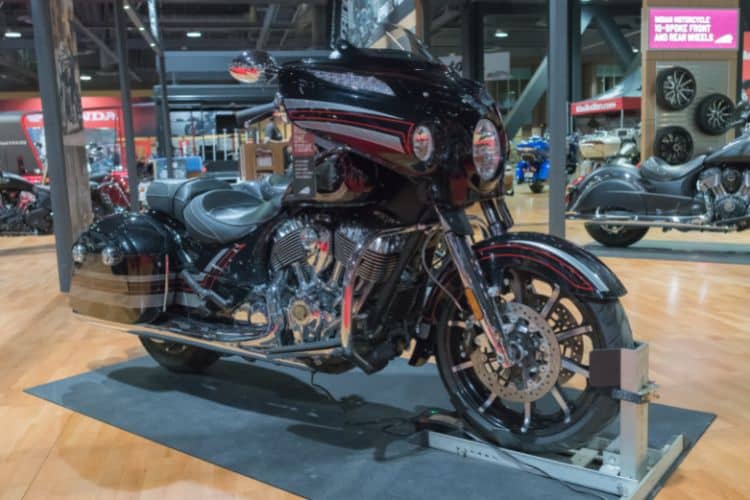 1. Stalling Problems
In 2019, the Indian Motorcycle branch of Polaris issued a recall on multiple models, including the Chieftain line, due to what was categorized as an electrical system failure, specifically it faulty circuit breakers.
A huge batch of the 10A circuit breakers installed in the factory was found to be defective in multiple Chieftains, which could cause a sudden loss of power, resulting in unexpected engine stall outs.
The December 2019 recall affected 5,474 bikes, only some of which were Chieftains.
Other models include the Vintage, the Roadmaster, the Dark Horse, and the Springfield, all of which share the Chieftains Thunderstroke engine.
The occasional stalls caused by a defective circuit breaker are indeed the most obvious, frequent, and frustrating of the symptoms, but by no means the worst-case scenario.
An unexpected stall out at highway speeds can be a serious situation.
Simply put, the core function of a circuit breaker is to protect the bike in the case of electrical surges and failures within its wiring harness.
A faulty circuit breaker can fail in scenarios where it's needed to prevent damage, meaning a Chieftain with a shoddy circuit breaker is at risk of electrical problems that a healthy Chieftain isn't.
Indian was proactive in issuing a notice to owners whose bikes might have stocked the faulty 10A breakers, providing the option of a free circuit breaker upgrade at a dealership.
If you're the owner of a 2019 Chieftain and have been experiencing engine stalling, we suggest stopping by the dealership with your bike and asking the service department about Recall 1-19-05.
2. Clutch Cable Snaps
One of the most common reasons Chieftain owners get stranded is due to a clutch cable that snaps early, sometimes within the first 12,000 miles.
Some riders chalk this up to poor-quality cables, poor lubrication, or inadequate installation.
That said, more than a few bike mechanics have blamed the design of the clutch actuator.
One rider had this to say:
"A small rubber boot covers the cable, so it is less exposed to the elements. It is a good idea to check your clutch cable by rolling back the rubber boot, especially around the anchor points at both ends of the clutch cable. The anchor point at the actuator end is hard to inspect compared with the clutch lever end. If you see a single strand of frayed wire, your cable has started to show wear, and it is weakening. According to the mechanic I spoke to, how quickly your clutch cable snaps depends on how well your cable has been cleaned and lubed at every service (and if you regularly travel on a dusty road, additional lube in between)."
While most of the snapped Chieftain clutch cables break off in the weld that holds the cable inside the actuator, an inadequately lubricated clutch cable tends to snap anywhere close to the action points, either by the actuator or within a few millimeters of the clutch lever.
3. Gear Indicator Failure
One of the most infamous recalls in Indian's recent history affected more than 50,000 motorcycles manufactured between 2014 and 2019, many of which were Indian Chieftains.
The problem was with its gear position switch oxidizing, causing the gear position display to show the bike was in neutral when it wasn't.
Here's what Polaris had to say:
"Indian Motorcycle has determined that a defect exists with the gear position switch used on 2014-2019 Indian Motorcycles (111 c.i.). In some cases, oxidation on the contacts of the gear position switch may cause a change in resistance values resulting in a rider display indicating an incorrect gear. An incorrect indication of neutral during start-up may cause unintended movement, increasing the risk of a crash.
Consumers should contact their local Indian Motorcycle dealer and schedule an appointment to have their gear position switch cleaned and inspected, free of charge. Indian Motorcycle is currently evaluating a permanent solution for this concern, which is targeted to be available in Spring 2020. Indian Motorcycle is notifying dealers and contacting all affected, registered owners directly."
Assuming your bike is in neutral when it isn't can cause some problems, like damage, collision, and injury.
We've provided a link for running your Cheitain's VIN in the SOURCES section below–find out if your bike's been updated with the new gear switch.
Related: 5 Common Harley Street Glide Problems (Explained)
4. Exhaust Overheats
Back in 2016, some terrifyingly high exhaust temperatures resulted in a Thunder Stroke 111 recall that unfortunately included the Chieftain.
The recall affected 18,367 Thunder Stroke models in the US alone.
The fact that exhaust overheating is a significant fire hazard motivated Polaris to take this recall seriously and to be as thorough in its bike investigation as possible.
After a full examination of some of the flagged bikes, Polaris determined that excessive exhaust heat was caused by the presence of hydrocarbons entering the exhaust system due to an engine misfire.
Once present, the hydrocarbons could ignite within the catalytic converter.
In some cases, the catalytic converter could get so hot that it could burn nearby parts.
This recall affected the 2014-2016 year model Chieftains, among other Thunderstroke models, and was solved by reflashing the affected bikes' ECU with a safety update that would prevent misfires.
The update will also send the bike into a limp mode after repeated misfires, ensuring no hydrocarbons have a chance to ignite.
5. Starter Switch Corrosion; Bike Starts On Its Own
One of the most curious items on the list is also one of the rarest – Chieftains starting up on their own. That said, it freaked out at least a handful of American riders and was bizarre and off-putting enough to warrant a recall in multiple countries as Polaris launched an investigation.
Apparently, the issue was first discovered by two isolated incidents with Chieftains starting themselves as if there was a ghost in the machine.
In both cases, the key fob was within reach of the Motorcycle.
Polaris said the following in the official recall notice:
"Indian Motorcycle Company (Indian) is recalling certain 2018 Indian Chief, Chief Classic, Chief Dark Horse, Chief Vintage, Chieftain, Chieftain Classic, Chieftain Dark Horse, Chieftain Elite, Chieftain Limited, Springfield, Springfield Dark Horse, Roadmaster, Roadmaster Elite, Roadmaster Icon, and Roadmaster Classic motorcycles. Corrosion may develop within the right combination switch, potentially resulting in the motorcycle starting without the user's intent if the key fob is near the Motorcycle and the required safety interlock conditions are met. If the Motorcycle starts unintentionally and is parked in an enclosed space, exposure to carbon monoxide may increase the risk of injury."
Indian notified owners of any and every model with a control switch that could malfunction, encouraging them to visit their dealership or contact Indian Motorcycle's Customer service for further options.
The recall number is 1-18-04.
6. Tail Light Exceeds Maximum Legal Brightness
Certain 2019 year model Chieftains were recalled as the illumination of their tail lights was over the maximum lumen output allowed by the Federal Motor Vehicle Safety Standard number 108.
Failing to comply with federal vehicle guidelines does more than put riders at risk of a ticket, in this particular scenario, as an overtly bright tail light can hide the bike's brake lights, putting riders at risk of being rear-ended.
Indian Motorcycle repented by providing their dealership techs with an engine control module software program that would dim the intensity of the tail light illumination.
7. Incorrect Headlight Assembly
This somewhat unconventional factory error compelled the American brand to recall over 2,000 2017-2018 year models back in October of 2017.
Apparently, the factory fit these US-bound models with the halogen headlight set intended solely for the European-market models.
What's wrong with having the Halogen Headlight in your US Indian Chieftain?
Halogen headlamps fail to meet the federal requirements of the Motor Vehicle Safety Standard here in the states, despite the Euro-market allowing them.
A Chieftain rider in the US could receive a ticket or citation if their Chieftain equips a halogen headlight instead of the light intended for use here at home.
Pros and Cons
Pros
Field-adjustable Fox Racing mono-shock rear suspension.
Power-packed, performance-oriented engine
More torque than competitors
Distinguished and Iconic Design
A low center of gravity and short rake allows for more technical and efficient handling than other bagger-styled touring bikes.
Impressive GPS and Bluetooth functionality.
A Variety of upgrades are available, both from Indian and from most of the noteworthy aftermarket brands.
Fun to ride.
Reliable.
Lasts for a long time if well kept.
Cons
Heavy.
The Clutch cable snaps easily.
The kickstand switch is in a vulnerable location.
Accessories like heated grips should be standard at the price point.
Related: Indian Scout: 7 Most Common Problems (Explained)
What Do the Reviews Say?
"I've had my 2014 Chieftain for three years, and it is the best bike I have ever owned. In fact, I've just put a deposit down on a new Chieftain Limited as, in my opinion, there is nothing out there in the market that can top in the faired, heavyweight touring market. I would not hesitate to recommend it to a friend. I used to keep a large tourer for two up touring, a Harley Dyna for blatting about, and a winter hack, but I sold the Harley as the Indian just did everything I needed."
"Obviously, this is a heavyweight bike, but it has high-end suspension components (fox racing air shock), so it handles its bulk well, particularly with the shorter rake compared to the Chief. Genuinely good fun on an alpine pass and, with the power screen and cruise control, great at just covering the motorway miles when you need to. A standard seat is good for a factory seat, but improvement is possible. No issue riding all day, though–an ocean of torque. Shifts well enough for the type of bike. Nothing else to say here really does what a large capacity air/oil-cooled twin should."
"I've put 15k on mine over the last few years, and it's never missed a beat. I have some minor corrosion on the front mudguard (a common issue on the full fendered models), one spot of wrinkle black has lifted on the rear cylinder that I had to touch up. I've just taken off and repainted the reg/reg which was looking tatty, but like many cruisers, it's in an exposed position. I'm a former tech, so I've self-serviced mine as it was almost out of warranty when I bought it. Simple to do if you are a half decent home mechanic."
"Classic vintage Indian. Either you like the looks, or you don't, but from some angles, I fall in love with the beast over and over again. It's simply beautiful to behold. This is by far the most comfortable bike I have ever ridden, partly assisted by the not inconsiderable weight, of course. Looking at this bike, I often wonder where all the money went. It's certainly not immediately obvious–until you get on and ride it, then you discover it's truly a class act. But you don't get much in the way of goodies to justify the high price."
Source: https://www.motorcyclenews.com/bike-reviews/indian/chieftain/2014/#ownersReviews
What's the Resale Value of an Indian Chieftain?
| | | |
| --- | --- | --- |
| Year | Mileage | Price |
| 2014 | 37,408 | $14,999 |
| 2020 | 6,355 | $23,400 |
| 2019 | 5,670 | $24,500 |
| 2018 | 23,926 | $17,990 |
| 2017 | 10,986 | $18,560 |
What are Some Alternatives to the Indian Chieftain?
| | |
| --- | --- |
| Make/Model | MSRP |
| Indian Chieftain | $21,999 |
| Harley-Davidson Sport Glide | $18,599 |
| Harley-Davidson Road Glide | $21,699 |
| Yamaha V-Star Tourer | $13,499 |
| Kawasaki Vulcan 1700 | $16,999 |
Related: Are Indian Motorcycles Worth the Money? (Reviewed)
Sources:
Indian Chieftain (2014-on) Review | Speed, Specs & Prices | MCN
Check You Chieftain's VIN HERE
https://www.polaris.com/en-us/recalls/on-road/indian-motorcycle-issues-stop-sale-on-2014-2019-heavyweight-indian-motorcycle-models/
You may also be interested in our articles: