The contemporary Polaris Indian Scout is powered by a liquid-cooled 1133 cc V-Twin that pays homage to the American classic.
Not only has it been recognized as the cruiser of the year by multiple organizations, but an American military issue iteration of the Scout also served alongside our boot boys in World War II.
If you're looking to buy one you might be keen to know just how reliable they are.
We'll cover that in this article…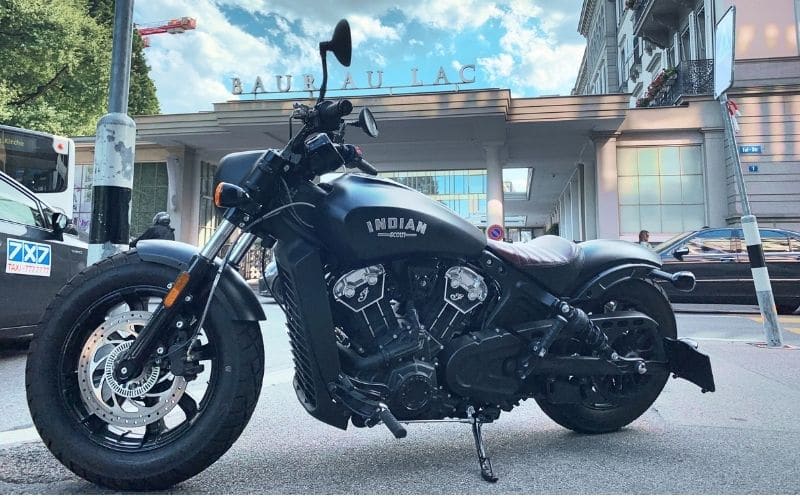 Here is the short answer to whether Indian Scouts are reliable:
The Indian Scout is one of the most reliable American cruisers on the motorcycle market. These bikes are well-built, high-quality machines and owners typically experience few problems providing they don't ride too aggressively and stay on top of maintenance and routine oil changes.
How Reliable Are Indian Scouts?
Polaris acquired the Indian Motorcycle brand in 2014 and their research, design, and engineering department are world-class.
Thus, it should come as no great surprise that the Scout is one of the most reliable modern choices for a medium cruiser.
This is dependent on the bike being cared for as per the owner's manual.
While its design and aesthetic would look at home in the 1940s, the modern Scout equips industry-leading technology and high-quality parts.
Its rare to find oil seeping from the heads of the motor
The belt holds tightness well
The shocks are hard-wearing and its unusual for them to blow out
Suspension holds up well and oil seeping isn't an issue
You'll rarely need to adjust the clutch cable
Even after a long winter of not running, they usually start right up
I myself have owned a Scout and the only issue I ever had to report was a faulty starter, which Indian replaced on the house – which is one of the big advantages of having a bike under warranty.
I never had a single problem with the engine or transmission, and let me tell you, at that point in my life, I road that little ripper more complex than anyone needs to.
Indian uses an integrated gear-drive transmission in all their bikes, including the Scout. Not only does a gear-driven transmission perform more reliably with tighter response than the chain-driven competition, but the Scout's packs a 6-speed transmission vs the four or five-speed used in most mid-sized cruisers.
The problem with a 5-speed on a medium cruiser is that it puts the engine in peak RPMs at highway speeds, pushing the engine to the limit, causing major components within the engine to wear out much faster.
The Scout's extra gear means the motor isn't working as hard on the highway.
Couple that with the fact that it's liquid-cooled, and you have one of the most dependable medium v-twins in the game.
Of course, it's reliable, assuming your topping that coolant up and keeping it fresh, along with your oil and filter.
Ownership habits are essential to the reliability of the Scout, such as:
How rough the previous owner rode the bike
How the Scout was stored
How often does the owner ride or at least run the Scout
How regularly the bike is serviced
What Are Some Reliability Issues?
Despite the glowing praise the Scout gets for its dependability, no machine is flawless.
Starter issues: There are the notorious starter issues I experienced on the 2015-2018 year model Scouts. A bulletin has since addressed this problem from Indian encouraging owners of Scouts with failing starters to bring them by their local dealership for a free upgrade.
Battery: There have been some reports from owners of batteries dying prematurely.
Faulty ABS: Indian Motorcycle determined that specific Scout models manufactured between 2017 and 2019 including Scout, Scout Sixty, and Scout Bobbers stocked with ABS had issues with brake reliability due to air entering the brake circuit. Again, these faulty ABS-equipped models were sought out and brought in for free repairs.
Coolant hose: Some owners have reported the coolant hose slipping off.
Brake lever recall: Indian also recalled a few Scouts for brake levers with incorrectly set adjustment screws which, in severe situations, could have caused the front brake lever to apply the brake without rider input. The Indian branch of Polaris once again caught this misjudgment before any serious claims were made, replacing and reinstalling the screw correctly at the dealership, on the house.
You may also be interested in our article: Are Indian Motorcycles Worth the Money?
How Many Miles Can an Indian Scout Last?
An Indian Scout can last well over 80,000 miles if appropriately stored, ridden, and serviced per the intervals and broken-in per the instructions Indian outlines in the owner's manual. Responsible owners have Scouts that are still on the road well past 80,000 miles.
To get the most life from your bike you'll need to adhere to the 500 miles break-in procedure outlined in the owner's manual.
Since some of the most critical engine parts are metal, they require special wear-in procedures, so they seat correctly, while others need time to mate with other components.
During this 500-mile-period-process, Indian suggests that following specific riding procedures will ensure long-term reliability, longevity, and an overall increase in engine performance.
Basically, the less aggressive you ride for the first 500 miles, the more miles you Indian Scout will last in the long run, and the more satisfied you will be with its performance down the road.
Riding in the correct gear is always vital for the longevity of the Scout, but it's never more important than it is in the first 500 miles to shift according to the appropriate RPMs.
Lugging in low gears by riding in a high gear at low RPMs or redlining a low gear at high RPMs during the break-in period is equally as likely to damage the pistons and other critical motor parts.
From Indians website:
Notice: Failure to properly follow the engine break-in procedures outlined in this manual can result in serious damage to the engine. Avoid full-throttle operation and other conditions that may place an excessive load on the engine during the break-in period."
Observe the following precautions during the break-in period:
Upon initial start-up, do not allow the engine to idle for long periods, as overheating can occur.
Avoid fast starts with wide-open throttle. Drive slowly until the engine warms up.
Avoid running the engine at extremely low RPM in higher gears (lugging the engine).
Drive within the recommended operating speeds and gears.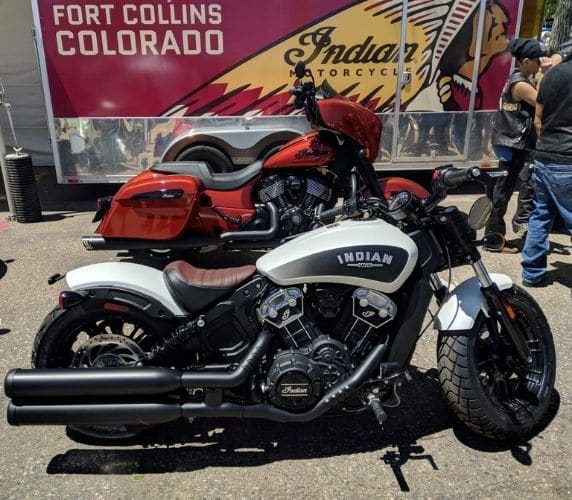 What is Considered High Mileage for an Indian Scout?
Although an Indian Scout can last for well past 60,000 miles under responsible ownership circumstances, on the used market a medium cruiser motorcycle is considered high-mileage over 40,000 miles.
The Indian Scout and its class are popular choices for moto-beginners, especially in the States.
The used market assumes that newbies treat the transmission rough and redline the engine.
There's also a general and somewhat unfair assumption that new riders don't keep up with bike maintenance.
Although a Scout might be viewed as high-mileage after 40,000 miles, that doesn't mean you shouldn't consider buying one – it's important to assess the whole bike not just the odometer.
A high odometer reading could have easily resulted from responsible riding coupled with regular dealership service.
In contrast, a low-mile Scout could've sat unused in a damp garage.
When assessing a pre-owned Scout you should consider the following:
Service records: Some owners are very meticulous and may have receipts and documented history of everything concerning their Scout and this is good evidence of a bike valued, appreciated, and cared for properly; regardless of the mileage.
Take it for a test ride: You'll likely have to leave the money for the bike with the owner and maybe your drivers license – a test ride can highlight any major issues – ask the owner to leave the bike cold for you.
Assess the bikes overall condition: If you can see signs of neglect or repairs that have been left for a long time it can give you an idea of the type of owner your dealing with. Conversely, if the owner has all related receipts and you can detect attention to detail with the smaller points on the bike such as waxed paint, matching tires etc you know you're headed in the right direction.
Related: Indian Scout: 7 Most Common Problems (Explained)
What Are the Best Model Years to Buy and Avoid?
Best Year: 2022 Scout Bobber Twenty
There have been some pretty solid renditions on the Scout since Polaris acquired the Indian brand back in 2014, but our pick for Best Year Model Scout is 2022, particularly the 2022 Scout Bobber Twenty.
The bike looks like it rolled in from American History, with its vintage bars and mirrors, chopped rear fender, and a style that could look at home between the legs of a spy smuggling documents to the French Resistance in World War II.
Not to mention the performance package—The Scout Twenty packs the full-sized 1133cc liquid-cooled v-twin as the standard Scout.
Suffice to say that the Scout Twenty rips just as hard if not harder than any other American medium cruiser – with special edition Twenty-only colors like Spirit Blue Metallic, it looks good doing it.
The 2022 Twenty has the modern design and low profile look that riders love with Scout Bobber, but its style makes it look like a custom build or a vintage restore.
2022 marked an enhancement of Scout accessories, like the Adjustable Piggyback Rear Suspension, the Analog Tachometer, the new Smoked Turn Signals.
And that's not all Indian debuted for the Scout in 2022;
The 5.75-inch Pathfinder Adaptive LED Headlight available for all Scout models delivers unmatched visibility by sensing the bike's lean angle and activating individual LED beams, just one more reason to crown the 2022 Indian Scout Twenty King of the mid-sized Indians.
Worst Years: 2002-2003
In 1998, a group of investors who formed a new company based in Gilroy, California, got their hands on the Indian Motorcycle trademark.
Before anyone knew what was happening, Gilroy Indian had put three classic Indian models back on the market— the Spirit, the Chief, and the Scout.
The Scout and the Spirit both used the same frame and S&S engine. The Scout was "sporty," while Spirit targeted light touring.
S&S makes fine motors; you see them in custom Harley rebuilds all the time.
But these 2002-2003 Gilroy Indians were plagued with reliability issues.
In September of 2003, the Gilroy, California attempt to resurrect the brand officially failed when they declared bankruptcy and ceased operations.
Related: Are Harley-Davidson Sportster Reliable?
What Usually Breaks First on an Indian Scout?
The first thing to break on a Polaris Indian Scout is the starter, especially on the models from 2015-2017, and some of the Scout starters left the factory with a defect. The bikes would start ok eventually, but the starter motor would occasionally cough before the cycle turned over.
Polaris had difficulty sorting through which VINs had faulty starters and which ones didn't, so they issued an official bulletin to Scout owners.
Indian announced that should any owners experience difficulty starting their bikes, they could take their Scouts to their local Indian dealership to get their faulty starters swapped out with new ones at no cost.
So, if you are the owner of an Indian Scout from 2015-2017 and you've experienced the dreaded starter cough, swing by your local dealership for a swift upgrade on the house!
Indian Scout Maintenance Costs
Routine service on an Indian Scout motorcycle, including an oil change, brake, coolant fluid change, and a top-to-bottom inspection, will run you around $350.
Dealership maintenance has a reputation for being exploitative thanks to the profit model inherent in warranty policies, but routine maintenance is essential.
If you're a proper home mechanic with enough experience and know-how, you always have to wrench on your bike. Still, a mechanic who specializes in a motorcycle design as unique as the Scout's is recommended.
Besides, in the off chance that something on your reliable little Indian does break, wrenching on your Motorcycle complicates the warranty process.
Dealership maintenance makes it easier to prove you've kept up with your owner's manual's suggested service intervals.
Further Scout ownership and maintenance costs include:
New tires every 15,000 miles, or every five years, regardless of how much tread is left: $300-$500.
Dealership Service every 5,000 miles: $250-$500, depending on service.
Fuel: $10 to fill up with premium every 100 miles.
Protective riding Jacket: $150-$800
Helmet: $80-$400
Motorcycle Insurance: $500-$1000 a year.
Winter Storage: $75-$600
7 Tips to Make Sure Your Indian Scout Is Reliable
Break-in, your Scout per Indian's spec.
Change your Scout's Oil every 10,000 miles at the most, or every 5,000 miles if your ride hard and/or often.
Clean or replace your Scout's Air Filter per Indian's Spec Intervals.
Maintain your Scout's Tire Pressure and replace when tread gets too worn.
Change your Scout's radiator coolant per the service schedule.
Store your Scout out of the elements and away from corrosive chemicals.
Ride your Scout regularly, prepping it for storage before long stints without use.
Related: How Long Do Kawasaki Vulcans Last?
Resources:
https://www.indianmotorcycle.com/en-us/self-help/article/KA-01073/
https://enginepatrol.com/indian-motorcycles-worth-the-money/