The Honda CB650R is a middleweight standard or naked motorcycle.
A cross between a sport bike and a café racer, the standard motorcycle class, was essentially started with the original Honda CB series.
Still, the modern CB650R moniker includes an R for racing for a reason – modern naked bikes are designed for commuting hard and fast with no frills and dead weight.
In this article we'll assess whether the Honda CB650R is a good beginner bike…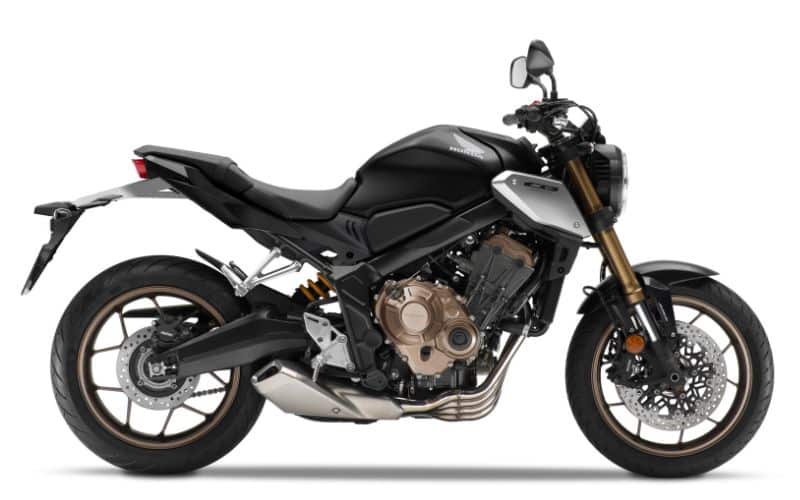 Here's the Short Answer to Is a Honda CB650R a Good Beginner Bike:
The Honda CB650R is a good beginner bike if the rider is built to handle the seat height and bike weight, as it's taller and heavier than other bikes in its class. That said, its upright riding position, predictable engine manners, and extra stability make it an excellent first bike.
Reasons Why a Honda CB650R is a Good Beginner Bike
1. Slipper Assist Clutch
One feature that makes the Honda CB650R a good choice for beginners is its slipper assist clutch. It provides an efficient and smooth shifting experience without the raw jerkiness and clutch resistance inherent in other bikes.
A slipper assist clutch is governed by the motorcycle's Electronic Computer Unit to manage rapid upshifts and their negative effect on the rear wheel.
This feature helps new riders who are still learning manually shifting a motorcycle with a hand-controlled clutch lever and foot shifter.
2. Efficient but Economic-Stopping Power
The responsive, crisp brake system of the Honda CB650R is ideal for new riders.
Here's how one CB650R rider puts it:
"The [Honda CB650R's] new [41 mm Showa Separate Function] fork offers radial caliper mounts for better braking. Honda fitted four-piston Nissin calipers for a respectably modern brake setup. Two-channel ABS and switchable traction control are available as an option. At the rear, Showa also supplies the seven-step adjustable rear shock."
Source: 2019 Honda CB650R and CBR650R first ride review – RevZilla
As you can see, the CB650R offers a traction control feature and Anti-Lock Brake features providing new riders with extra safety and support.
3. Standard Bike Riding Position is Easy to Ride
Another quality of the CB650R that appeals to new riders is its standard motorcycle riding position. It's still forward leaning enough to give riders the aggressive naked bike feel while still being upright enough to offer beginner-level riders easy rideability and bicycle-like cornering and handling.
The CB650R's riding position combined with its nimble chassis provides a ride that eases beginners into the lean-heavy naked bike riding style in a manageable way.
Especially when compared to lighter bikes in its class with more aggressive riding positions, as the following rider explains:
"The standard handlebar and altered foot peg position sat me more straight up, in contrast to my forward cant on the CBR. There's no doubt this is a standard. I immediately liked the way the front of the bike dropped away just beyond the redesigned LCD cluster. It makes the CB feel compact, even though it shares the same rake, trail, and wheelbase specs with the CBR. Wider, taller bars help the rider throw the machine through corners."
SOURCE: Revzilla
The controls are easy to reach on the fly, whether in an emergency or while shifting rapidly in corners.
While the Honda CB650R frame is noticeably meatier than other mid-weight standard motos, it offers good highway stability and plenty of luggage space.
The frame is still narrow and short enough to feel manageable for first timers, here's how one owner describes it:
"Ergonomically, the CB650R is a winner. It's a compact bike with a reasonable 31.9-inch seat height. It feels much lighter than its 447-pound wet curb weight would suggest, which adds to my confidence when moving it around at low speeds… the CB feels super narrow between my legs, which makes it easy to grip with my knees, reducing hand and wrist strain. I also found the CB650R to be a lane-splitting champion. My shoulders are the widest point of the bike, which makes it a breeze to filter through cars at a stoplight or thread my way through slow traffic."
SOURCE: 2020 Honda CB650R first ride review: Little Honda, big mood (cnet.com)
4. Smooth Engine Performance
The CB650R's inline-four engine may rev high enough for hardcore highway riding, but it's still mild-mannered enough to be appropriate for beginner riders.
The CB650R is easy to learn on while doing slow-speed maneuvers, thanks to its refined throttle response and engine performance.
The power supply of its 650 engine climbs up the rev range in a steady, linear way, giving new riders a chance to jam on the throttle while they get a feel for the bike.
The CB650 comes stock with electronic modules that regulate sporadic throttle input and gearbox shifts – helpful to new riders during their learning period, or as this first-time CB650R rider put it:
"The engine is very smooth in how it makes power, and the throttle is well-tuned, but it's not what I'd call eager off the line – the engine doesn't make peak torque until 8,500 rpm."
That said, the CB650R's engine can handle redlining as hard as anything in class, offering new riders plenty of room to grow.
The Honda CB650R comes with a 650cc engine of the classic Honda inline 4-cylinder design.
That said, Honda updated the CB650 engine with its cutting-edge engineering by re-designing its piston crowns, air intake system, compression ratio, and valve timing.
94 Horsepower might sound like a lot for a new rider, but the inline-four engine design delivers its power in a smooth, straight line.
A consistent and predictable response allows riders to ease up through the bike's RPM range, so you won't have to worry about shooting your RPMS up like more aggressively tuned engines of the same size.
"I found a very light clutch pull. Honda told me they gave the new 650s a hydraulic assist to the cable-actuated clutch, making the lever easier to pull. And with linear power delivery, repeated stops and starts with traffic are painless. Shifting through the six-speed was no problem around town as we made for the highway."
"The throttle is mechanical — no ride-by-wire here — which means no rider modes. Somebody will complain, but smooth, predictable power doesn't need modes. Use your wrist!"
SOURCE: Revzilla
5. Stylish Naked Bike Aesthetic
Another key attribute that makes the Honda CB650R a good choice for entry-level riders is its stylish naked bike appearance.
The CB650R carries on the stripped-down Honda legacy of the original CB café racer series while integrating the sportier, more aggressive style of the modern standard bike market.
The classic round headlight on the angler body and frame makes the Honda CB650R its Neo-Café style look as refined and stylish as they come, helping a new rider to blend in with the pros as soon as their riding is up to snuff.
Here's what a few first-time CB650R riders had to say about the style:
"I think the CB650R is awfully photogenic. It's modern, funky, and different from just about everything out there. The distinctive round headlight is the show', giving the nod to classic UJMs while packing very modern LEDs. Bronze wheels give a unique look, too, painted to match the engine covers. Honda even anodized the fork tubes on the new 650s to match that bronze."
SOURCE: Revzilla
"The engine is also home to what is arguably one of the prettiest exhaust manifolds to be fitted to a motorcycle. The four chrome pipes are tightly packed in a line and waterfall down gracefully to the collector and the low-mounted catalytic converter. This design is borrowed from the CB400F of the early 1970s, and it's incredible."
SOURCE: CNET
6. Low Maintenance Cost
One of the critical reasons beginner riders love the CB650R 300 is its low maintenance cost compared to other brands.
Honda dealerships offer specialized-technician services for a cheaper service cost than other brand name dealerships, not to mention that replacement parts are competitively priced.
Reasons Why a Honda CB650R Isn't a Good Beginner Bike
1. Non-Adjustable Suspension
One of the downfalls of the CB650R is its nonadjustable suspensions.
While new riders won't necessarily know what they're missing out on if you aim to continue to move into the sport bike or streetfighter class, you'll want to learn how to customize your suspensions based on the riding conditions sooner rather than later.
Furthermore, while the CB650R 94 HP, dynamic inline-4 engine performance and full RPM range offer beginners room to grow, a nonadjustable suspension limits riders' growth, as they won't be able to try new methods of suspension tuning once they get more comfortable.
"With a list price of $9,199, I would have liked to see a more advanced suspension setup on the CB, but what's given isn't bad – it's just not adjustable beyond rear shock preload. As a larger rider, this means the bike feels overly soft."
2. Engine Vibrations
Another reason the Honda CB650R isn't suitable for beginners is because of its engine vibrations, particularly between 6,000 and 8,000 RPMs.
While new riders tend to stay in the low gears while they're still learning and to ride around back alleys, parking lots, and neighborhood roads, hitting the throttle in a low gear is precisely when riders activate that 6,000 RPM range.
"One downside to this particular inline-four is that once you get it up over 6,000 rpm — which is always — it becomes very buzzy. The engine's vibrations get transmitted too clearly to my hands and feet. It's not dirt bike bad, but it's enough that I felt it after getting off the bike."
SOURCE: CNET
3. Expensive Price
The CB 650R is more expensive than other bikes in its class, including motorcycles with higher speeds, more powerful engine specs, more electrical features, and dual-sport features.
That said, the build quality and reliability are higher and more refined on the Honda CB650R compared to the bikes in its class.
What new riders spend upfront can be made back via low maintenance, more affordable dealership costs, fewer failures, and a longer lifespan.
Still, if you're looking for a new motorcycle you can drop, damage, and spin around in the front yard, a bike with this high price tag might not be the right choice for a first bike.
If you're looking for something you can take care of, keep up with maintenance, and grow into, the high price tag might be worth it, considering you won't have to sell it and buy something new later on.
Best Alternatives to the Honda CB650R for Beginners
| | | |
| --- | --- | --- |
| Make/Model | Price | Fuel Economy (MPG) |
| Honda CB650R | $9,199 | 48 |
| Suzuki CV650 | $7,749 | 49 |
| Kawasaki Ninja 400 | $5,299 | 54 |
| Triumph Trident 660 | $8,095 | 58 |
| Suzuki SV650 | $7,749 | 49 |
Related: Is a Suzuki SV650 a Good Beginner Bike? (11 Important Facts)
Sources:
2019 Honda CB650R and CBR650R first ride review – RevZilla
Why the Honda CB650R is an EXCELLENT beginner motorcycle. – YouTube
2020 Honda CB650R first ride review: Little Honda, big mood (cnet.com)