The Suzuki SV650 was released in 1999 in response to the growing naked motorcycle market.
Suzuki's SV650 offers a twist riders can't get anywhere else; a V-Twin engine inside a standard bike.
This article explains the reasons why an SV650 is a good beginner bike and some of the reasons why it might not be...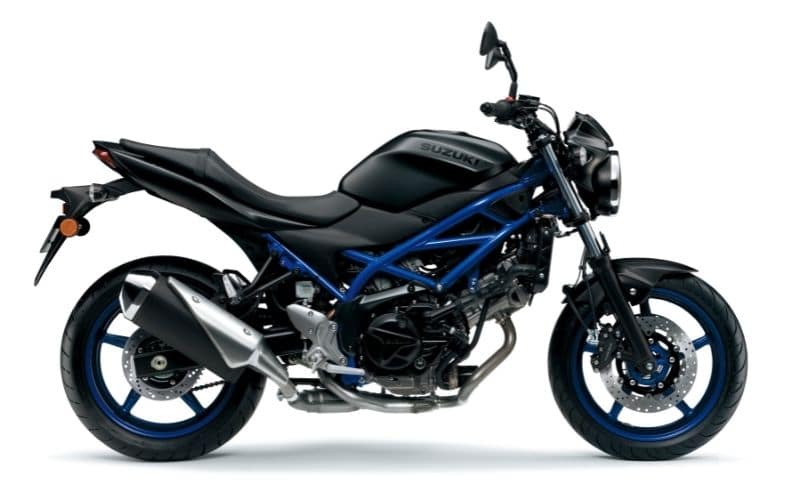 Here's the Short Answer to Is a Suzuki SV650 a Good Beginner Bike:
The Suzuki SV650 is a decent first bike thanks to its lightweight yet rugged chassis, responsive and manageable handling, low price, high resale value, and because it's easy to ride. The V-Twin motor offers room for new riders to grow into if they mind its power while still learning.
Reasons Why a Suzuki SV650 is a Good Beginner Bike
1. Efficient and Simple V-Twin Engine
Although some regard the SV650's V-Twin motor as too much torque for entry-level riders still learning their way around a throttle, its mild engine tuning makes it manageable for anyone with the basic self-control required to ride any motorcycle.
The high-torque to mild-tuning ratio is derived from its V-Twin design and ensures the engine is never overworked or stressed.
That said, new riders should use less torque this early in their riding career.
Here's a word from a rider who learned to ride on an SV650:
"You can learn to ride on an SV650. Just realize that you're potentially making the learning process more difficult and dangerous than it needs to be… There's a lot to be said for a bike that won't unintentionally wheelie or send you into someone's living room if you make a common newbie mistake."
The SV650's V-Twin engine has heavy mid-range torque and is capable of highway speeds with little to no engine stress.
Its throttle is known to be responsive, offering instant useable torque with a quarter turn.
If your goal is to learn how to ride a naked bike, sport bike, or streetfighter-style motorcycle, you'll eventually have to learn how to ride on a torquey throttle anyway, so why not start now?
It's true; if you start on a small bike incapable of punchy torque, you can focus on learning to balance and clutch-shift.
But you will still be confronted with the learning curve of a sensitive throttle as soon as you sell the small bike and graduate to something more serious.
The SV650 offers beginners a chance to get used to high torque power and a responsive throttle on a bike that won't shoot out from under them if they hit it too hard.
Or, as this beginner SV650 rider puts it:
"I think the SV650 can be a beginner's bike… I just think it's important for those who choose that route to realize the bike isn't quite as tame as some of the more experienced riders might feel it is… you need to be a little more careful, and the learning curve may be a little bit longer… I found it very easy to handle, responsive, and just feels good. I really like it – it's pretty much everything I hoped it would be, and a little more."
2. Safety Features and Simple Design
Another reason the Suzuki SV650 makes a good first bike is its straightforward design. Its features include an automatic-cranking Easy Start system, ensuring new riders don't damage their starter motor. Anti-stall software and electronic low-RPM assist are geared towards assisting new riders also.
The SV650's dash includes an LED screen that displays all the vital information in a clear, simple display.
Its suspension is some of the most comfortable in the class, and while it isn't adjustable, the lack of hardware prevents it from slipping out of adjustment while riding.
The SV650's Anti-Stall Software and the Suzuki Easy Start are miracles to beginners still mastering the throttle to clutch friction zone.
Anti-Lock Brake System (ABS) keeps riders from dropping the bike due to erratic breaking.
3. Easy Handling
The SV650 is weighted efficiently for new riders to feel comfortable and stable without feeling beefy while leaning in the corners. Its nimble handling isn't quite as steering-aggressive as a proper sport bike, but its mild-mannered cornering is a great place to start learning to ride more technically.
And you can lean as aggressively as you want as soon as you're ready, thanks to its lightweight and centered chassis.
"Part of its charm [is] its more mellow and easier to reach its limits which are still pretty high: high enough to keep experienced riders happy while being docile enough to make beginner riders feel comfortable and that the bike is working with – and not against – them."
SOURCE: top speed
4. Beginner-Friendly Ergonomics
The Suzuki SV650 is a naked bike; while it has a sport bike flair to its design, its riding position is closer to that of a café. While still more aggressive than other bikes in the naked class, its relaxed and comfortable riding position is great for beginners.
"The SV650 has got one of the most comfortable riding positions. The rider sits almost upright, with a slight forward lean to the handlebar and the pegs that are a bit back, making it quite comfortable during the long rides. The city riding is relatively stress-free, too." SOURCE: hotcars.com
The SV650 has a seat height of 30.9 inches, lower than other bikes in its class.
Its fuel tank is designed for riders to grip with their legs for extra support, making it more comfortable for new riders.
Its lightweight chassis and easy handling, as mentioned earlier, work together with the ergonomic riding position to make the SV650 a comfortable first motorcycle.
"Wide handlebars give good leverage when changing direction and where the seat meets the tank is narrow, which means it is perfect for shorter riders and beginners, for whom being able to touch the ground easily increases confidence."
SOURCE: top gear
Related: 8 Common Suzuki SV650 Problems (Solved & Explained)
5. Price and Resale Value
The ABS-equipped base model of the Suzuki SV650 starts at $7,749. The longevity and reliability of its V-Twin motor alone make it worth much more than this price, especially considering the room to grow its power offers new riders.
The SV650 offers great resale value, thanks to its reputation as a dependable and long-lasting motorcycle.
And since this high-performing standard bike isn't considered a beginner bike by the used market, it won't depreciate should you decide to sell it rather than grow into it.
6. Low Maintenance Cost
While Suzuki motorcycle dealerships aren't quite as widespread as other moto manufacturers on an international scale, the dealership service, labor, and parts costs are significantly less expensive than other motorcycle dealerships.
7. Reliability and Longevity
The Suzuki SV650 is a good first bike thanks to the consistent reliability of its V-Twin engine. As we mentioned earlier, its mild tuning prevents engine stress, which keeps the engine from overheating and slows wear and tear.
While some consider Suzuki's engineering boring compared to more innovative companies, its simplicity shines in the SV650's reliable engine.
Its 90-degree V-Twin is balanced so perfectly that it doesn't need a counterbalancing shaft.
The lack of a counterbalancing shaft translates to a more straightforward operation, and less weight, friction, and overall wear and tear.
Less wear and tear and a more straightforward engine design give the SV650 a consistent and reliable performance, making it a longer-lasting motorcycle than a typical entry-level bike.
Or, as this rider puts it:
"A well-maintained SV650 V-twin engine will easily last over 100,000 miles before needing major mechanical attention. And these aren't engines that have never seen the red line on the rev counter: the SV650 engine begs to be ridden hard, and it will take virtually any punishment that the rider can dole out." Source: Top Gear
New riders are known to push their bikes hard while they navigate the friction zone and adjust to find the proper RPMs for each gear. The fact that the SV650 can be ripped hard without its reliability or longevity suffering makes it a great beginner motorcycle.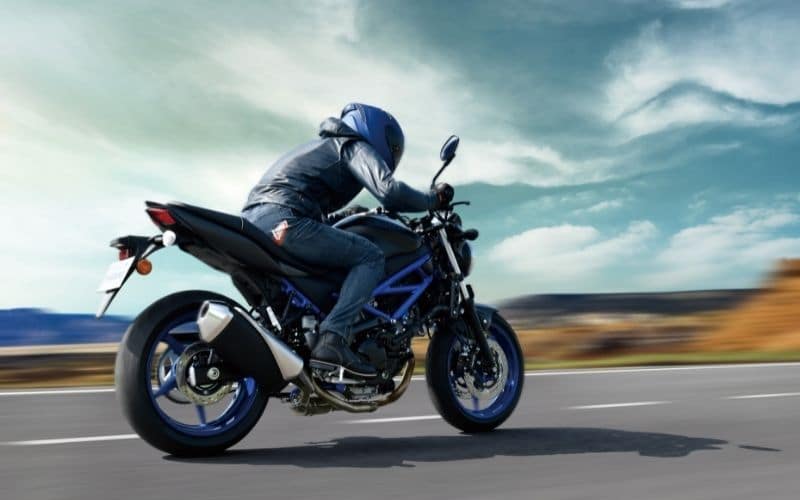 Related: How Long Do Suzuki SV650 Last? (9 Important Facts)
Reasons Why a Suzuki SV650 Isn't a Good Beginner Bike
1. Cam Chain Noises
New riders are often turned off by the slapping Cam Chain noises the early SV650 models made. The SV650's simple engine design includes a self-adjusting Cam Chain, which doesn't always keep it as taught as it could be. While experienced riders claim it's harmless, new riders are often confused or embarrassed by the sound and are unsure how to fix it.
"My motor sounds slappy… I always figured it was the cam chain slopping around. From what I read, they are self-adjusting, kind of. They always apply max tension and ratchet out as slack increases. [BUT] They don't retract unless you manually retract them."
And while the newer SV650s don't make the same noises, the automatic chain tensioning isn't necessarily more effective.
New riders will have to be proactive about having their cams inspected by the pro technicians until they learn how to retract the chains themselves.
"[The Early Year Model 650's] front always makes ticking noises because they are pointed down, and there's no oil to dampen the noise like on the rear. This is why oil lines run through tensioners on the newer bikes. The newer ones are not any better, just quieter, thanks to the oil. It is nothing mechanically wrong with it, you just hear plates rattling."
2. Corrosion and Peeling Paint
One of the reasons new riders get frustrated with the SV650 is because its paint peels and corrosion forms easily on parts of the body, especially when it's stored in moist areas.
"The build quality of the Suzuki SV650 is fair, but expect some corrosion and furring of alloy surfaces if you ride through winter."
"Suzuki's build quality is always called in for question, and fasteners and nuts and bolts show signs of corrosion quite quickly if not cared for with anti-corrosion spray."
The paint on some plastic body gears is frequently reported to flake off, particularly on the fairing.
Some of the SV650's coverings catch water in the rain, developing rust on the forks and various motor parts.
Furthermore, a few beginner riders filed warranty claims due to these issues, only to be disappointed by Suzuki's lack of response.
"I bought a brand new SV650 2 years ago and have loved riding the thing. However, since day 1, I noticed that the powder coating on some of the powder-coated pieces has been patchy. I emailed my local dealer at the time. I have also spotted under the little plastic fairing piece just above the engine that the paint is now flaking off the frame there too… I noticed just how bad it was getting last year, so I contacted Suzuki dealer with some pictures of the bike, and they brushed it off as being a maintenance issue… I decided to try and contact Suzuki directly again and just received a response from them saying it's not a manufacturer's fault because it has occurred on multiple pieces…"
3. Touchy Throttle
While the impressive V-Twin engine and the 75 horsepower it produces offer new riders plenty of motorcycles to grow into as they get more comfortable, its touchy throttle can be intimidating for some first-time riders.
Or, as this beginner SV650 rider puts it:
"The problem with learners is that they're, well, learners. They'll make the usual, expected beginner's mistakes. The idea is to minimize the consequences of those mistakes. That isn't necessarily easy when you have 70 horsepower and a bunch of torque waiting for nothing more than a quarter turn of the throttle."
So, while the SV650 offers well-mannered beginner riders plenty of power to grow into for a low price, riders with less attention to detail, focus, or self-control may find the throttle gives them too much acceleration while they're still learning.
Best Alternatives to the Suzuki SV650 for Beginners
| | | |
| --- | --- | --- |
| Make/Model | Price | Fuel Economy (MPG) |
| Suzuki SV650 | $7,749 | 49 |
| Honda CB650r | $9,199 | 48 |
| Kawasaki Ninja 400 | $5,299 | 54 |
| Triumph Trident 660 | $8,095 | 58 |
Related: Is a Honda CB650R a Good Beginner Bike? (9 Important Facts)
Sources:
10 Reasons Why The SV650 Is Suzuki's Best Bike (topspeed.com)
10 Things Every Motorcycle Enthusiast Should Know About The 2022 Suzuki SV650 (hotcars.com)
SUZUKI SV650 (1999-2015) Review | Speed, Specs & Prices | MCN (motorcyclenews.com)
SUZUKI SV650X (2018-on) Review | Speed, Specs & Prices | MCN (motorcyclenews.com)