The Yamaha R3 is the smaller 300cc sibling of the 600cc R6 and the 1000cc racetrack legend, the Yamaha R1.
And even though it's classified as entry-level, the R3's 300CC engine has higher-performance specs than most of the motos in its class.
In this article, we'll assess whether the Yamaha R3 is a good starter bike…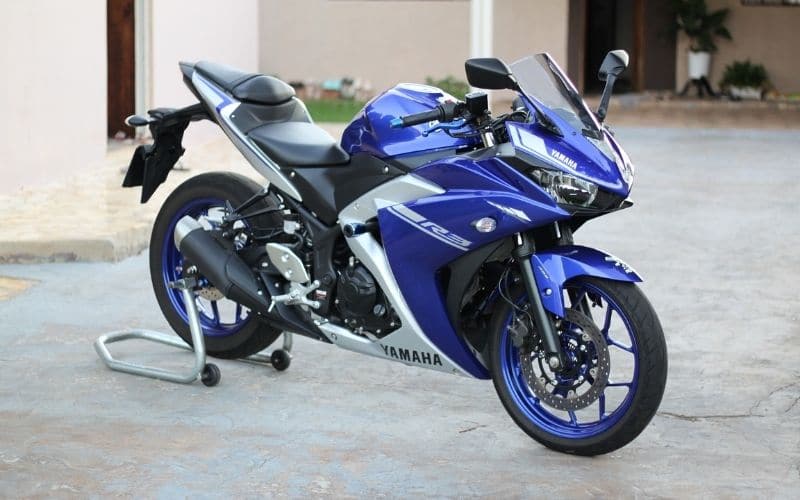 Here's the Short Answer to Is a Yamaha R3 a Good Beginner Bike:
The Yamaha R3 is a good choice for a beginner rider due to its nimble chassis, approachable riding position, and easy handling. Its engine is polite enough to be controllable, though it utilizes its older siblings' high-performance, forged piston concept, so new riders have room to grow.
Reasons Why a Yamaha R3 is a Good Beginner Bike
1. Accessible Dealerships
The Yamaha YZF-R3 makes a good beginner bike because of the highly accessible Yamaha dealership network.
Yamaha dealerships are not only prevalent worldwide; they offer knowledgeable input and technician support.
Yamaha's Motorcycle branch is also proactive about recalling bikes and instructing their dealerships to repair any widespread failures for free.
The Yahm dealership mechanics will generally be up to date on any recalls that may have affected your R3 beginner bike, including the repair of minor issues other R3 riders have reported.
They also keep a backstock of replacement R3 parts if something goes wrong while you're still on your learning curve.
Finally, the knowledgeable Yamaha dealership techs will notify you of any YZF upgrades as soon as they come out.
2. Ease of Use; Comfortable to Ride
One of the most common reasons entry-level sport riders celebrate the R3 is that it's more comfortable to ride while learning than many other small-displacement sport bikes.
First, the R3's extra engine power makes it less shaky than other bikes in its class when riding at highway speeds.
But the seat, foot control, handling, and riding position all help beginner riders feel comfortable enough to focus on learning to lean through curves.
Here's a review from a real-life R3 rider to back up our claim:
"With great ride comfort and high pickup, the Yamaha YZF R3 is a real performance bike. Good build quality and style make the YZF R3 a very desirable motorcycle. The clip-on handlebar gives a sporty riding position. But that doesn't mean you have to strain your back. It's a motorcycle that both novice riders and experienced bikers can ride. That's why the bike has been so popular… The engine is responsive, and the transmission is seamless. The control and handling of the bike are superb."
Source: User Review – Comfortable and stylish | Zigwheels
Part of what makes the R3 such a comfortable ride for beginners is its ergonomics and lightweight agility.
The R3 only weighs 368 pounds (filled to the brim with fuel and fluids).
The lightweight adds to its easy maneuverability and makes learning to park and back your R3 up much more accessible than on some of the heavier competition.
The R3's throttle response is smooth but entirely accessible, specially designed to make the ride more comfortable for beginners by absorbing abrupt throttle inputs and releases.
Or, as this new-to-riding R3 reviewer puts it:
"The chassis is slim and designed with a steel diamond frame. What's interesting is that the R3 has the same swing-arm and wheelbase length ratio as the R1. Yamaha says it was created this way for less variability in swing-arm angle during riding conditions…. The 30.7" seat height has a flat profile that helps maintain an upright position, making it easy to reach the clip-on. You can scoot forward for a more comfortable ride or sit back with your chest a bit ahead to look more like you're riding a sport bike. The R3 is, overall, comfortable whether riding on the road or the track."
Source: 2015 Yamaha YZF-R3 First Ride – The Beginner Bike and Beyond (rideapart.com)
3. Special Technology Features
While Yamaha's high-end sport bike suites tend to push the limits of modern technology and engineering, the R3's special features are straightforward, crisp, and pragmatic.
The Yamaha R3 features offer a beginner precisely the accessibility they need during the learning process in a customizable package that won't bog them down.
Here are the beginner-friendly special features offered by the YZF-R3:
Analog tachometer
Adjustable shift light
Multi-function meter with gear display, clock fuel gauge, real-time fuel economy updates, and your overall MPG average.
An oil change indicator lets new riders know when it's almost time for a routine oil and air intake service.
The multi-display includes access to the bike's engine and coolant temperatures.
Finally, it includes two trip meters riders can use to clock miles and watch engine hours.
4. High-Performance Entry-Level Engine Concept
One of the highest selling points the R3 offers new riders is its unique engine concept. The R3's engine uses the same forged aluminum pistons as its legendary older siblings, the R1 and the R6. Its progressive throttle pulley design helps new riders manage the bike's power.
The R3 comes stocked with a 180-degree crank for a smooth power supply up its range.
Unlink other entry-level sport bikes; the R3 comes with a 6-gear transmission for rapid shifts up through the gears and a more stable high-speed performance.
The R3's motor was a new concept designed especially for this entry-level bike; a liquid-cooled 321cc inline 2-cylinder DOHC engine with 4-valves in each cylinder for a consistent power supply.
And finally, as the rider quoted below will attest, the R3's powerful compression ratio and closed-loop fuel injection give it smooth and consistent engine performance with a broad power band, meaning a new rider can shift up and down through the gears and ride as they stole it while they get used to sport riding.
"With a compression ratio of 11.2:1, the engine develops maximum power at 10,750 RPM (it has an engine rev limit of 12,245 RPM) … A downdraft induction fuel injection allows the bike to start right up and provides smooth performance in all conditions. The R3 pulled nicely along those long sweepers on the road—I hardly ever had to knock it into 6th while taking those at 60-70 mph. It felt stable. The engine also has a compact design and is lightweight."
5. High Value, Low Price Point
One of the most straightforward reasons beginner riders love the Yamaha YZF-R3 is its low price.
A brand-new R3 costs between $4,990 and $5,299, a price tag that either matches or is lower than other bikes in its class, even though it offers more power, comfort, and performance.
The R3 is a beginner motorcycle, meaning riders will eventually graduate to something better suited for long rides or high-intensity race-track days.
The low price point/high-value ratio of the R3 allows riders to trade it in without taking a high loss, especially because you don't have to take out a high-interest loan to afford a brand-new one.
6. Iconic Yamaha Race Bike Image
Unlike some of the more elementary aesthetics employed on entry-level moto models by other brands, the R3 takes its style directly from the R1, considered by many to be one of the coolest-looking race bikes in the sport bike world.
The R3 comes with a track-style protective tank cover to keep the tank in pristine condition despite any drops and spills you take while learning how to rip through the curves.
Not only does the R3 come in multiple stylized finishes, like Raven Black and Rapid Red, but it's also available in the iconic Team Yamaha Blue/Matte Silver finish that makes it look like a MotoGP-ready R1.
Other race-stylistic features include a two-eyed headlight, mass forward silhouette, up-cutting tail section, and the aerodynamic design that clones the R6.
7. Surplus of Parts for Yamaha Motorcycles
The YZF-R3 is an excellent choice for beginners who want to keep their first bike for the long haul, as both Yamaha and a slew of aftermarket sport bike accessory manufacturers offer various upgrades for customizing both the appearance and performance of an R3.
Potential upgrades available for the Yamaha R3 include:
Superior Sport Tires
Tank Pad Grips
Integrated Tail Lights
Fender Eliminators
Frame Sliders
Throttle Tube Upgrades
Replacement Control Levers
Replacement Pegs for more Aggressive Riding Positions
Air Intake
Exhaust System
Suspension upgrades.
8. High Reliability
While the R3 is undoubtedly not without minor failures here and there, Yamaha's dedication to performance and reliability has guided their engineering and recall-response decisions to make the modern R3 a highly reliable machine beginner riders can learn on without wasting time on maintenance.
Consumer reports, online surveys, and industry data all show that Yamaha makes some of the most reliable motorcycles in the world, with some of the highest customer satisfaction ratings.
One study found Yamaha to be the motorcycle brand with the lowest percentage of bike failures out of the ten most popular bike companies in the world.
Related: Is the Yamaha R3 Reliable? (9 Important Facts)
9. Insurance Costs
The average motorcycle insurance cost for your Yamaha R3 is about $700-800 a year, an entry-level, significantly lower than that of a car.
That said, variables like location, age, gender, year model, mileage, and year model impact that price.
Still, the quote is never anything close to the high cost of car or truck insurance.
Finally, the type of motorcycle and the riding it's intended for is always considered when adjusting your insurance quote.
Because the Yamaha R3 is regarded as an entry-level bike, you may get a "recreational" rate instead of the rate for bikes used as "daily drivers."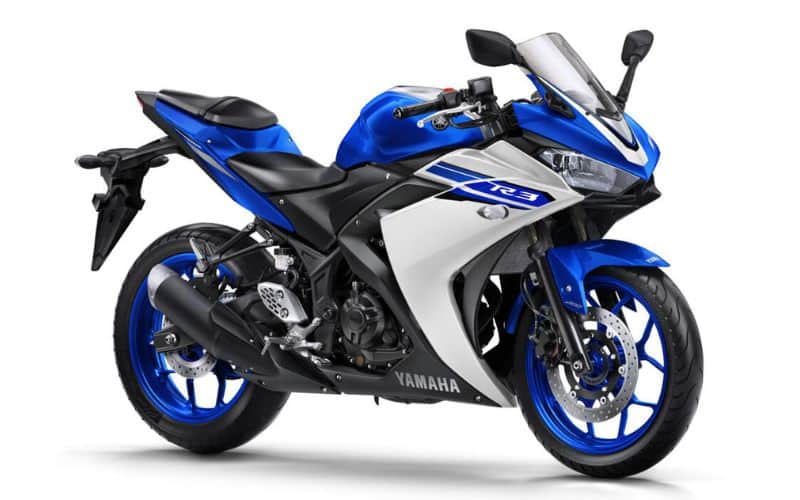 Reasons Why a Yamaha R3 Isn't a Good Beginner Bike
1. Rough Shifting
New riders may find the shifting rougher than anticipated on the R3, as many R3 generations were fitted with low-quality shifting torsion springs.
Beginner riders tend to be rougher on the shifters while still learning, and if this spring fractures, their shifting will feel loose and uncomfortable, especially while still learning. Furthermore, the R3's clutch plate bearings don't always hold up against the abrasive clutch-lever action new riders sometimes employ, making it hard to disengage the clutch while the beginner shifts.
Yamaha's dealership techs are familiar with the weaker integrity of these parts and will often replace the failed parts for free.
2. Front Brake Loses Pressure
The worst-case scenario for a beginner rider on a sport bike is brake failure, which can happen on the R3 due to leaking brake fluid.
If a Yamaha R3 is your first motorcycle, you might still get used to the handlebar's range of motion as you move it from side to side.
Due to the placement of the horn wire on the 2018–2019-year model Yamaha R3, some beginner riders complained that the horn wire scratched against their brake hose while they moved their handlebars back and forth until it finally tore a hole in their front brake hose, allowing it to leak fluid.
While a dip in brake pressure is certainly hazardous for any level of a sport bike rider, it's dangerous for a rider who is still getting used to leaning, swerving, stopping, accelerating, decelerating, and who might not be familiar enough with the feel of their front brakes to notice a problem when it's changed.
Related: 7 Most Common Yamaha R3 Problems (Explained)
Best Alternatives to the Yamaha R3 for Beginners
| | | |
| --- | --- | --- |
| Make/Model | Price | Fuel Economy (MPG) |
| Yamaha R3 | $5,299 | 56 |
| KTM 390 Duke | $5,799 | 58 |
| Kawasaki Ninja 300 | $4,999 | 54 |
| Honda CBR300R | $4,699 | 57.9 |
Sources
2015 Yamaha YZF-R3 First Ride – The Beginner Bike and Beyond (rideapart.com)