The Yamaha R3 is the down-tuned, 300cc version of the Japanese bike brand's racetrack legend, the R1.
Launched in 2015, the R3 was explicitly designed to be an entry-level learning bike that looks and feels like a big-league race bike but has a smaller power output and is more comfortable for riders still learning.
In this article we'll take closer look at some of its most common problems…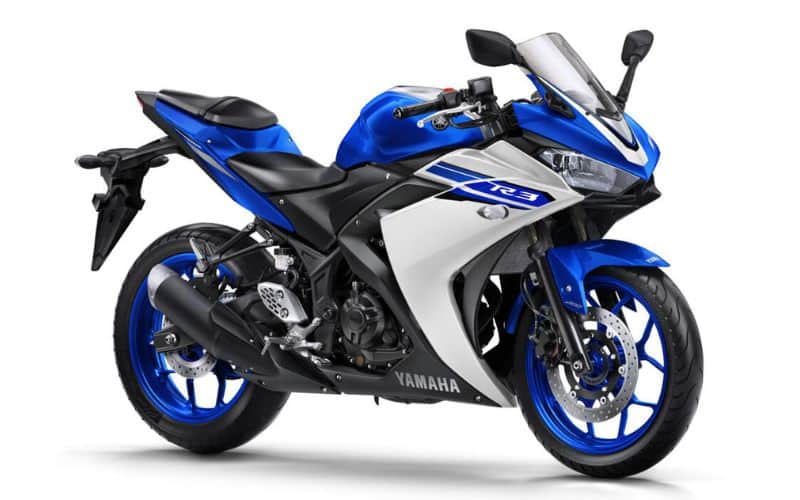 1. Cracked Radiator Hose; Coolant Leaks
In late 2018, the NHTSA reported that nearly 17,000 Yamaha YZF-R3 and R3A motorcycles were being recalled, as numerous model years were found to have cracked radiator hoses.
Unfortunately, more than a few Yamaha R3s were actively leaking coolant while riding, increasing the potential threat of its engine overheating.
Affected models include: YZF-R3 (2015, 2016, 2017, and 2018) and YZF-R3A (ABS) 2017 and 2018.
At the time of the recall, Yamaha recommended that owners refrain from riding their bikes until a mechanic confirms their radiator isn't leaking fluid.
Riding with a coolant leak not only puts the motorcycle at risk of engine and gearbox seizures, but a leaking radiator hose also has the potential to spray coolant on your bike tires while riding which could cause a serious accident.
While capable home mechanics may feel comfortable determining whether or not their radiator is leaking coolant, we suggest you take it to Yamaha at the earliest sign of a coolant leak.
Inspect the motorcycle's radiator and lines for any sign of coolant residue.
Also, check your coolant levels before and after every ride.
You may have a cracked hose if you find yourself topping your R3's radiator fluid off frequently.
Yamaha redesigned the R3's radiator hose after this recall took place – all bikes manufactured after 2018 were fitted with the new hose.
Older R3s are eligible for a free radiator hose upgrade at the first sign of a coolant leak.
2. Shifter Spring Failure; Rough Gear Shifts
Over 11,000 model year, 2015 and 2016 Yamaha YZF-R3 units were recalled at the end of 2018 for a faulty shift shaft torsion spring.
According to NHTSA Campaign number 18V86000 the shift shaft torsion spring on the early-year R3 tended to fracture, making shifting feel looser and, in some cases, preventing the motorcycle from shifting.
Yamaha notified owners of the issue and alerted their dealership technicians to install a new shift shaft torsion spring free of charge.
The recall was made official on December 17, 2018.
The NHSTA encourages owners of 2015 and 2016 Yamaha YZF-R3s to report their bikes to their local dealership for upgrades or to contact Yamaha customer service at 1-800-962-7926.
Yamaha's official recall number for this was 990126.
3. Clutch Plate Failure
Your motorcycle's clutch comprises various components, all working together to keep your R3's wheels turning.
One such component is the clutch pressure plates, which expand outward from the clutch's center when you yank on your clutch lever.
The clutch plates' expansion is aided by the plate bearing, which moves the containers to disengage the clutch from the engine while you shift, break, slow down, etc.
When you release your R3's left-hand clutch control, the clutch springs push the plates back into the center to reengage the engine and transfer engine power to the rear wheel.
One of the most common problems with the Yamaha R3 is clutch plate bearing failure. A faulty clutch plate bearing prevents the plates from moving when you pull in your clutch lever, making it impossible for some Yamaha R3 owners to disengage their clutch while riding.
Here's an excerpt from the official NHSTA report:
"Yamaha Motor Corporation, USA (Yamaha) is recalling certain model year 2015-2016 Yamaha YZF-R3 F/G motorcycles manufactured from January 1, 2015, to April 15, 2016. The clutch pressure plate bearing may break due to a low load rating, causing the clutch not to disengage and preventing the transmission from shifting properly. If the clutch cannot be disengaged, the rider may not be easily able to stop the motorcycle, increasing the risk of a crash."
Related: Is the Yamaha R3 Reliable? (9 Important Facts)
4. Leaking Brake Fluid
One of the most common problems R3 owners have reported since the motorcycle's 2015 launch was that their bike leaks brake fluid, especially from the front brake hose.
In 2020, Yamaha officially issued a recall notice for the 2018-2019-year model Yamaha YZF-R3A, the Anti-Lock Brake System-equipped version of the R3.
The bracket that held the brake hose to the front fork was faulty.
Once the hose bracket failed, the brake hose would come loose and flap around, rubbing against other parts of the bike, namely the front fork.
The friction would wear out the brake hose enough to cause fluid leaks, sometimes in multiple places.
The recalls warned riders that fluid loss impairs the effectiveness of the front brake, as fluid loss decreases the pressure in the lines.
Unfortunately, replacing the faulty hose bracket didn't solve the problem for all R3 owners, and their front brake hoses were still leaking fluid, causing brake failure.
Finally, Yamaha issued a second notice, alerting R3 owners and Yamaha technicians that they'd discovered a second installation failure that could damage the brake hose even if its bracket was intact.
"When the handlebar is turned from side to side, the brake hose comes in contact with the horn lead wire due to incorrect positioning… When the brake hose comes in contact with the horn lead wire, this friction can cause damage to the front brake hose, resulting in serious injury to the rider and other road users."
If you're the owner of a 2018-2019 Yamaha YZF-R3 and notice your motorcycle is leaking brake fluid from the front brake hose, take it to your local Yamaha dealership for a free repair service.
5. Fuel Tank Vibrates While Riding; Bike Leaks Fuel
In 2018, Yamaha officially issued a recall #990112 on specific VINs for R3 models manufactured between 2015 and 2016. Owners commonly reported a critical problem with the motorcycle's engine vibration.
While all bike motors shake around a little bit, the vibration R3 riders reported was strong enough to rattle the fuel tank's mounting bracket, damage the tank, and cause fuel leaks.
A fuel leak is dangerous for multiple reasons, but on a motorcycle, where the hot engine is exposed and only inches from the fuel tank, a fuel leak while riding could lead to a fire.
The issue ended up being faulty fuel tank brackets.
The vibration reported by riders was coming from the tank's failing brackets rattling loose in sync with the engine's standard vibration.
Yamaha instructed all dealership technicians to replace the brackets with upgraded hardware for free on any R3 experiencing abrasive vibrations.
If the tank were damaged from the vibrating mounting hardware, Yamaha would also replace the fuel tank on the house.
6. Engine Stalls While Riding; Ignition Switch Failure
In 2017, Yamaha recalled a whopping 14,320 R3 units of the 2015-2016-year models as more and more riders reported frequent stall outs while riding.
The reported cause of the R3's common stall-out problem was ignition switch failure, instigated by moisture-caused corrosion.
Here's an excerpt from the NHSTA report:
"Yamaha Motor Corporation, USA (Yamaha) is recalling certain 2015-2016 Yamaha YZF-R3 motorcycles. In the affected motorcycles, water can enter and corrode the ignition switch resulting in an unexpected engine stall. An engine stall increases the risk of a crash… Yamaha will notify owners, and dealers will replace the ignition switch subassembly free of charge… Yamaha's number for this recall is 990112."
Related: Is a Yamaha R3 a Good Beginner Bike? (11 Important Facts)
7. Cracked Handlebars
The handlebars on the Yamaha R3 are held in place by a part sometimes called a triple clamp, sometimes called a handlebar crown. The handlebar crown on some R3s tends to crack under typical riding conditions due to a casting failure during the crown's manufacturing process.
While this is one of the less commonly reported problems on our list, it's essential to make any potential R3 riders aware of this tendency so they can keep a close eye on the R3's handlebar crown during their routine pre-ride inspection.
A cracked or faulty handlebar crown can result in total loss of steering control for the rider.
The good news is that Yamaha caught the issue before any injuries were reported.
They could isolate the VINs of all R3 models fitted with the poorly manufactured triple clamp crown.
Still, if you are on or purchase a used R3, it wouldn't hurt to stop by the Yamaha dealership and have the tech run the VIN to find out if your R3 was fitted with a faulty clamp before it cracks.
If so, they'll install an upgrade at no cost.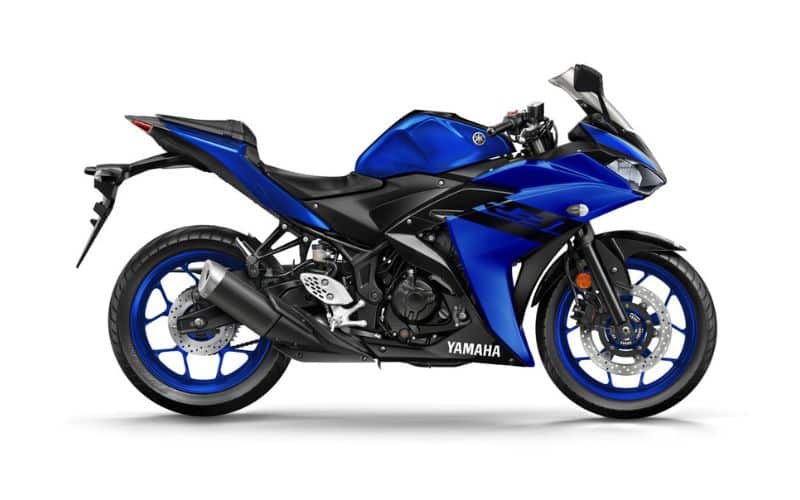 Pros and Cons
Pros
Class-leading performance
Solid handling / riding dynamics
Affordable price tag
Excellent reliability
More horsepower than many of its competitors
Aggressive, stylish design
Fun to ride
Comfortable to ride even for a few hours
Cons
No Anti-lock Brake System
Mediocre Stock Tires
No Slipper Clutch (most noticeable when track riding)
Front Brake Hose Brakes Easily
Shifter and Brake Controls are Low Quality
Oil Pump Failure
Gearbox Problems While Shifting
Radiator Leaks
What Do the Reviews Say?
"Sporty good looks aside, the YZF-R3 is a comfortable, exciting machine for any kind of pavement work. In 1,000 miles on this bike, I don't think the smile ever left my face—well, maybe on that slow slog north. The miserly twin returned 54.2 mpg overall, burning 87 octane gasoline at an 11.2:1 compression ratio. With its 3.7-gallon tank and incredible 26,600-mile valve adjustment interval, touring is certainly an option—and a fun one at that."
SOURCE: 2016 Yamaha YZF-R3 – Touring Test | Rider Magazine
"The A2-compliant Yamaha R3 (officially called the Yamaha YZF-R3) has received its first update since launch in 2015 to help bring it in line with the rest of the manufacturer's sports machines and act as a stepping stone between the A1-friendly Yamaha YZF-R125 and 116bhp Yamaha R6. Riding the bike on the road and track in Valencia, Spain, the R3 has been morphed from a respectable, well-rounded sportster to a head-turning R1-inspired pocket rocket. Although a more sports-orientated model than the previous machine, the R3 remains a practical all-rounder, with Yamaha keenly aware that many of the riders purchasing this machine will do so as an only mode of transport."
SOURCE: YAMAHA R3 (2019 – on) Review | MCN (motorcyclenews.com)
"Yamaha has developed the new R3 to be more engaging than the previous machine, without sacrificing any of the everyday practicality. In order to achieve this, the Japanese firm has gifted the bike with new gold non-adjustable 37mm upside-down KYB forks, which replace the conventional items on the 2015 version. Designed for greater rigidity, the rear shock now also features a stiffer spring and revised standard preload and damping, too. The result is a predictable, well-handling motorcycle that would be just as at home on the daily commute as it would be charging along your favorite backroad. The stiffened springs give good feedback and are still able to soak up any potholes and speed bumps with ease."
SOURCE: YAMAHA R3 (2019 – on) Review | MCN (motorcyclenews.com)
What's the Resale Value of a Yamaha R3?
| | | |
| --- | --- | --- |
| Year | Mileage | Price |
| 2015 | 650 | $4,995 |
| 2017 | 1,885 | $4,999 |
| 2019 | 6,118 | $4,480 |
| 2020 | 2,640 | $5,948 |
| 2021 | 3,424 | $5,999 |
What are Some Alternatives to the Yamaha R3?
| | | |
| --- | --- | --- |
| Make/Model | MSRP | Average MPG |
| Yamaha R3 | $5,299 | 56 |
| KTM 390 Duke | $5,799 | 58 |
| Kawasaki Ninja 300 | $4,999 | 54 |
| Honda CBR300R | $4,699 | 57.9 |
Related: Yamaha R6: 16 Most Common Questions (Answered)
Sources:
YAMAHA R3 (2019 – on) Review | MCN (motorcyclenews.com)
2016 Yamaha YZF-R3 – Touring Test | Rider Magazine
Yamaha R3 Pros & Cons – Maxabout News
Check for Recalls: Vehicle, Car Seat, Tire, Equipment | NHTSA