The Mazda3 made its US debut in 2003 and is available in both hatchback and sedan configurations.
Known for its sporty handling, handsome aesthetics and fun driving manners, the Mazda3 is a popular choice.
But like any vehicle, it has its problems and as a potential buyer it's a good idea to familiarize yourself with these before handing over your hard-earned cash.
We'll cover the most reported complaints below.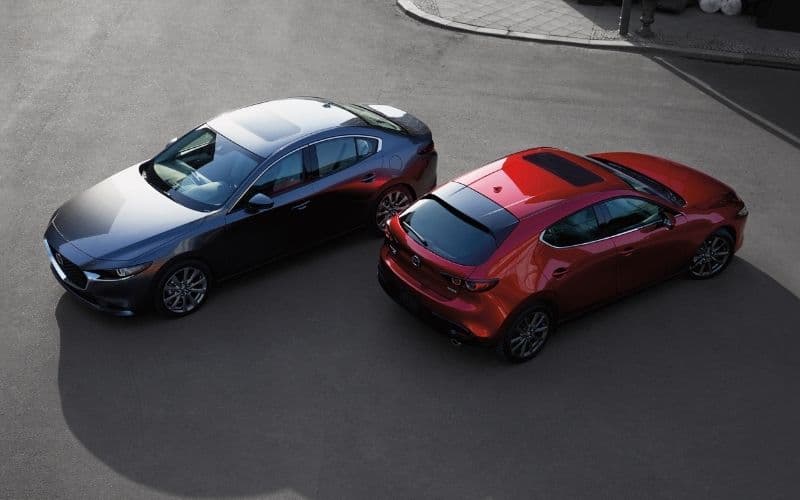 1. Sticky / Melting Dashboard
You'll find no shortage of disgruntled Mazda3 owners who suffered from the dreaded sticky dashboard.
This problem is mostly linked to 2nd Gen models from around the 2010 era.
The problem is due to the type of glue and materials used and the problem is exacerbated by warm and humid weather conditions.
Some owners even complained that the sticky and melted materials caused the sunlight to reflect in their eyes – not ideal when driving.
The melted dashboard also attracts dirt, dog hair and bits of food.
Here's one owner's testimony:
"Sticky dashboard panels causing excessive glare on windshield; Mazda only covered this under a 10-year warranty extension that already expired. This should be a recall as it is an obvious defect. The problem appeared after the warranty period expired when the vehicle was in a more humid climate in louisiana for 2 years."
Solution
If the car is outside the warranty period you'll have to pay for the dashboard to be replaced out of your own pocket.
2. Infotainment Issues
Infotainment-related problems are widespread and are most commonly reported on models years between 2010 – 2016.
One such problem is known as infotainment ghosting where the system seems to take on a mind of its own, placing calls and selecting random options on the menu.
Obviously, this is extremely distracting whilst driving.
Other drivers complain that the infotainment is on a constant reboot loop making its features all unusable.
One driver posted the following:
"The multifunction / infotainment display in my Mazda went haywire last weekend- it loops through bootup sequence over and over but never loads. Backup camera still works, sort of, but the image jumps and it goes blank sometimes. I can't unplug the display or pull the fuse, or would lose the backup camera altogether. So I have no nav system, can't change the radio station, etc. and am stuck with the 7″ screen flashing in my face as I drive"
Solution
One Mazda dealer advised this was caused by cell phone transition to 5G, and according to some reports Mazda dealers have been very reluctant to fix this problem under warranty.
Due to the technical nature of this issue, owners really are at the mercy of Mazda to have this resolved, if you are experiencing this issue try escalating it to senior management.
3. Clutch Problems
The Car Complaints website has listed the worst problem for the Mazda3 as clutch failure, due to the high cost of repairs and the average mileage when the problem occurs.
Clutch failure was a common issue on Mazda3's from 2010 to 2011, failure usually occurred around the 40,000-mile mark and cost an average of $1200 to fix.
Some owners even had multiple clutch replacements before they had even reached 6 figures on the odometer.
Solution
If your clutch fails the only solution is to have it replaced.
4. Steering Problems
Mazda3 owners have voiced their frustration with the steering issues they have had to endure.
This problem isn't uncommon and has been reported on new and old models; the most common symptoms are:
The steering locks
The car takes complete control of the steering
The power steering goes off
Warning light on the dash
Strange noises
This kind of issue should be investigated immediately.
Solution
Steering problems on the Mazda3 have been rectified by replacing the steering sensor and ABS module and there have been steering-related recalls.
Tip: Visit Mazda's recall web page or the NHTSA website, type in your VIN and you can check to see if your car has been recalled.
Having said that there are a number of reports on Mazda forums from drivers who have spent money to have it sorted at dealerships with no resolution.
5. Electrical Failure
A common complaint from Mazda3 owners is the complete loss of electrical power whilst driving.
These complaints have been more prevalent on models from around 2010.
When the electricity goes off, drivers lose their headlights, climate control, power steering and all other electrical equipment.
One owner said this phenomenon occurs every few months or so.
Solution
Some owners have had to replace the battery continuously although the problem has been linked to faulty wiring and loose electrical connections.
Related: 13 Best & Worst Mazda3 Years (With Facts And Stats)
6. AC / Heater Problems
Some Mazda3's suffer from AC and heating that will go out intermittently. Owners say that the problem can flip-flop from driver's side to passenger side whilst others have constant heat blowing.
For those living in very hot or very cold locations, this issue is no laughing matter.
The frustrating part about this issue which owners have had to contend with is that because the problem is intermittent when they go to the dealer the heater / AC is usually working fine which makes the problem almost impossible to diagnose.
This problem is more common on newer Mazda3's and was most prevalent on models from around 2020.
Solution
AC and heater problems are commonly attributed to a faulty or broken thermostat although on the Mazda3 this issue is something of a mystery.
7. Engine Fell Out
The most common complaint pertaining to the Mazda3 engine is due to it falling out.
This is often caused by the motor mounts cracking and breaking although it can also be caused when bolts on the engine mount have not been tightened properly.
On the Car Problem Zoo website, a site dedicated to customer feedback, there are several complaints from owners who have suffered this, one owner had this to say:
"My vehicle started shaking on Friday. I parked it, later started it and started to move. Heard a crash. My transmission and engine fell. Motor mounts broken, damaged my axle."
Similarly, on the Mazda3club owner's forum you'll find people who have experienced the same thing.
Solution
If the engine mount has failed then this will need to be replaced, providing the engine is in good working order this can be put back in place.
Related: How Long Do Mazda3 Last?
8. Airbags
Airbag problems on the Mazda3 aren't widespread on new models but there have been enough complaints about them on older models that it's worth mentioning. Owners have reported seeing the airbag warning light coming on and off intermittently.
There have been airbag-related recalls too, so it's always a good idea to run your VIN to see if you've been affected. These recalls are due to the Takata made airbags which have been plagued by issues.
Some owners have said that dealerships have been slow to address these recalls and made it difficult for them to schedule an appointment.
Other airbag problems involve drivers that have crashed their Mazda3's and the airbags did not deploy.
One harrowing ordeal posted by one driver on the Car Complaints website reads:
"It was determined that I was hit by the other car moving at approximately 55 mph in the front end of my car, flipping it into the ditch nose-first. I am fortunate to be here writing this because my airbags in the car did not deploy and they most certainly should have."
Solution
First things first – run a VIN check on your Mazda3 and see if it's been recalled for airbag issues.
If you the airbag warning light comes on, contact your dealer immediately.
Mazda3 Model Years With the Most Problems
To get a better idea of which Mazda3 has the most problems the fairest way is to compare models based on the number of vehicles sold in relation to the number of reported problems.
For example, newer cars will have fewer complaints simply because they've been around for less time.
We're using Car Complaints PPMY index which means Problems Reported Per Thousand Vehicles Per Year.
Based on this index, the most problematic years are:
2019 – 0.84 PPMY
2010 – 0.45 PPMY
2020 – 0.32 PPMY
And the least problematic years are:
2005 – 0.09 PPMY
2018 – 0.10 PPMY
2017 – 0.11 PPMY
| | | | |
| --- | --- | --- | --- |
| Mazda3Model Year | Problems | Sales | PPMY Index |
| 2022 | 3 | – | – |
| 2021 | 14 | 44,501 | 0.31 |
| 2020 | 17 | 26,946 | 0.32 |
| 2019 | 82 | 32,657 | 0.84 |
| 2018 | 36 | 92,501 | 0.10 |
| 2017 | 41 | 72,093 | 0.11 |
| 2016 | 81 | 111,449 | 0.12 |
| 2015 | 107 | 102,979 | 0.15 |
| 2014 | 119 | 94,678 | 0.16 |
| 2013 | 162 | 102,880 | 0.17 |
| 2012 | 289 | 141,725 | 0.20 |
| 2011 | 162 | 95,463 | 0.15 |
| 2010 | 833 | 155,179 | 0.45 |
| 2009 | 132 | 47,248 | 0.21 |
| 2008 | 368 | 131,980 | 0.20 |
| 2007 | 281 | 114,559 | 0.16 |
| 2006 | 214 | 98,046 | 0.14 |
| 2005 | 123 | 84,053 | 0.09 |
| 2004 | 174 | 77,367 | 0.12 |
Source: Car Problem Zoo
Mazda3 Pros and Cons
If you're considering a Mazda3 as your next car you might be wondering what its strengths and weaknesses are…
Pros
High end compared to rivals
Well-equipped interior
Upscale cabin
Sleek, athletic chassis
Good value for money
Fun to drive
Cons
The hatchback model has a large blindspot which offers poor visibility
Turbo options are expensive
Base models lack features such as Apple Car Play and Android Auto
The best features are reserved for the higher trim levels
Mazda3 Reliability Compared to Similar Cars
Consumer Reports rankings detailed below is based on the model's newest three years, the Mazda3 sits mid-table with a so-so score of 47/100.
Make & Model
Consumer Reports
Reliability Score
Subaru Impreza
77
Toyota Corolla
75
Honda Civic
55
Hyundai Elantra
55
Nissan Sentra
54
Volkswagen Jetta
47
Mazda3
46
Nissan Kicks
45
Mini Cooper
37
Toyota Corolla Hatchback
27
Mazda Soul
23
Kia Forte
7
Source: Consumer Reports
Mazda3 Used Value
We've taken a look on Car Gurus to gauge the resale value of a Mazda3, below are typical asking prices for each model year.
According to Car Edge, a Mazda3 will depreciate 48% after 5 years and have a 5 year resale value of $11,568.
Note: Used model prices will vary depending on trim level.
| | | |
| --- | --- | --- |
| Model Year | Mileage (miles) | Resale Price |
| 2022 | 3,781 | $26,494 |
| 2021 | 29,636 | $24,450 |
| 2020 | 43,691 | $23,990 |
| 2019 | 30,801 | $22,995 |
| 2018 | 57,571 | $16,999 |
| 2017 | 128,727 | $10,400 |
| 2016 | 67,458 | $12,999 |
| 2015 | 73,156 | $11,891 |
| 2014 | 67,397 | $12,990 |
| 2013 | 97,303 | $8,999 |
| 2012 | 122,275 | $5,000 |
| 2011 | 115,928 | $6,995 |
| 2010 | 107,350 | $7,998 |
| 2009 | 132,489 | $5,979 |
| 2008 | 132,021 | $4,000 |
| 2007 | 157,147 | $3,995 |
| 2006 | 95,556 | $5,495 |
| 2005 | 170,337 | $2,966 |
| 2004 | 156,724 | $3,100 |
Source: Car Gurus
What Do Owners Like and Dislike About the Mazda3?
Based on owner feedback from the Kelley Blue Book site here are what real-life owners love and hate about the Mazda3.
Likes
Fun to drive
Relatively inexpensive
Safety features
Luxury interior
Great handling
Excellent ergonomics
Plenty of available torque
Good looks
Sporty and fast
Dislikes
Uncomfortable for tall drivers
Loud warnings
Backseat legroom is not the best
Manual passenger seat controls
Small rear space
Small gas tank capacity
Too many mechanical problems
Blind spots
Rear area does not have AC vents
Owners Reviews
"Premium feeling. Fun to drive. Soft materials inside. Suspension rough. Fuel consumption (26 city & 35 HW) but it's ok for a 2.5L. The motor is noiseless and it responds well. The night lights are exceptional. Things to criticize would be the space inside for rear passengers, the system entertainment and the piano black inner surfaces.…"
Source: Kelley Blue Book
"… I can say that the last year has been a satisfying experience with no surprises one way or the other. This car is kind of unique in its class as it pampers you with craftsmanship and features that you typically don't find in this segment but at a price point befitting Mazda. It nails the elusive trifecta of price, performance and quality better than any car I've ever owned."
Source: Kelley Blue Book
"I absolutely love almost everything about this car except the following: The infotainment system lacks touch and makes you use a toggle wheel which is very distracting while driving. Secondly, the gas mileage is not the greatest for such a small car but it is a bit of a trade-off to have turbo and AWD. I would have definitely rated it much higher if the infotainment center was more intuitive."
Source: Edmunds
Related: Mazda3 In Snow & Winter Driving
How Reliable Are Mazda Cars?
According to a recent report from Consumer Reports, Mazda are ranked the 2nd most reliable car manufacturer out of 28 brands with an impressive score of 75/100.
| | | |
| --- | --- | --- |
| Ranking | Brand | Score |
| 1 | Lexus | 76 |
| 2 | Mazda | 75 |
| 3 | Toyota | 71 |
| 4 | Infiniti | 69 |
| 5 | Buick | 66 |
| 6 | Honda | 66 |
| 7 | Subaru | 66 |
| 8 | Acura | 64 |
| 9 | Nissan | 63 |
| 10 | Mini | 60 |
| 11 | Hyundai | 56 |
| 12 | Chrysler | 54 |
| 13 | Porsche | 52 |
| 14 | Chevy | 48 |
| 15 | Audi | 47 |
| 16 | Cadillac | 47 |
| 17 | BMW | 45 |
| 18 | Ford | 44 |
| 19 | Kia | 43 |
| 20 | Volvo | 42 |
| 21 | Ram | 40 |
| 22 | GMC | 37 |
| 23 | Mercedes-Benz | 34 |
| 24 | Volkswagen | 31 |
| 25 | Genesis | 30 |
| 26 | Jeep | 26 |
| 27 | Tesla | 25 |
| 28 | Lincoln | 18 |
Source: Consumer Reports
Sources
https://repairpal.com/reliability/mazda/3
https://www.carcomplaints.com/Mazda/MAZDA3/
https://www.consumerreports.org/cars/mazda/3/
https://www.carproblemzoo.com/mazda/mazda3/
https://www.kbb.com/mazda/mazda3/
https://www.cargurus.com/Cars/l-Used-Mazda-MAZDA3-d214