The Mercedes-Benz GLC is a compact luxury crossover that was first introduced in 2015 as a replacement for the GLK.
It's one of Mercedes-Benz's most popular models and is known for its elegant styling, premium interiors, overall refinement and versatility.
In this article, we'll take a quick look at some of the GLC's common issues to give you a better idea of its overall reliability.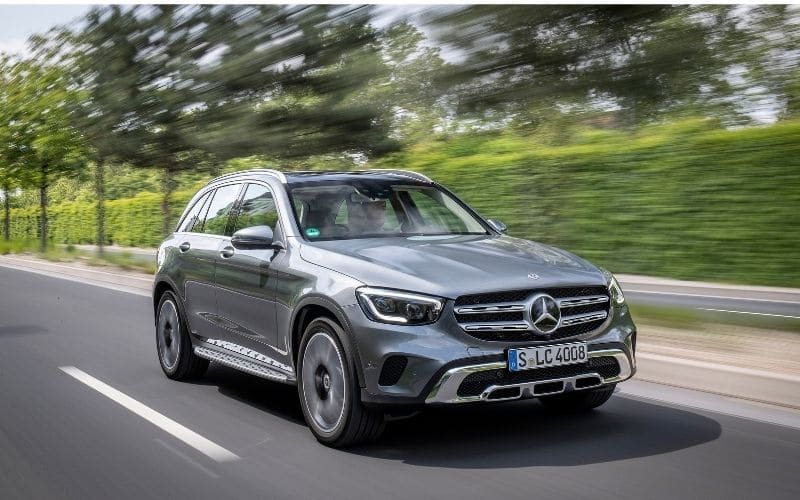 1. Positive Crankcase Ventilation Valve Failure
According to data from the NHTSA, the most common GLC complaints are engine-related, many of which were due to a faulty positive crankcase ventilation (PCV) valve – a simple system that introduces filtered fresh air into the crankcase.
These problems were mostly reported on 2016 and 2017 model years and to a lesser extent, 2018 and 2019 models.
Outside of warranty owners have reported repair costs in excess of $1500 – essentially the valve will need to be replaced otherwise there is a risk of engine failure.
Here is what the owners had to say on the NHTSA website:
"Got the MIL obd2 error code P052E – Positive Crankcase Ventilation Regulator Valve Performance. After some research this seems to be a common issue for this vehicle and other similar Mercedes-Benz vehicles with the same engine. It is something that it is extremely expensive to fix ($2000) and very labor intensive."
"There are lots of 2017 GLC 300 that has been having issues with PCV system that are malfunctioning that could cause engine failure. Customers are forced to spend $2000 plus to have this fixed rather than Mercedes owning its problem and fixing it. For your reference please check glcforum.com where glc owners are ranting about their issues with PCV systems."
"Got a Check Engine Light at 32,400 miles and the code said it was the Positive Crankcase Ventilation Regulatory Valve. It was under warranty, the job requires over 6 hours of labor, and it's due to a intake breather valve getting gummed up with oil/oil vapors/condensation. Well, the check engine light came on again at 58,000 miles and 3 years later. Now not under warranty, the dealer quoted 6 hours and $1435 to do the same repair that was done before."
On glcforums.com owners shared similar complaints:
"My 2018 GLC300 has only ~36k miles and my Check Engine light came on a few weeks back. It was due for a service and so I waited. The service happened today and feedback from the service center is to replace Crankcase Valve / Oil Separator. The cost: ~$2k. They did not have the parts and therefore I need to go back again."
2. Rough Ride from Run Flat Tires
The most common complaint owners have with their Mercedes-Benz GLC is the rough ride of the factory-equipped run-flat tires.
Run-flat tires allow you to keep driving even after getting a puncture because they have rigid side walls that keep the rim from hitting the road.
This sounds great on paper, but in normal driving situations, the stiffer sidewalls negatively affect the GLC's ride quality.
Run-flats are great on smooth roads, but are extremely harsh when driving over broken asphalt and potholes. The ride quality is worse in GLCs equipped with larger 20 or 21-inch wheels since their tires' sidewalls are thinner which results in less shock absorption.
Here is how one GLC owner described their experience with the stock tires:
"My biggest complaint is the ride quality, especially over potholes. It drives fine and actually pretty sporty on flat roads but over potholes, car almost loses contact with the road."
The stock run-flats also wear out pretty quickly with most owners needing a replacement before a set reaches 20,000 miles.
Solution
To improve the GLC's ride quality using run-flat tires, you can air out the tires a little bit to reduce the harshness.
Tires are normally inflated to over 40 PSI when they roll out for delivery and most dealers neglect to air out the extra pressure when they hand over the keys to you, so a lot of complaints are actually due to over-inflated run-flat tires.
If the run-flats are still too harsh even when they're under inflated, you can replace them with regular tires to improve the ride quality. Regular tires also last longer than run-flats.
However, lots of GLCs don't come with a spare tire – Mercedes-Benz only started offering spare tires as an option in North America in 2020.
If you switch out your run flats with regular tires, you'll have to look for a spare donut tire that will fit under the rear cargo area's floorboard.
Keep in mind that AMG models have larger brake calipers so standard donut tires won't properly fit.
Alternatively, you can fill your tire with sealant or keep a puncture repair kit as well as an air compressor inside the car for emergencies.
3. Brake Squeal
Early model years of the Mercedes-Benz GLC were prone to excessive brake noise even when the cars were relatively new. The most common issue people reported was a loud squealing or squeaking sound whenever they hit the brakes while driving in reverse.
Occasionally, the brakes would also squeal when coming to a stop.
It happens more often in colder weather, but over time and as the pads wear out more, it can start squealing even in moderate temperatures.
Brake squeal problems typically affected the 2016 to 2019 model years of the Mercedes-Benz GLC.
Brake squeal is normal if the brake pads have worn down completely, but many GLC owners have had to deal with squealing brakes soon after rolling off the lot.
In many cases, when people went back to the dealer, they had to pay out-of-pocket to replace the pads since the brakes are considered a wear item.
And even after servicing the brakes, the squeal would eventually come back.
Some owners have reported that they've continued to live with the persistent brake squeal after several brake pad and rotor replacements.
Here is how one GLC owner described their experience:
"Bought car 3 days ago and brakes squeal upon backing out of garage and sometimes applying when stopping. Called salesperson today and was informed now that they are aware of this issue and its normal and should only happen when car has been sitting and it's cold or they got wet."
Although the premature squealing of the brakes doesn't affect the car's drivability or present a safety issue, most people find it extremely annoying especially since they expect a certain level of quality and refinement from a new luxury vehicle.
Some GLC owners also complained about clunking, grinding or groaning brake noises just before the car came to a complete stop, although this issue is less common.
Related: 9 Best & Worst Mercedes-Benz GLC Years (With Pictures)
Solution
Mercedes-Benz eventually fixed the GLC's brake squeal issue starting with the 2020 models by updating the brake pads.
Older vehicles equipped with the newer brake pads should not have any brake squeal issues at all. It's also possible to eliminate the excessive brake noise by using aftermarket brake pads.
The high-performance AMG models of the GLC are still susceptible to brake squeal because they use different compounds for their pads which provide better performance.
If you're still experiencing unusual noises after upgrading the brake pads, cleaning the rotors and applying disc brake paste on the pads might be able to quiet down the brakes.
4. Shuddering or Crabbing While Turning
Many models of the Mercedes-Benz GLC suffer from what owners have been calling 'crabbing' or tire skipping when the car is driven while the steering wheel is at full lock. When the tire skips, it produces a loud thud and makes the steering wheel shudder.
This crabbing or tire skipping issue affects all right-hand drive 2016 to 2019 model GLC model years.
The AMG variants of the current-generation GLC also suffer from crabbing whether they're left or right-hand drive.
Other Mercedes-Benz vehicles like the C-Class and E-Class also have crabbing issues.
Crabbing usually only occurs in vehicles fitted with high-performance summer tires when they're driven in colder weather.
The rubber compound used in summer tires get hard, have less grip, and are less compliant in lower temperatures.
This causes the sidewalls to become stiffer which makes it easier for the tires to lose their grip and skip when turning at full lock.
Tire skipping also becomes worse as wheel sizes get bigger and the tire sidewall becomes thinner and less flexible, which explains why the AMG models still suffer from this problem to this day.
Tire skipping is more problematic in RHD GLCs, and other Mercedes-Benz models from the same era, because they have different steering geometry compared to their LHD counterparts, which exacerbates the issue.
Here is how a couple of GLC owners described their experience:
"I bought a new GLC AMG line which has 20″ rims and Bridgestone RFT Dueler H/P Sport 255/45R20 run flat tyres fitted as supplied by Mercedes-Benz. They are very noisy whilst maneuvering at slow speed."
"We have a 2 year old 250D AMG line on 20″ wheels. The crabbing and clunking was awful on the original summer tires, that lasted 12,000 miles – hoped for higher mileage, but they were completely scrubbed on the outer edges"
Mercedes-Benz released an official statement to address the widespread tire skipping complaints in 2017 and declared that the problem doesn't present any negative safety or performance side effects.
They did suggest some solutions to help minimize tire skipping…
Solution
Mercedes-Benz eventually updated the steering knuckles of the right-hand drive GLCs to correct their steering geometry starting with the 2019 models. However, this fix only works for non-AMG GLCs.
Older RHD GLCs can get new steering knuckles fitted at the dealer, but if the vehicle is out of warranty, you'll have to pay out of pocket.
Fitting all-season tires is a cheaper and simpler solution.
These tires are more compliant in colder temperatures and are less likely to skip. This also eliminates the tire skipping problem in the AMG models which, so far, have not had any steering geometry updates.
5. Constant Vibrations from Steering Wheel
Lots of GLC owners have complained that the steering wheel continuously vibrates for several seconds whenever they drive over a rough patch of road or hit a bump at speeds of 40 mph and higher.
Steering wheel vibration issues have affected pretty much all model years of the GLC from 2016 to 2022.
Although steering wheel vibrations can occur when some components wear out, GLC owners have reported that they started having wheel vibration issues soon after picking up their cars from the dealer.
Common causes of steering wheel vibrations in older vehicles include:
Poor Wheel alignment
Faulty wheel bearings
Worn out suspension
Wheels are not balanced
Faulty CV axles
Since the GLC is still quite new and the steering wheel vibrations that owners have reported only occur after driving over bumps, typically lasting between 5 to 30 seconds before going away, it's likely caused by the electric power steering or the active suspension rather than any of the mechanical problems mentioned above.
Here is how one GLC owner described their experience:
"Vehicle vibrates quite violently when hit some potholes. Steering wheel is the part that vibrates more but vibration is felt throughout the vehicle. It is more prevalent at highway between 55-65 mph speed. I also noticed that car shakes unusually and tilts to one side at times making it quite uncomfortable for driver."
Solution
Mercedes-Benz eventually released a TSB (Technical Service Bulletin) in 2020 which stated that the electric power steering software needs to be updated to fix the vibration problem.
For newer 2022 models that continue to experience the issue, the best solution is to take it back to the dealer to see if there are any new software updates that can solve the issue.
Some GLC owners report that rapidly increasing or decreasing the car's speed is effective at making the vibration stop.
6. Jerky Transmission
Some Mercedes-Benz GLCs suffer from jerky transmissions that can jolt the driver and passengers while the vehicle is slowing down or accelerating.
Owners report that it occurs more often when driving in 'Sport' or 'Sport+' mode, but it can still occur when driving in 'Comfort' mode.
It's more apparent in the AMG variants of the GLC, which have different transmission tuning, but many people have also complained of jerky transmission issues in the standard GLC models.
Here is how one owner described the issue:
"I've had my new GLC for about a week now. At least a couple times a day I experience a weird jolt/clunk/jerking from the transmission. Typically this happens when I am slowing down for a stop sign or traffic light. It seems to be between either third to second gear, or perhaps 4th to 2nd."
Some GLC owners report that they can get rid of the jerkiness by just letting the car coast to a stop instead of stepping on the brake pedal.
Solution
In late 2020, Mercedes-Benz released a TSB that addressed the transmission complaints by updating the transmission and PTCU (Powertrain Control Unit) software.
Along with the software update, Mercedes-Benz instructed dealers to check the transmission fluid levels, flush the valves, let the transmission computer perform the adaptation procedure, and collect the data logs from the computers.
Many people who have gotten the software update report that the transmission shifts smoother.
Although some have also reported that they feel that they've lost some of the responsiveness that the car used to have.
If the issue persists, it's best to take it back to the dealer for further diagnosis as there could be an issue with the transmission or some other related component.
7. Noisy and Stuttering Wipers
The first few years of the GLC's production run saw many owners complaining of excessive noise and stuttering whenever they used the wipers.
The wiper sound can be described as a combination of squeaking and hard rubbing noises that constantly occur on both upward and downward sweeps.
Along with the noise, the wipers also constantly stutter and partially stop midway through the sweep as if they're resisting the wiper motors.
Here is how one owner described the issue:
"New (2018) GLC 43 AMG Coupe. Wipers juddering first time in the rain. Been back 3 times now and they have done all the "special tool, polish screen, rest angles etc etc. Marginally better but not right."
Wiper issues are fairly common in the 2016 to 2018 models of the Mercedes-Benz GLC. Newer model years of the GLC seem to have solved the issue as there haven't been many reports of it occurring on different Mercedes-Benz forums.
Solution
Many GLC owners who have complained of wiper stutters and noises report that it has significantly improved as time went by. This is likely due to the wiper blades softening up over time and having less friction against the windshield.
Mercedes-Benz also released a TSB in 2020 to address the GLC's wiper noise problem. It instructed dealers to clean the windshield extensively and replace the wiper blades.
Some GLC owners also report that using aftermarket wiper blades like the Bosch Aerotwin have helped reduce the noise and stutter.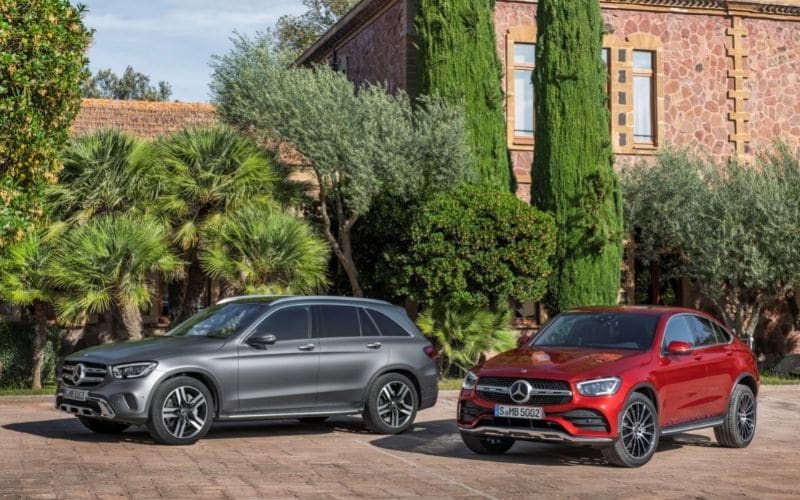 Mercedes-Benz GLC Pros and Cons
If you're considering a Mercedes-Benz GLC as your next car you might be wondering what its strengths and weaknesses are…
Pros
Sophisticated looking exterior
Premium interior
Quiet and spacious cabin
Good acceleration
Lots of tech and driving aids
Cons
Not as exciting to drive as some rivals
Smaller cargo capacity than competitors
Higher long-term upkeep
Related: 15 Mercedes Benz GLC Facts and Statistics You Should Know
Mercedes-Benz GLC Reliability Compared to Similar Cars
Consumer Reports ranks the Mercedes-Benz GLC in 5th place with a score of 63/100.
| | |
| --- | --- |
| Make & Model | Consumer ReportsReliability Score |
| Buick Envision | 90 |
| Cadillac XT5 | 89 |
| Lexus NX | 78 |
| Audi Q5 | 64 |
| Mercedes-Benz GLC | 63 |
| Porsche Macan | 61 |
| Volvo XC60 | 61 |
| Infiniti QX50 | 49 |
| BMW X3 | 47 |
| Acura RDX | 43 |
| Mercedes-Benz GLB | 34 |
| Genesis GV70 | 30 |
| Jaguar F-Pace | 25 |
| Land Rover Discovery Sport | 25 |
| Land Rover Range Rover Evoque | 25 |
| Land Rover Range Rover Velar | 25 |
| Volkswagen ID4 | 21 |
| Lincoln Corsair | 20 |
| Alfa Romeo Stelvio | 18 |
| Tesla Model Y | 18 |
Source: Consumer Reports
Mercedes-Benz GLC Used Value
We've taken a look on Car Gurus to gauge the resale value of a Mercedes-Benz GLC, below are typical asking prices for each model year.
According to Car Edge, a Mercedes-Benz GLC will depreciate 41% after 5 years and have a 5 year resale value of $30,862.
Note: Used model prices will vary depending on trim level.
| | | |
| --- | --- | --- |
| Model Year | Mileage (miles) | Resale Price |
| 2022 | 8,861 | $44,383 |
| 2021 | 8,239 | $43,295 |
| 2020 | 49,371 | $47,558 |
| 2019 | 52,902 | $31,891 |
| 2018 | 49,572 | $25,988 |
| 2017 | 41,896 | $37,591 |
| 2016 | 59,737 | $26,662 |
Source: Car Gurus
Related: How Long Do Mercedes GLC Last? (Solved & Explained)
What Do Owners Like and Dislike About the Mercedes-Benz GLC?
Based on owner feedback from the Kelley Blue Book site here are what real-life owners love and hate about the Mercedes-Benz GLC.
Likes
Fun to drive
Compliment-getter
Excellent handling
Flawless style
Comfort
Dislikes
Suspension
Tires wear down quickly
Acceleration drags
Owners Reviews
"The safety features and specifically the drivers assistance package is far superior to other manufactures…"
Source: Kelley Blue Book
"Smooth comfortable drive yet very quick and sporty feel. Great style and cool presence."
Source: Edmunds
"Comfortable..Smooth ride…Gorgeous…"
Source: Edmunds
How Reliable Are Mercedes-Benz Cars?
According to a recent report from Consumer Reports, Mercedes-Benz are ranked the 23rd most reliable car manufacturer out of 28 brands, with a score of 34/100.
| | | |
| --- | --- | --- |
| Rank | Brand | Score |
| 1 | Lexus | 76 |
| 2 | Mazda | 75 |
| 3 | Toyota | 71 |
| 4 | Infiniti | 69 |
| 5 | Buick | 66 |
| 6 | Honda | 66 |
| 7 | Subaru | 66 |
| 8 | Acura | 64 |
| 9 | Nissan | 63 |
| 10 | Mini | 60 |
| 11 | Hyundai | 56 |
| 12 | Chrysler | 54 |
| 13 | Porsche | 52 |
| 14 | Chevy | 48 |
| 15 | Audi | 47 |
| 16 | Cadillac | 47 |
| 17 | BMW | 45 |
| 18 | Ford | 44 |
| 19 | Kia | 43 |
| 20 | Volvo | 42 |
| 21 | Ram | 40 |
| 22 | GMC | 37 |
| 23 | Mercedes-Benz | 34 |
| 24 | Volkswagen | 31 |
| 25 | Genesis | 30 |
| 26 | Jeep | 26 |
| 27 | Tesla | 25 |
| 28 | Lincoln | 18 |
Source: Consumer Reports
Related: Where are Mercedes-Benz GLC Made? (Solved & Explained)
Sources
https://www.consumerreports.org/cars/mercedes-benz/glc/
https://www.carcomplaints.com/Mercedes-Benz/GLC300/
https://www.carproblemzoo.com/tsb/mercedes-benz/glc/
https://www.kbb.com/mercedes-benz/glc/
https://www.edmunds.com/mercedes-benz/glc-class/
https://caredge.com/mercedes-benz/glc-class/depreciation
https://www.cargurus.com/Cars/l-Used-Mercedes-Benz-GLC-Class-d2361