Making its debut in 2016, the GLC is Mercedes' best-selling vehicle and it's not hard to imagine why.
It's luxurious, stylish, extremely comfortable and it's just the right size for a small family.
If you're thinking about the GLC as your next vehicle, you're likely wondering what its average lifespan is.
In this article, we will analyze how many years of service the Mercedes Benz GLC can provide, plus much more…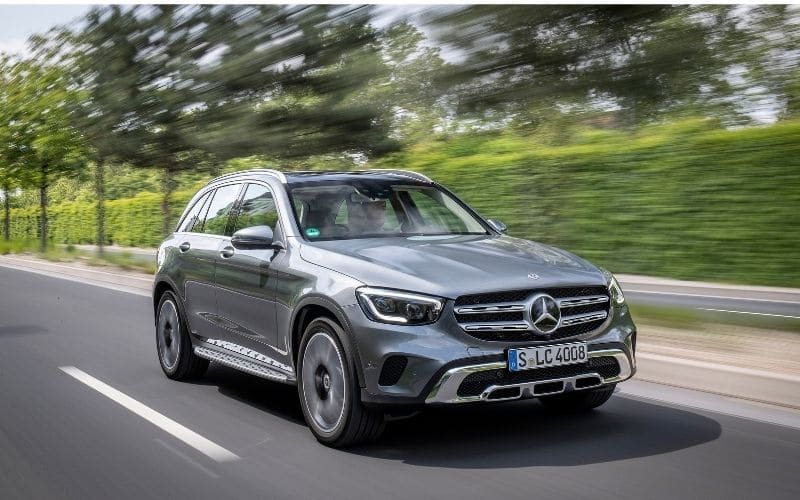 Here is the short answer to how long do Mercedes GLC last:
The Mercedes Benz GLC is a very reliable, compact crossover SUV that can last between 200,000 to 250,000 miles when well maintained and driven conservatively. If you drive 15,000 miles a year, this equates to 13 – 17 years of service before requiring expensive repairs or breaking down.
How Many Miles Can You Expect from a Mercedes Benz GLC?
The GLC is the replacement of the very successful GLK which debuted in 2008 and was discontinued in 2015.
This has given Mercedes plenty of time to fine-tune their offering to the compact crossover segment.
The GLC is based on the MRA platform which is used by the C and E-class models so its components and drivetrain are all very well developed.
On average we would expect the GLC to last between 200k – 250k miles before big-ticket items such as the engine and transmission begin to fail. When this happens the repairs can cost more than the vehicle is worth, and it may be more economical to simply buy a new car.
Of course it's more than possible to exceed these figures as many Mercedes have run well past 300k miles with excellent maintenance, however these kinds of high mileages shouldn't be expected.
There haven't been any widespread issues with the GLC reported so far – and it's already been on the road for several years.
Some of its accessories and electronic systems may need repairs once you go over 100,000 miles though which is well over its 4-year/50,000-mile warranty.
Quality materials and vehicle design will play a key role in vehicle longevity, ultimately though it comes down to a few key factors at the ownership level.
How you drive your GLK will play a key role in how long it lasts.
Being too aggressive with the gas and brake pedals and overworking the engine can cause substantial wear and tear on components.
The regular maintenance of a car also can add thousands of available miles to the odometer.
The life expectancy of your GLK will be cut short if you avoid:
Service appointments
Routine oil changes
Tire rotations
Checking fluid levels
As a general rule – the newer the car the longer it is expected to last due to the increase in quality and advances in engineering.
How Soon Should You Expect Rust on a Mercedes Benz GLC?
Since Mercedes Benz targets the luxury category, they don't skimp on their paint quality and rust proofing.
Any signs of rusting on a new GLC are out of the ordinary and should be covered under warranty.
They also use high-quality steel and other metals that don't easily rust.
As such, there is no set time when you should expect rust on your GLC.
Of course, this doesn't mean it's immune from rock chips and scratches.
Make sure you fix any paint damage to prevent it from rust as exposed metal will oxidize, if it's beyond a DIY fix speak to your local Mercedes dealership.
Depending on where you live, rusting can be much more of an issue:
Coastal regions, where salty ocean air harms the paint and corrodes metal parts.
Areas that aggressively salt the roads in the winter – again, the salt and chemical agents used can wreak havoc on your vehicle.
Areas with lots of rainfall and high humidity; moisture will speed up rusting.
Tips to help keep your GLC rust-free:
Clean your car regularly – Especially after exposure to rain, dirt, snow and salt. Be sure to get the underside of the vehicle too and rinse thoroughly.
Storage – If possible, keep your car stored in a garage protected from sunlight, rain, snow and bird droppings.
Waxing: Wax your car twice a year. Not only will this make your GLC look amazing, it also gives a protective coating against rust
Related: 6 Most Common Mercedes-Benz GLC Problems (Explained)
How Long Does the Mercedes Benz GLC Last Compared to Similar Car Models?
While the GLC can easily last over 10 years, let's compare it to other luxury crossovers in terms of overall reliability and annual maintenance costs.
GLC vs. BMW X3
The BMW X3 outsells the Mercedes Benz GLC by quite a margin.
It's also more recognizable since BMW has been selling the X3 since 2003.
Compared to the GLC's 200,000 to 250,000 miles, you might only get 150,000 to 200,000 miles out of the X3.
RepairPal doesn't have enough data regarding the GLC's reliability, but it gave the X3 2.5 stars out of 5 which is quite low.
The average rating for Mercedes Benz in general is 3 stars while similar MB vehicles like the GLK and C-Class both got 3.5 stars.
It's fair to say Mercedes has a better track record for reliability.
Average annual repair costs for both models are about the same at $1,039 for the GLC and $1,034 for the X3.
If you plan on keeping the vehicle for several years, the GLC is the safer choice.
You may also be interested in our article: How Long Do BMW X3 Last?
GLC vs. Audi Q5
The Audi Q5 and the GLC are pretty much neck and neck when it comes to comfort and luxury and are both exceptional SUVs.
The Q5 has been on the market since 2009 and has a 3 out of 5 for reliability on RepairPal. So it's the same as Mercedes Benz's overall reliability rating as a brand.
The Q5 will also be a little cheaper to maintain at $928 per year while the GLC is around a hundred dollars more expensive at $1,039. But the difference is quite negligible.
We estimate the Q5 will last around 200,000 miles.
You may also be interested in our article: How Long Do Audi Q5 Last?
GLC vs. Volvo XC60
The Volvo XC60 offers world-class safety, excellent comfort and good practicality.
It has a much higher reliability rating according to RepairPal at 4 stars compared to the Mercedes Benz brand's overall rating of only 3 stars.
It's also going to be much cheaper to maintain — costing you only $746 a year compared to the GLC's $1,039.
Both vehicles when well looked after can run to 200,000 – 250,000 miles.
You may also be interested in our article: how long do Volvo XC60 last?
How Reliable is a Mercedes Benz GLC?
Whilst not the most reliable SUV in the luxury compact segment, the GLC is generally rated average – above average in terms of reliability.
Based on our research, we believe the GLC is a reliable vehicle and shouldn't be problematic or prone to expensive repairs if it's properly taken care of and regularly serviced.
J.D. Power gave the GLC a 77/100 for Quality & Reliability which is average while Consumer Reports gave it a 'Recommended' rating.
Based on 60 consumer ratings, Kelley Blue Book scored the reliability of the GLC at 4.1 out of 5.
The GLC shares a lot of parts, including the engine and transmission, with other popular Mercedes Benz models like the C and E-Class which means they're all well developed and thoroughly tested to a high standard.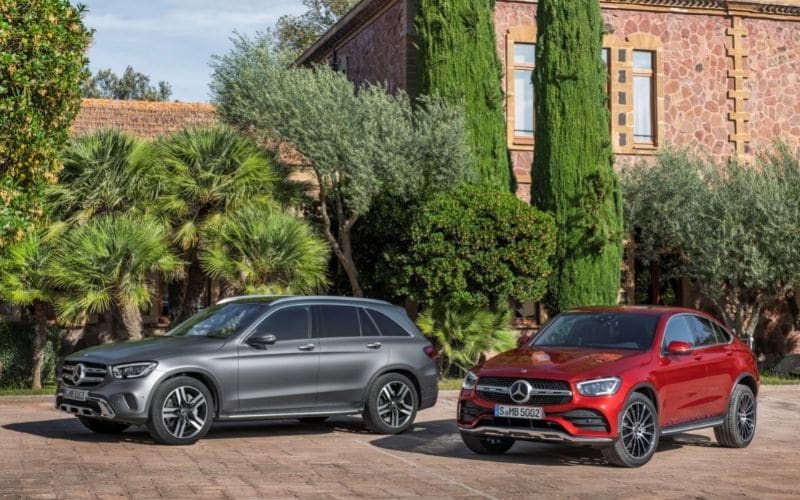 Reliability of Other Luxury Compact SUVs
Model
Reliability
Acura RDX
4.5 / 5.0
Lexus NX200t
4.0 / 5.0
Infiniti EX35
4.0 / 5.0
Volvo XC60
4.0 / 5.0
Mercedes-Benz GLK350
(GLC predecessor)
3.5 / 5.0
BMW X1
3.5 / 5.0
Lincoln MKC
3.5 / 5.0
Land Rover LR2
3.0 / 5.0
Land Rover Range Rover Evoque
3.0 / 5.0
BMW X3
2.5 / 5.0
Porsche Macan
1.5 / 5.0
Avg. Luxury Compact SUV
3.5
There is no Reliability Rating for the Mercedes-Benz GLC on Repair Pal due to insufficient data.
The Best and Worst Years of the Mercedes Benz GLC
The GLC has only been on the market for a little over five years. In that short amount of time though, there haven't really been any reports of any widespread issues plaguing the model.
According to CarComplaints, the 2016 GLC or the first model year is the worst model with 6 reported problems so far.
Most of these appear to be minor complaints about rattles and vibrations that don't affect any major vehicle systems.
Newer model years (2018 and onwards) seem to be free of any problems so far, recording zero complaints.
Here is a chart using data from CarComplaints breaking down the number of complaints made by model year:
| | |
| --- | --- |
| Model Year | Number of Complaints |
| 2016 | 6 |
| 2017 | 4 |
| 2018 | 0 |
| 2019 | 0 |
| 2020 | 0 |
Related: 9 Best & Worst Mercedes-Benz GLC Years (With Pictures)
What About Recalls?
According to the National Highway Traffic Safety Administration (NHTSA) database, the Mercedes GLC has been recalled a total of 62 times since 2016.
A recall is issued when a manufacturer or the NHTSA (National Highway Traffic Safety Administration) deems that a vehicle or one or more of its components creates an unreasonable safety risk or does not meet minimum safety requirements – recall related problems are fixed free of charge.
To find out if your GLC has been subject to a recall you can check the Mercedes Benz website recall page, you'll need your car's 17-digit VIN.
Here is the full list of recalls for the GLC:
2016 – 11
2017 – 11
2018 – 13
2019 – 10
2020 – 13
2021 – 4
Please also read our article: 15 Mercedes GLC Facts & Statistics
Mercedes Benz GLC Model Year List
The GLC is still in its first generation. A facelift changed its look significantly in 2020 but it's still the same vehicle underneath.
2016 to 2019 (Pre-facelift)
2016 Mercedes Benz GLC
2017 Mercedes Benz GLC
2018 Mercedes Benz GLC
2019 Mercedes Benz GLC
2020 to Present (Facelift)
2020 Mercedes Benz GLC
2021 Mercedes Benz GLC
Is the Mercedes GLC Expensive to Maintain?
Over time, and once the warranty runs out, the Mercedes GLC will be more expensive to maintain than your average vehicle.
According to RepairPal the average annual repair cost for all vehicles is only $652 which is lower than the GLC's annual repair estimate of $859.
The average repair cost for luxury compact SUVs is also $859.
Maintenance costs during the 4-year/50,000-mile warranty period should be minimal though.
Model
Avg. Annual
Repair Cost
Frequency of
Unscheduled Repairs
(per year)
Probability of
SevereRepairs
Acura RDX
$497
0.4
6%
Lexus NX200t
$690
0.3
6%
Infiniti EX35
$588
0.7
8%
Volvo XC60
$746
0.5
7%
Mercedes-Benz GLK350
(GLC predecessor)
$859
0.6
10%
BMW X1
$915
0.7
8%
Lincoln MKC
$853
0.4
12%
Land Rover LR2
$895
0.8
11%
Land Rover Range Rover Evoque
$1,102
0.6
12%
BMW X3
$1,034
0.8
14%
Porsche Macan
$1,265
1.3
20%
Avg. Luxury Compact SUV
$859
0.6
10%
What is Considered High Mileage for the Mercedes GLC?
You'll see lots of modern Mercedes Benz models still running very well even if they're well past the 100,000 mile mark.
But a GLC with around 120,000 miles would be considered high mileage and therefore a riskier investment.
Some important factors to consider whne buying a used GLC are:
How long you are planning on keeping the car. If you're planning on keeping it for many years, you have to ask yourself – do the short-term savings outweigh spending a little extra into something more reliable.
Maintenance history. Check the vehicle was properly serviced and the owner can provide proof of this.
Previous Owners. As a general rule less is better. More owners usaully means more wear and tear. If one family owned it and drove the full 120k miles and serviced the car, then you can almost guarantee they took good care of it throughout ownership.
Check the CarFax. This doesn't guarentee anything but can help give a clearer picture of wear and tear. Make sure it has minimal damage, if any. Analyze the data to make sure if something did happen, it wasn't engine related or mechanical.
How many miles the car has done relative to its age. Most cars average around 12k – 15k miles per year, anything significantly higher than this should be considered a red flag, so be extra careful when making an assesment.
How Long Do the Brakes Last?
The GLC's brakes should be able to last between 30,000 and 70,000 miles. Owners have reported that the front brakes last significantly longer than the rear brakes.
With the AMG GLC 43 and 63, you might need to replace them much sooner. Some have reported needing new pads at around 20,000 miles.
This is quite normal since the AMG brakes are likely designed for more performance and longevity is only a secondary concern.
You may also be interested in our article: Where Are Mercedes GLC Made?
How Long Do GLC Tires Last?
The GLC comes with run-flat tires as stock. These seem to wear out quite quickly and often need replacement at around 10,000 to 20,000 miles.
Run-flat tires otherwise known as MOExtended tires, are engineered to let you drive a limited distance after a total loss of tire pressure.
If you want to make your tires last, you need to have them rotated every 5,000 miles so that they wear more evenly.
If you don't want to be replacing tires every 10,000 miles, you can swap them out for longer-lasting ones.
How Long Does the Transmission Last?
The Mercedes Benz GLC comes with a 9-speed automatic transmission that's also used in a lot of other Mercedes Benz vehicles. It is expected to last 200,000 – 250,000 miles which is the equivalent of 13 – 17 years based on the national average mileage of 15,000 miles per year.
So far, there haven't been any reports of chronic issues with these transmissions. They should last the entire lifetime of the vehicle and keep running for almost 2 decades.
The engine will last much longer with proper maintenance and smooth driving habits.
How Long Do Spark Plugs Last?
Mercedes Benz includes spark plug replacements as part of its 50,000-mile service.
This ensures that the vehicle is always running smoothly.
It's more of a precautionary measure because the GLC's spark plugs can last 70,000 to 100,000 miles before they actually need to be replaced.
What About Insurance Cost?
Insurance for the GLC costs an average of $220 a month or $2,640 according to different quotes collected by Finder.
It's actually one of the cheaper Mercedes Benz vehicles to insure and is only beaten by the much more affordable GLA.
Of course, insurance rates will vary widely and depend on a lot of factors such as age, driving history, your policy, and your location.
Tips to Prolong the Life of Your Mercedes Benz GLC
Follow the maintenance schedule to the letter
Use original parts and quality fluids
Find a reputable Mercedes Benz specialist in your area
If possible, keep the vehicle stored in a garage, out of the elements
Invest in paint protection to keep the car looking new
Do not exceed the vehicle's towing limits
Drive smoothly and conservatively
Check your tire pressure regularly and rotate your tires
Please also read our article: Mercedes Benz GLC in Snow & Winter Driving
Resources
Related: Are Mercedes Benz Worth the Money?
https://www.jdpower.com/cars/2021/mercedes-benz/glc/glc-300-4matic-suv
https://repairpal.com/reliability/bmw/x3
https://repairpal.com/reliability/audi/q5
https://repairpal.com/reliability/volvo/xc60
https://repairpal.com/reliability/mercedes-benz/glk350
https://repairpal.com/reliability/mercedes-benz/c300
https://repairpal.com/reliability/mercedes-benz
https://enginepatrol.com/how-long-range-rovers-last/
https://www.motortrend.com/features/best-selling-luxury-vehicles-2020?slide=5
https://www.jdpower.com/cars/2021/mercedes-benz/glc
https://enginepatrol.com/how-long-mercedes-e350-last/
https://enginepatrol.com/how-long-mercedes-ml350-last/
https://enginepatrol.com/how-long-bmw-x6-last/
https://www.consumerreports.org/cars/mercedes-benz/glc/2021/road-test/?pagestop
https://www.finder.com/car-insurance/mercedes-benz-glc-class-insurance-rates
https://www.kbb.com/mercedes-benz/glc/