The ML350 trim was launched by Mercedes in 2002 and discontinued after the 2015 model year.
It features a 3.5-liter, 24-valve V-6 and was hugely popular thanks to its upscale cabin, modern tech and dynamic handling.
If you're thinking of buying one you might be interested to learn more about its average lifespan and dependability.
We'll cover that in this article, read on to find out…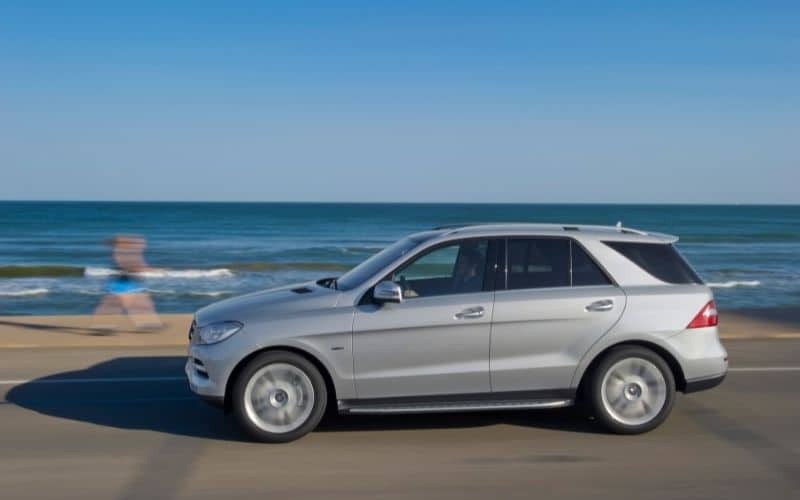 Here is the short answer to how long the Mercedes ML350 lasts:
The Mercedes-Benz ML350 is a durable SUV that can last between 200,000 – 250,000 miles when adequately maintained and driven conservatively. Based on an annual mileage of 15,000 miles, you can expect the Mercedes ML350 to last 13 – 17 years before requiring expensive repairs or breaking down.
How Many Miles Can You Expect from a Mercedes ML350?
The Mercedes ML350 is a robust SUV that has proven it can withstand the test of time, they're not perfect by any means but they are built to last.
Across various online forums such as benzworld.org and mbworld.org, we found a number of owners who had crossed the 200,000-mile threshold and many others who had 150,000 miles on the clock and still going strong.
One driver posted: "Just hit 120k miles on my wife's 2012 ML350 (gas). We're putting 20k miles on it a year and expect it will last her at least until 200k. No breakdowns or major repairs so far."
The ML350 is expected to have a respectable lifespan of around 200,000 to 250,000 miles on average. When these types of mileages have been achieved maintenance costs can gradually creep up and the chance of big-ticket items failing, such as the engine or transmission, is much higher.
When this happens the costs of repairs may outweigh the vehicle's value, and money would be better spent on an upgrade.
Its durability becomes more evident when looking on used car websites such as AutoTrader where you can even find models with over 250,000 miles.
Sure, these vehicles are designed to be driven sportingly, but keep in mind being too aggressive with the gas and brake pedals will increase wear and tear on components which can negatively impact longevity.
Keeping up to date with the maintenance schedule will also add thousands of available miles to the odometer.
The life expectancy of your ML350 will be cut short if you avoid:
Using quality parts
Service appointments
Routine oil changes
Regular car washes
Tire rotations
Driving smoothly
Your result will be heavily impacted by usage, personal care, and to some extent, luck.
However, we've made a general assessment based upon trusted industry data, giving you a better idea of what you can expect.
Do Mercedes ML350 Rust Easily?
The Mercedes ML350 does not have a reputation for excessive or premature rust issues and they are not known to rust easily with proper care. This is thanks to a good standard of corrosion protection that is applied during the manufacturing process and the use of quality materials.
Most Mercedes enthusiasts will advise against any additional rustproofing for ML350's as the cars have underbody coating already applied from the factory.
Mercedes Benz targets the luxury market – they don't skimp on their paint quality or rustproofing.
That's not to say these models are immune from rust – as long as car bodies continue to be made from sheet steel, and road surfaces have small stones and grit, it is not possible to prevent rust entirely.
These stones damage the paint while driving, creating points of attack for water and road salt.
If you live in a state where roads are heavily salted during the winter or near the coast where salt air is prevalent, rust will be much more of an issue.
In the winter it's important to give your ML a good hosing down on a weekly basis to get rid of any salt.
For those living in drier states, rust will be much less of a concern. However, paint fading will be more common.
Tips to protect your Mercedes ML350 from rust:
Regularly wash and dry your car: This includes its underside (especially during the winter) to remove the salt, dirt and grime that causes rust. We recommend having a detail shop wash everything underneath at the end of each winter.
Repair paint damage and scratches: Exposed metal will oxidize. If it's beyond a DIY fix, speak to your local body repair shop – get it repaired before it gets worse.
Garage: Store your Mercedes in a garage to protect it from harsh weather and bird droppings.
Waxing: Wax your car twice a year. Not only will this give your ML350 a nice shine, it also gives it a protective coating against rust.
Rustproofing: If you're planning on keeping your ML350 for a very long time, consider a rustproofing treatment; popular choices are Krown and Rust Check.
Ceramic Coating: A popular choice for those who want to add an extra layer of protection to the paint job.
The earlier ML320 model was known to have some rusting issues.
Related: 6 Most Common Problems With Mercedes ML350
What is High Mileage for a Mercedes ML350?
A Mercedes ML350 with over 120,000 miles is considered high mileage. This can equate to a riskier purchase because of a higher chance of problems arising; most parts will have some degree of wear and tear and there is a higher risk of major components failing. However, you should not assess the car on mileage alone.
A high mileage Mercedes ML350 won't necessarily equate to a bad purchase.
A well-kept ML350 with over 120,000 miles might be a better option than one with 80,000 miles that had many owners and led a tough life or was previously a hire car.
If you're buying a used Mercedes ML350, consider the following:
Maintenance history. Check that the car was properly serviced and the owner can provide proof of this.
Get a second opinion. Take it to an independent auto repair shop or have it inspected by a mechanic you trust.
Check for rust. Rust is a problem that will spread. Some dishonest salespeople cover up the rust with a bit of paint or some stickers. It's always a good idea to look under the car.
Check the CarFax. This can provide a good overview of the car and includes the vehicle's title, mileage, previous ownership, accident reports, and it might tell you what the vehicle was used for, such as whether it was a personal or commercial vehicle.
Number of previous owners. As a general rule, less is better. More owners usually equate to more wear-and-tear. If one family owned it and drove the full mileage and serviced the car, then you can almost guarantee they took good care of it throughout their ownership.
How long you are planning on keeping the car. If you're planning on keeping the car for a long time, evaluate whether the short-term savings outweigh spending extra on something more reliable.
Examine the interior. The condition of the interior tells the story of how well the car was maintained and cared for. Does the steering wheel, pedals, or shifter look suspiciously new? If so, there's a good chance that the car was heavily used, and those parts were just replaced before sale.
Inspect engine for obvious leaks and obvious damage. If the engine looks immaculately clean, it means it was washed. The question is why? Most likely to hide oil leaks and similar nasty problems.
Check the car's VIN and get a full history report. Was it a taxi or rental car? Recalls? How many owners? Real mileage? Stolen? Any accidents? If you're buying a used Mercedes, always check the VIN – you never know what the car has been through.
How Long Does the Mercedes ML350 Last Compared to Similar Car Models?
In this section, we'll look at some of the Mercedes ML350's closest competitors and see how they stack up in terms of durability and repair costs.
Mercedes ML350 vs. Mercedes GLE
In 2015 the GLE picked up where the ML left off, it's more of a thorough revision than a completely new car.
The Mercedes GLE can last 200,000 – 250,000 miles or 13 – 17 years, equal to what is expected of the Mercedes ML350.
Mercedes ML350
Mercedes GLE
RepairPal Reliability Rating
3.0/5.0
NA
RepairPal Reliability Ranking
10th / 14
Luxury Midsize SUVs
NA
Luxury Midsize SUVs
Average Annual Repair Cost
$1,020
$1,194
Kelley Blue Book Reliability Score
4.6/5.0
3.8/5.0
JD Power Quality & Reliability Score
81/100
78/100
You won't see too many interior changes between these models, except for a revised infotainment screen (it's bigger now), some refreshed materials, an updated steering wheel and a few other small updates.
Both cars offer similar performance and offer a virtually identical driving experience.
You may also be interested in our article: How Long Do Mercedes GLE Last?
Mercedes ML350 vs. BMW X5
The BMW X5 is a mid-size luxury crossover SUV that offers a refined ride, chiseled features and a premium interior.
The BMW X5 is expected to last 150,000 – 200,000 miles on average or 10 – 13 years, lower than what is expected of the Mercedes ML350.
Mercedes ML350
BMW X5
RepairPal Reliability Rating
3.0/5.0
2.0/5.0
RepairPal Reliability Ranking
10th / 14
Luxury Midsize SUVs
13th / 19
Luxury Fullsize SUVs
Average Annual Repair Cost
$1,020
$1,166
Kelley Blue Book Reliability Score
4.6/5.0
4.3/5.0
JD Power Quality & Reliability Score
81/100
77/100
Despite a shorter projected lifespan the X5 has greater seating capacity, more standard equipment and a performance edge.
You may also be interested in our article: How Long Do BMW X5 Last?
Mercedes ML350 vs. Porsche Cayenne
The Cayenne is a mid-size luxury crossover and one of the most popular Porsche models on the road since its launch in 2002
The Porsche Cayenne is projected to last 150,000 – 200,000 miles or 10 – 13 years, lower than what is expected of the Mercedes ML350.
Mercedes ML350
Porsche Cayenne
RepairPal Reliability Rating
3.0/5.0
1.5/5.0
RepairPal Reliability Ranking
10th / 14
Luxury Midsize SUVs
14th / 14
Luxury Midsize SUVs
Average Annual Repair Cost
$1,020
$1,231
Kelley Blue Book Reliability Score
4.6/5.0
4.3/5.0
JD Power Quality & Reliability Score
81/100
81/100
The Cayenne has a stiffer ride in comparison to the ML which is much softer and has smoother driving dynamics.
If you're torn between the two we'd advise taking both for a test drive.
You may also be interested in our article: Porsche Cayenne in Snow & Winter Driving
Comparison Chart
| | | | | |
| --- | --- | --- | --- | --- |
| | Mercedes ML350 | Mercedes GLE | BMW X5 | Porsche Cayenne |
| Annual Repair Cost | $1,020 | $1,194 | $1.166 | $1,231 |
| Reliability Rating | 3.0/5.0 | NA | 2.0/5.0 | 1.5/5.0 |
| KBB Consumer Rating | 4.6/5.0 | 3.8/5.0 | 4.3/5.0 | 4.3/5.0 |
| J.D. Power Rating | 81/100 | 78/100 | 77/100 | 81/100 |
| Lifespan (miles) | 200k – 250k | 200k – 250k | 150k – 200k | 150k – 200k |
Is the Mercedes ML350 Reliable?
The Mercedes ML350 is not best known for its reliability and has received fairly middle-of-the-pack reliability scores. The most recent models have received better reliability scores than older ones. Based on industry data and customer feedback, the Mercedes ML350 has average reliability overall.
The ML350's predecessor, the ML320, was notorious for its wide range of quality problems and after several years of bad reviews, Mercedes decided to take drastic action.
The ML350 saw significant upgrades which not only improved fuel efficiency, power and handling but also an increase in reliability.
Common complaints about the ML350 are often related to faults with the electrical system – from turn signals not working to heaters blowing out air that was excessively hot.
The Mercedes ML350 received the following reliability reviews:
RepairPal gave the Mercedes ML350 an average reliability rating of 3.0/5.0.
Kelley Blue Book's consumer rating index gave the Mercedes ML350 an above-average reliability rating of 4.6/5.0.
J.D. Power provided the Mercedes ML350 with an above-average reliability rating of 81/100.
RepairPal gave the ML350 a fairly low ranking on the reliability charts with a 10th out of 14 position for luxury midsize SUVs.
As with longevity, the reliability of your Mercedes ML350 will also depend on keeping up to date with the service schedule and adopting good driving habits.
How Reliable is the ML350 Compared to Other Luxury SUVs
In this section we compare the ML350 to the other luxury SUVs, this is based on data collected from Repair Pal.
Model
Reliability
Score
Lexus RX 450h
4.0/5.0
Acura MDX
4.0/5.0
Lexus RX 350
4.0/5.0
Infiniti FX35
3.5/5.0
Cadillac SRX
3.5/5.0
Lexus GX 640
3.5/5.0
Volvo XC70
3.5/5.0
Lincoln MKX
3.0/5.0
Volvo XC90
3.5/5.0
Audi Q5
3.0/5.0
Mercedes-Benz ML350
3.0/5.0
Mercedes-Benz ML550
2.5/5.0
BMW X3
2.5/5.0
BMW X5
2.0/5.0
Land Rover LR4
2.0
Porsche Cayenne
1.5/5.0
Average score for
Midsize Luxury SUVs
3.5/5.0
The Best and Worst Years for the Mercedes ML350
We've done some digging to find the best and worst model years for the Mercedes ML350.
Worst Model Year
The worst model year for the Mercedes ML350 is 2006. This model received the highest number of complaints, many of which were engine, engine cooling and powertrain-related problems.
According to customer feedback on Car Problem Zoo, the most common complaint for the '06 ML350 was a faulty balance shaft gear which would trigger the 'check engine light'.
A balance shaft gear is a part of a vehicle's engine that is designed to help balance out the components of the engine and eliminate vibrations at higher speeds.
Distraught owners had this to say:
"This is an expensive repair, almost the cost of the vehicle!".
"Check engine light came on. Took the car to my repair shop and was told that the engine had a bad balance shaft and the engine would need to be removed for repair. The estimate cost could reach $6,000 or more and would take more than a week to complete."
The electrical system was also the root cause of a number of complaints for this model, such as:
Electric seat heater burning hot
Car keys not opening doors or trunk
Rear tailight caught fire due to bad wiring
Best Model Year
The 2015 Mercedes ML350 is the best model year, it has received the fewest number of complaints overall and has received the best reviews from automotive journalists.
Cars aren't fine wines they are machines – and you'll often find that the most recent models are the best as manufacturers have fine-tuned their product over time to iron out problems and they also have the latest updates.
Standard features in the 2015 Mercedes ML350 include:
Wood interior trim
Sunroof
Dual-zone climate control
8-way power front seats
Heated front seats
MB-Tex vinyl upholstery
Reclining 60/40 split-folding rear seats down
80.3 cubic feet of cargo space.
COMAND infotainment and vehicle control system
Mercedes-Benz mbrace (collection of services and features)
Bluetooth connectivity
HD Radio
USB port
Auxiliary audio jack
Notable available features include:
Tri-zone climate control
4MATIC all-wheel drive
Keyless ignition
Multi-contoured, massaging front seats
Heated rear seats
You may also be interested in our article: How Long Do Audi Q7 Last?
Model Year and Number of Complaints
Here is the total number of complaints and problems for every Mercedes ML350 model year from the CarComplaints and Car Problem Zoo databases:
Model Year
Car Problem Zoo
No. of Problems
2015
37
2014
45
2013
47
2012
54
2011
100
2010
101
2009
90
2008
80
2007
102
2006
203
2005
24
2004
43
2003
30
What About Recalls for These Models?
The Mercedes ML350 has had a total of 27 recall campaigns.
A large number of ML350's have been recalled for faulty Takata airbags, these have been recalled as they can fire shards of metal into the faces of passengers with potentially deadly results.
You can check if your Mercedes ML350 has been subjected to a recall campaign by entering your VIN (Vehicle Identification Number) on the Mercedes Benz website on their recall page.
It is important to note that recalls are manufacturing faults repaired at no charge for the consumer.
Here is the total number of recall campaigns for every model year of the Mercedes ML350:
2015: 6
2014: 3
2013: 4
2012: 3
2011: 3
2010: 1
2009: 2
2008: 1
2007: 2
2006: 2
2005: 1
2004: 1
2003: 1
Mercedes ML350 Model Year List
2003 Mercedes ML350
2004 Mercedes ML350
2005 Mercedes ML350
2006 Mercedes ML350
2007 Mercedes ML350
2008 Mercedes ML350
2009 Mercedes ML350
2010 Mercedes ML350
2011 Mercedes ML350
2012 Mercedes ML350
2013 Mercedes ML350
2014 Mercedes ML350
2015 Mercedes ML350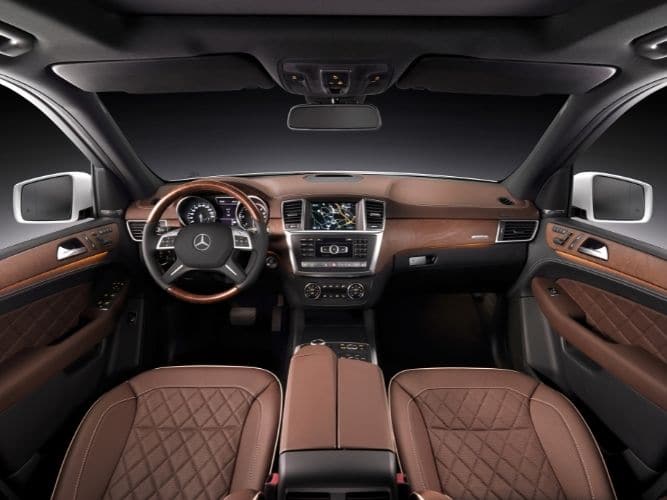 Are Mercedes ML350 Expensive to Maintain?
As a luxury vehicle the Mercedes ML350 does have above-average maintenance costs.
According to RepairPal:
The Mercedes ML350 will cost an average of $1,020 per year in repairs and maintenance.
This is higher than the average of $807 for other compact cars but lower than the average for all vehicles in different segments, which is estimated at $652.
Model
Average Annual
Repair Cost
Frequency of
Unscheduled Repairs
Probability of
Severe Repairs
Lexus RX 450h
$540
0.5
7%
Acura MDX
$571
0.4
8%
Lexus RX 350
$550
0.4
8%
Infiniti FX35
$617
0.7
9%
Cadillac SRX
$703
0.4
15%
Lexus GX 640
$770
0.8
9%
Volvo XC70
804
0.6
10%
Lincoln MKX
$811
0.7
15%
Volvo XC90
$851
0.6
15%
Audi Q5
$928
1.2
9%
Mercedes-Benz ML350
$1,020
0.6
13%
Mercedes-Benz ML550
$1,084
0.8
16%
BMW X3
$1,034
0.8
14%
BMW X5
$1,166
0.8
17%
Land Rover LR4
$1,241
0.9
15%
Porsche Cayenne
$1,231
1.1
21%
Average score for
Midsize Luxury SUVs
$807
0.6
11%
How Long Do the Brakes Last?
Mercedes ML350 brake pads will typically last between 20,000 to 25,000 miles in very severe use (such as heavy-traffic urban areas) and 40,000 to 60,000 miles in average use.
You can expect your brakes to wear out sooner if you frequently stop and accelerate in rush-hour traffic
Brake pad replacement, which includes parts and labor, can cost anywhere between $287 and $313.
Full and complete stops from a high speed are the #1 cause of premature brake pad wear.
A sporty driving style will lead to faster deterioration of brakes. A slow and steady style will help them last longer.
How Long Do the Tires Last?
The Mercedes ML350's stock tires usually last around 40,000 to 50,000 miles or 3 to 5 years. However, they can wear out much sooner. This depends on various factors, such as driving habits, climate, and road conditions.
Rotate tires every 5,000 miles to ensure even wear.
If you have to drive on rough or flooded roads, or go off-roading, your tires will take more of a beating.
Check your tire pressure every few weeks to make sure they're at the correct tire pressure.
Have a mechanic or tire shop check your wheel alignment every 6 months.
How Long Do Mercedes ML350 Engines Last?
The Mercedes ML350 engine is expected to last over 200,000 miles on average provided its properly maintained.
Addressing problems as soon as they arise and keeping your engine clean can help make your ML350's engine last longer.
You may also be interested in our article: How Long Do Acura MDX Last?
How Long Do Mercedes ML350 Batteries Last?
The Mercedes ML350 battery should last between 3 – 5 years. A vehicle's battery life varies depending on many factors such as climate, driving habits, and battery type, among many others.
Keep your battery tightly fastened: The vibrations of your car can loosen the connections, potentially resulting in short circuits and internal damage.
Limit short rides: Quick car rides prevent the battery from fully charging.
Storage: Keep your Mercedes ML350 stored indoors to protect it from extreme temperature changes.
Control Corrosion: Clean the terminals (toothbrush dipped in baking soda and water mixture) and keep them free from build-up.
How Long Do the Spark Plugs Last?
The Mercedes ML350 spark plugs should last 100,000 miles although they may last much longer with some owners changing them at 130,000 miles.
Spark plugs are usually inspected every time you take your car in for routine maintenance.
Signs of a fouled spark plug include:
Reduced gas mileage
Lack of acceleration
Rough idling
Hard starts
Engine misfires
What About Insurance Costs?
The average cost of full comprehensive coverage for a Mercedes ML350 is $1,626 per year or around $136 per month.
In comparison, its rivals in the luxury midsize SUV segment cost an average of $1,743 per year, which is roughly $100 more expensive.
Insurance costs can vary from person to person; be sure to shop around to find the best potential deal for your Mercedes ML350.
Tips to Prolong the Life of Your Mercedes ML350
Adopt smooth driving habits.
Keep up to date with factory-recommended maintenance.
Use quality parts and fluids.
Keep on top of repairs to prevent them from developing into larger problems.
Regularly wash your Mercedes ML350 to remove dirt and grime to protect the paint and undercarriage from rust developing.
Check your Mercedes ML350's engine oil, coolant, brake, and transmission fluid levels and top them up when required.
Keep your Mercedes ML350 stored in a garage to help protect it from the elements.
Read the owner's manual to learn the location of important components, what your Mercedes ML350 needs and what quantity, and to understand the symbols and dashboard warning lights.
Related: Are Mercedes Benz Worth the Money?
Resources