Sports cars are designed with performance, handling and acceleration in mind.
This often means sacrificing practicality and seating capacity, but that's not always the case.
In this article, we've outlined a selection of 5 seater sports cars…
1. BMW M3
The BMW M3 is an animal on the road in terms of both performance and appearance.
Created by the M ("Motorsport") Division of BMW It has explosive acceleration, athletic handling, customizable driving modes, and a uniquely intimidating front grille.
The model is powered by a 3-liter six-cylinder engine that provides 473 horsepower to 503 horsepower, depending on the trim level selected.
It can seat 5 people quite decently which means that 4 people can be accommodated with relatively high comfort.
The drivetrain of the base model is rear-wheel-drive and is operated by a 6-speed manual transmission.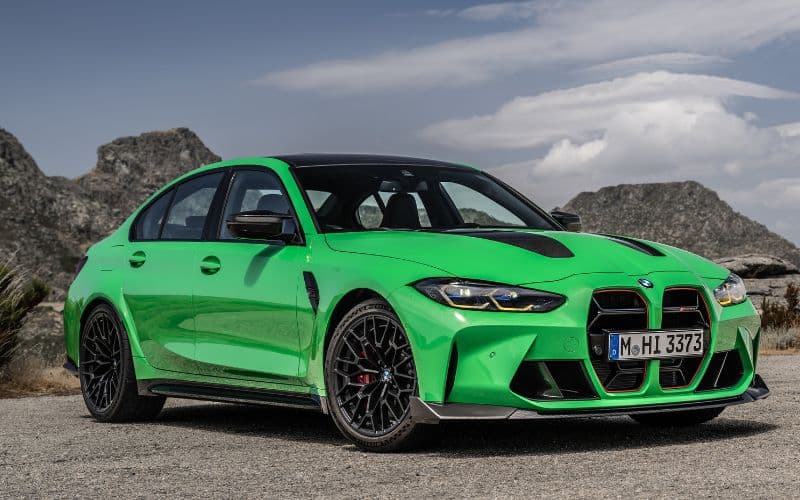 2. Dodge Challenger
The Challenger is yet another powerhouse vehicle from American-born automaker Dodge.
The Challenger is known for its monstrous engines and Hollywood appearances.
It has class-exclusive seating for five passengers, meaning you can gather your buddies for any trip.
The SXT trim level (approx. $32,000) is the most popular variant of all, despite being the entry-level trim.
This just goes to show that even the base model of the Challenger is considered by many to be a complete package.
3. Subaru WRX
The Subaru WRX is world-famous for its award-winning rally performances.
This model provides great traction, precision handling, and an 11.6-inch touchscreen infotainment system.
Models come fitted with 5 seats, cloth upholstery and manually adjustable front seats as standard. However, you can upgrade to leather upholstery, a power-adjustable driver's seat and heated front seats.
The WRX is fitted with an all-wheel-drive system and a six-speed manual transmission.
Fuel economy is decent for its segment, with 19 miles per gallon for city driving and up to 26 miles per gallon for highway driving.
The base engine is a flat four-cylinder that provides 271 horsepower and 258 pound-foot of torque.
Related:
Related: 12 Top Sports Cars with Great Visibility (With Pictures)
4. Volkswagen Golf GTI
The Volkswagen Golf GTI is the original trailblazer of the hot-hatchback genre.
It offers nimble handling, is surprisingly spacious and is extremely fun to drive. It seats five and is fitted with cloth upholstery as standard as well as heated front seats.
The Golf GTI comes in three trim levels: S, Se and Autobahn with prices starting around $30,000.
Each model is fitted with a turbocharged and intercooled inline-4 engine mated with a 7-speed dual-clutch automatic transmission.
It also has relatively good fuel efficiency ratings. For city driving, one can expect up to 24 miles per gallon and for highway driving, fuel economy goes up to about 34 miles per gallon.
5. Audi S3
The S3 is a high-performance version of the coveted Audi A3, and while there are similarities between the two models, there is a big difference in performance.
The A3's engine offers 228 horsepower whilst the S3's engine offers 306 horsepower, which is quite a lot for a small car.
The S3's cabin is very similar to the A3's although it adds some sporty design cues such as leather racing seats and a flat bottom steering wheel.
The vehicle provides explosive acceleration, sharp handling, and high performance.
The more recent model years come in three trim levels – Premium, Premium Plus, and Prestige.
The midrange Premium Plus is the most preferred variant among owners and critics because it only presents a slight price increase from the base-level Premium variant while adding a ton of great driver assistance features such as adaptive cruise control, lane-keeping assistance, and a blindspot monitoring system.
Related: 10 Sports Cars With High Ground Clearance (With Pictures)
6. BMW 3 Series
The BMW 3 Series offers the perfect blend of comfort and sportiness.
The 3 Series has a seating capacity for 5 passengers with ample room in the back seats, even for taller people.
This vehicle provides precision handling, tasteful modern designs and powerful, fuel-efficient engine options.
There are two standard powertrains and one plug-in hybrid (PHEV) variant to choose from.
Of the two engine options, the 2-liter four-cylinder engine is more fuel-efficient (approx. 36 miles per gallon for highway driving) while the 3-liter inline-six engine is more powerful (382 horsepower).
7. Audi A4
The A4 is a compact executive car that has been sold in the US since the mid-1990s.
It comes with Audi's patented Quattro all-wheel-drive system which provides fantastic traction and it is one of the best-selling models in Audi's lineup.
The A4 seats five comfortably, and you can even fold down the rear seats to make space for larger items. It comes with leather upholstery as standard as well as power-adjustable and heated front seats.
Modern versions are powered by a turbocharged 2.0-liter engine mated with a 12-volt hybrid system.
If you need a bit more horsepower, then we'd suggest looking at the S4 which is equipped with a beefy V6 engine.
8. Mercedes-Benz C-Class
Now in its fourth generation of production, the C-Class is a great choice for those looking for posh vibes in a sporty package.
The C-Class boasts a luxurious interior, lots of tech goodies and a smooth yet powerful 2.0-liter four-cylinder.
Not only can this model seat five passengers, it can do so comfortably. It comes with synthetic leather upholstery as standard as well as power-adjustable and heated front seats.
This model is often compared to a miniature, sportier version of Mercedes's flagship car, the S-Class, and is kitted out with much of the same technology.
Related: 17 Sports Cars with Ventilated Seats (With Pictures)
9. Jaguar XE
The XE is arguably the most advanced and refined sports car ever produced by British luxury automaker, Jaguar.
It provides dashing good looks, athletic driving dynamics and a bold grille design.
It comes with leather upholstery and seats five, although the model was discontinued for the 2020 model year.
There are three trim levels to choose from. The entry-level S trim starts things off at approximately $40,100 while the top-spec R-Dynamic S rounds things off at around $47,300.
The most recent iterations of the XE are powered by a turbocharged four-cylinder engine that is rated at either 247 horsepower or 296 horsepower, depending on the trim level selected.
10. Cadillac CT4
The CT4 is a compact sports sedan that is developed by American automaker Cadillac and served as the replacement for the better-known Cadillac ATS.
Still in its first generation, the CT4 is known for its sporty acceleration, advanced tech features, and fuel-efficient high-performance engines.
This model has seats for five but be warned, back seat legroom is a bit cramped. Those at the back have a meager 33.4 inches of legroom, whilst those in the front can stretch out with 42.4 inches of legroom.
There are two turbocharged options to choose from, both of which are four-cylinder engines.
The 237-horsepower 2-liter engine (exclusive to the base and midrange trim levels) and the 309-horsepower 2.7-liter engine as an optional engine for the Premium Luxury and standard engine for the CT4-V variant.
11. Mercedes-Benz A-Class
Introduced in the late 1990s, the A-Class is a series of compact luxury sedans.
For a small car the A-Class is surprisingly spacious and offers seating for up to five.
It comes in one of two variants – the A220 and A220 4Matic.
The price gap between the two is relatively small so it would be best to base your decision on which powertrain you would prefer, a front-wheel-drive or an all-wheel drive.
Fuel economy is also quite impressive for a performance car. Estimates for highway driving are around 25 miles per gallon and estimates for highway driving are approximately 35 miles per gallon.
12. Kia Stinger
The Kia Stinger was launched for the 2018 model year. This luxury-minded sports sedan is a great choice for those on a tighter budget.
The Stinger has a premium look and feel even on the lower trims and its flashy exterior design is capable of turning heads.
The Stinger seats five and comes with stylish leather seats. The front seats are bucket seats with an ergonomically contoured design.
Thanks to the vehicle's optional V6 engine, the Stinger became the first-ever Kia vehicle to accelerate to 60 miles per hour in under 5 seconds (a standard test for high-performance vehicles).
Unfortunately, the 2023 model year was announced to be the last version of the model.
Related: 10 Sports Cars With the Most Interior Room (With Pictures)
13. Acura TLX
The TLX, produced by Japanese luxury vehicle manufacturer Acura (under Honda), is a powerful midsize sports car that is currently in its second generation.
It is commended for its tough exterior design, solid driving dynamics, and wide range of tech features.
The rear-seat legroom is somewhat lacking, but that's not to say it won't seat five.
The Base trim starts things off at approximately $40,800 and for the price, the value you get out of this entry-level model is beyond expectations.
For those looking to get the premium Type S trim level, expect to shell out at least $56,000 for the car alone.
14. Hyundai Elantra N
The Elantra N is the high-performance counterpart to the mass-produced Elantra sedan.
It is developed by a specialized team of experts known as Hyundai's N Performance Division.
Steering and handling dynamics are crisp, acceleration is rapid, and the interior resembles a cockpit with lots of racing cues. The seats are a bit firm but there is seating for five.
The vehicle is also reasonably priced. The latest model years of the Elantra N cost approximately $33,000, which is pretty good for a top-of-the-line performance vehicle. 
Related: 14 Top Sports Cars with a Sunroof (With Pictures)