Sports cars tend to sacrifice comfort and luxury in exchange for better handling and performance.
Amenities like ventilated and cooled seats are often left out to save on cost and weight, especially in more affordable models.
In this article, we'll take a look at several sports cars and high performance vehicles that come with ventilated seats, and which trim levels you need, so you can maximize your enjoyment when driving in the heat.
1. Porsche 911
After nearly six decades of continuous development, the rear-engined 911 remains the gold standard for handling, performance, and driver satisfaction.
Modern 911s are also very luxurious, refined, reliable, and practical enough that you can easily drive it every day.
Aside from offering the latest and greatest automotive tech, Porsche allows you to personalize the 911 to your heart's content — or as much as your wallet allows.
It shouldn't be too surprising to learn that ventilated seats have been available as an option on pretty much every Porsche 911 model since the 997.2 generation was released in 2009.
You can add the ventilated seat option to any Porsche 911 from the base model Carrera up to the top-of-the-line Turbo S for around $800.
The only 911s that don't have the ventilated seat option are the track and racing-oriented GT models such as the GT3 and GT2RS.
2. Chevrolet Corvette
The Chevrolet Corvette is an iconic American sports car that gets a lot of respect and recognition all over the world.
It has always been known for its head-turning looks, amazing handling, and growling V8 engine. But the introduction of the mid-engined C8 generation in 2020 saw it transition into true supercar territory.
The Corvette is an aspirational yet fairly attainable vehicle for many Americans, so GM doesn't typically skimp on creature comforts and options.
When the C7 Corvette debuted in 2014, it also got ventilated seats for the very first time. It was standard on the 2LT and 3LT trim levels, as well as on the 2LZ and 3LZ trim levels of the Corvette Z06.
The latest C8 generation Corvette also gets ventilated seats as standard equipment on the same trim levels.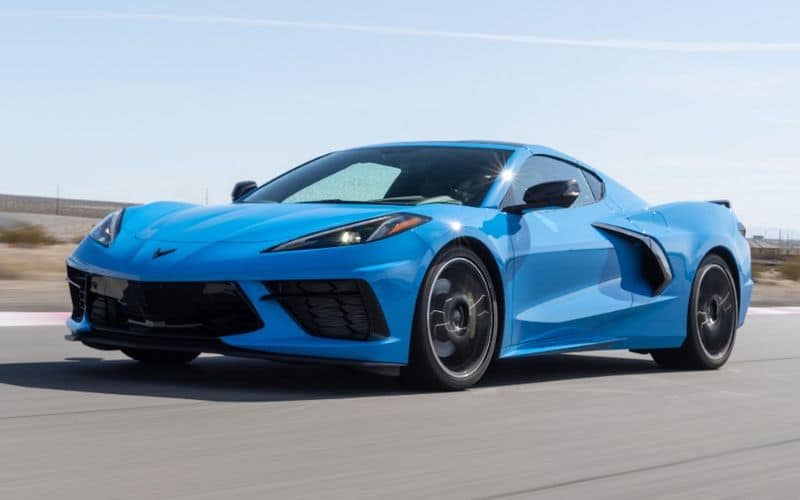 3. Ford Mustang
The Ford Mustang is undoubtedly the most successful muscle car ever produced.
When the sixth generation Mustang was introduced for the 2015 model year, it got an independent rear suspension for the very first time in its 50-year history.
This significantly improved the car's handling and helped it shed its reputation as an affordable high performance sports car that's only really useful in a straight line.
Ventilated seats also became standard in the Premium trim levels of the sixth gen Mustang, which includes the EcoBoost and GT models.
Cooled seats were also available on the Bullitt model, but not on the Mach 1, GT350 or GT500, which were all equipped with Recaro sports seats.
4. Chevrolet Camaro
Since GM re-introduced the Chevrolet Camaro in 2010, they've done a lot of work to turn it into a legitimate sports car.
Modern Camaros regularly beat their muscle car rivals at the drag strip and on road courses.
The sixth generation Camaro is an even better driver's car that can stand toe-to-toe with many lightweight sports cars.
As a relatively affordable sports car from a large manufacturer, the Camaro gets to borrow many features and creature comforts from other GM models.
It has had ventilated seats since the sixth generation model came out in 2016. It is standard on the 2LT, 3LT, 2SS and ZL1 trim levels.
Inside, the Camaro feels like a true low-slung sports car, but it also comes with many standard features that make it a great daily driver like a heated steering wheel, head-up display, memory seats, and a Bose sound system.
5 & 6. BMW M3 & M4
BMW's iconic M3 has been around for almost 40 years and it keeps adding more power and luxury with each new generation.
It's one of the few sports sedans that still has a manual transmission which is essential to enthusiasts, especially in a vehicle that calls itself the ultimate driving machine.
In 2014, the M3's 2-door coupe variant was renamed the M4. Aside from the different body styles, they're practically the same vehicle.
Ventilated seats became an option on the BMW M3 and M4 starting with the 2021 model year, which was when the G80 generation first hit the market.
You can only get ventilated seats with the standard seats. It's not available if you choose the optional bucket seats.
Ventilated seats are also not available on the regular 3-Series, but you can add them to every trim level and variant of the 4-Series.
Related: 10 Sports Cars With High Ground Clearance (With Pictures)
7 & 8. Porsche Boxster & Cayman
The Porsche Boxster and Cayman may be the 'entry level' sports cars in Porsche's lineup, but they won't ever leave you wanting when it comes to speed and handling.
In fact, most professional reviewers and driving enthusiasts agree that the mid-engine layout of both cars provides better balance and superior handling on both road and track, compared to the 911.
Both cars use the same platform and look the same from generation to generation. The only difference between the two is that one is a convertible while the other is a couple.
Although they're not as powerful and lack the rear seats of the 911, the Boxster and Cayman are not far behind when it comes to refinement, features and customization options.
Ventilated seats started becoming an option on the Boxster and Cayman when the 981 generation first came out in 2013. With the current 718 generation, it's still available as an $800 option on both vehicles.
The only trim levels that don't have the seat ventilation option are the GT4 and Spyder, which are considered special edition models.
9. Mercedes-Benz SL
The Mercedes-Benz SL is a grand touring sports car that combines jaw-dropping style, sonorous engines, and cutting-edge luxury features.
It has a rich and storied history, with some legendary models like the Gullwing and Pagoda still coveted by collectors all over the world.
In true Mercedes-Benz fashion, the SL was one of the first sports cars to have ventilated seats as an option in 2003.
Ventilated seats eventually became standard on the top-of-the-line AMG SL65 model in 2006. By 2012, the SL550 also got ventilated seats as a standard feature.
When the seventh generation SL debuted in 2022, the non-AMG models were discontinued, effectively rebranding the car as the Mercedes-AMG SL.
Continuing the tradition of previous AMG SL models, all new SLs now come standard with ventilated seats.
10. BMW 8-Series
The 8-Series is a showcase of BMW's strengths. It has a smooth and quiet ride, great handling, high-performance powertrains, sophisticated styling, amazing tech, and oozes luxury all throughout.
This ultra-modern and comfortable grand tourer delivers lots of excitement whether you're on a long cross-country drive or carving up some twisty roads.
If the M850i's twin-turbo V8 and 523 horsepower isn't enough for you, there's also the performance-oriented M8 model with over 600 hp on tap.
Ventilated seats are standard on the M850i and M8 models. You can also add the ventilated seat option on the regular 840i for approximately $500.
There are also several configurations for the BMW 8-Series. You can get it as either a 2-door coupe or convertible, as well as in a 4-door Gran Coupe version.
The 840i with its 335 hp inline-six is available in either rear or all-wheel, but the more powerful versions only come with rear-biased all-wheel drive.
Related: 14 Top Sports Cars with 5 Seats (With Pictures)
11. Lexus LC 500
The Lexus LC500's Art Deco style permeates throughout the entire car, and its interior is just as stunning as the exterior.
Its high-revving V8 coupled with the fast-shifting 10-speed gearbox hustles it from 0 to 60 mph in 4.7 seconds.
As is typical with any Lexus, the LC500 has a quiet and luxurious cabin, and the ride quality is excellent.
Ventilated seats have also been standard on every LC500, as well as on the LC500h hybrid, since it debuted in 2018.
Adding the Dynamic Handling Package gives you rear-wheel steering, a limited slip differential, upgraded rear dampers, and a carbon fiber roof. All these combined make it less of a grand tourer and more of a sports car.
12. Jaguar F-Type
The F-Type name harkens back to the legendary Jaguar E-Type, which broke records during its time and is often considered as one of the most beautiful cars ever made.
The F-Type has the quintessential looks of a sports car with its sexy body lines and aggressive front end.
The 575 horsepower from its supercharged 5.0-liter V8 engine is also capable of propelling the big cat from 0 to 60 mph in less than 4 seconds.
Like most modern luxury sports cars with a rich heritage, the F-Type doesn't skimp on features and customization options.
For the 2024 model year, ventilated seats became a standard feature on the 75 and R75 trim level. Heated and cooled seats have also been an option on the F-Type since the 2018 model year.
Another thing to note about Jaguar's seat ventilation is that it actively cools the air it blows through the seat instead of just fanning ambient air onto your back.
13. Maserati GranTurismo
The Maserati GranTurismo is a grand touring sports car with an unmistakable Italian flair. It focuses more on comfort and style rather than outright performance.
The Pininfarina designed first generation model had a timeless look and a glorious sounding V8 engine that it shared with the Ferrari F430.
The new GranTurismo doesn't stray too far away from its predecessor's gorgeous looks and can be easily mistaken as a facelifted first gen model, which we think is a good thing.
What really sets it apart lies underneath. It's now powered by a twin-turbo V6 engine borrowed from Maserati's own MC20 supercar, and it also has an EV variant called the Folgore.
The new powertrains can launch the GranTurismo from 0 to 60 in well under 4 seconds, which is significantly faster than the previous generation.
The 2024 GranTurismo now also has ventilated seats as an option on both the Modena and Trofeo trim levels. This, along with many other features, was lacking in the last model, as well as in Maserati's track-oriented MC20.
The old GranTurismo did have ventilated leather seats listed as an option, but this just meant that it could be equipped with perforated seats.
Related: 12 Top Sports Cars with Great Visibility (With Pictures)
14. Cadillac CT4-V Blackwing
The Cadillac CT4-V Blackwing's 472 hp twin-turbo V6 has double the power of the base CT4 and can be paired with either a 6-speed manual or a 10-speed automatic.
If that doesn't already sound like a recipe for success, the rear-wheel drive only CT4-V Blackwing also has adaptive suspension, an electronic limited slip differential, powerful Brembo brakes, and great steering feel.
All these combine to make the CT4-V Blackwing a very rewarding car to drive that can easily hang with more expensive sports cars.
Comfort is another strength of the Blackwing because its MagneRide suspension can quickly switch modes and absorb road imperfections better than the lower trim levels.
The optional Climate Package adds ventilated and massaging front seats, as well as a heated steering wheel, to the CT4-V and CT4-V Blackwing. However, getting this package also removes the standard performance bucket seats.
15. Mercedes-Benz AMG C63
The AMG C63 technological powerhouse equipped with a 503 hp twin-turbo V8 and rear-wheel drive.
It has blistering straight-line performance with a 0 to 60 time of 3.8 seconds and razor-sharp handling courtesy of AMG's chassis tuning magic.
It also has loads of luxury amenities and ventilated seats are just one of the available customization options. Ventilated seats can also be added on the lower trim levels like the AMG C43 and C300.
Ventilated seats have been an option on the Mercedes-Benz C-Class since 2015, but you needed to add the leather seat package to get it.
The next generation AMG C-Class models arriving for the 2024 model year will have turbocharged 2.0-liter inline-4 engines coupled with powerful hybrid electric motors. This F1-inspired powertrain will produce a combined output of 671 hp in the C63 model.
16. Audi S5
The Audi S5 is the high performance version of the A5 compact luxury car. It comes in either a 2-door coupe or convertible model, and there's also a 4-door Sportback variant.
All models have a turbocharged V6 engine that's capable of producing 349 horsepower. The racing-inspired RS5 model ups the power to 444 hp.
Audi's Quattro all-wheel drive system is also standard which gives the S5 great acceleration and composed handling in all situations.
Ventilated seats are available as part of the Warm Weather package, which you can only add to the Premium Plus and Prestige trim levels of the S5. This option also removes the standard diamond stitch pattern from the seats.
The RS5 does not offer the ventilated seat option because the diamond stitching cannot be removed. However, it is available in other markets where the seat pattern isn't a hard requirement.
17. Lexus RC F
The RC F is the high performance variant of the Lexus RC 2-door sports coupe that first debuted for the 2015 model year.
It's equipped with a 5.0-liter V8 that produces 472 hp, which is almost double the power of the base model RC 300.
The RC F comes standard with adaptive suspension, Brembo brakes, and a limited-slip rear differential, which is what sets it apart from the regular RC coupes.
There's also a RC F Track Edition which is adorned with carbon fiber bits to make it lighter and faster.
As you can expect from any Lexus, the RC F's cabin is extremely refined and well-appointed, but it doesn't come with ventilated seats as standard.
To get ventilated seats in the Lexus RC F, you need to add the Premium package which costs approximately $6,000.
The Premium package also adds luxury features like a heated and power-tilt steering wheel, extra leather trim, and intuitive parking assist.
Related: 10 Sports Cars With the Most Interior Room (With Pictures)