Suzuki is a Japanese-based motorcycle brand behind some of the most rousing bikes on the moto market.
They offer a wide range of bikes, with one of the most significant price gaps in the industry, making them a choice selection for beginners and race-pros alike.
If you're considering buying one you might be wondering if they're any good.
We'll cover that in this article, read on to find out...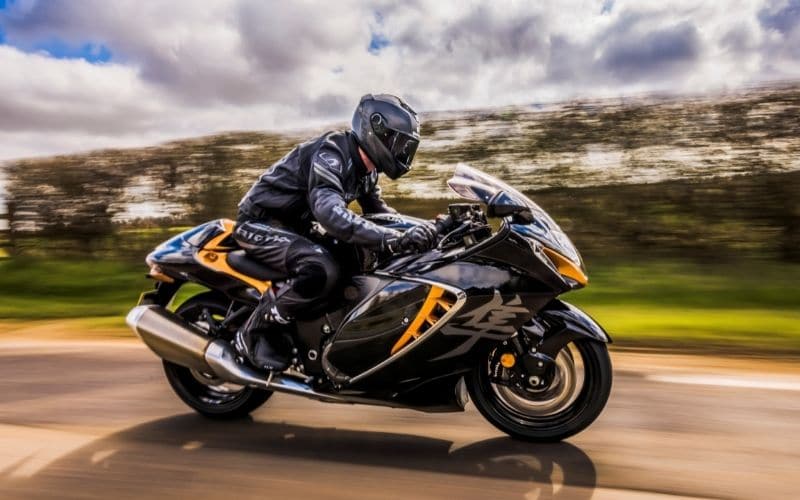 Here is the short answer to whether Suzuki Motorcycles are good:
Suzuki Motorcycles are good because of their unique style, industry-leading race engineering, high-speed potential, secure reliability, worldwide dealership support, and world class engineering team. A Suzuki motorcycle is a choice selection for beginners and pros alike.
Why Are Suzuki's Considered Good Bikes?
Suzuki motorcycles are a perennial favorite among buyers becuase of their:
Innovative designs
Solid build quality
Refinement
High performance
Suzuki made their first motorized bicycle in 1952 and since then they have gone from strength to strength – to this day they are widely considered one of the top motorcycle brands on the planet.
They have wealth of industry experience and an all-star design team which includes retired motorcycle racers and custom builders, giving them a unique perspective and a leg up on the competition.
Their most significant hit is the GSX-R1000 – one of the highest-performing factory bikes on the market which was designed by a former pro-racer.
Another one of Suzuki's rare gems is the Hayabusa, a testament to Suzuki's desire to push the envelope of bike engineering.
The Hayabusa was inspired by a fighter jet – with a top speed that exceeds 186mph it's one of the fastest bikes on the market.
But track speed isn't the only reason why the moto-market celebrates how good Suzuki's bikes are.
In 1976, while Suzuki was making headlines on the race track, they also unveiled the world's first four-stroke motor.
The GS400 and GS750 incorporated that early, four-stroke, parallel-twin engine that took motorcycle design to a new level unachievable by the previous market-standard two-stroke motor.
Suzuki has more than proved that they're a force to be reckoned with when it comes to design and innovation, a fact made public by their triumph over the competition on the MotoGP racetrack.
Suzuki bikes are a reflection of the finest Japanese technology and engineering in the form of a motorcycle.
4 Reasons Why Suzuki Motorcycles Are Good:
4 rapid-fire points why we love Suzuki bikes.
Built Tough
Suzuki's are known to be built to last and they have a lower rate of consumer-reported breakdowns than most other brands out there.
Japanese bikes have a solid reputation when it comes to reliability and Suzuki is one of the main reasons why.
Reliability also depends on the owner's level of dedication towards routine service maintenance.
Performance
Suzuki's engineering paved the way for high-performance, pro-level motorcycles.
The brand invented the four-stroke motor, the evolution of which has grown into a robust, 4-cylinder, liquid-cooled powerhouse that outperforms many of its rivals.
Price Point
Suzuki's range transcends engine displacement and bike function; it also includes affordability.
Suzuki accommodates beginners and pros alike with a price point range that successfully bridges the most significant gap in the industry.
Suzuki's beginner's bike offers the same high-quality performance in a simple, affordable package, while their top-of-the-line models can satiate any mouth-foaming speed-demons of the most experienced riding level.
Diversity
Suzuki's diverse range of motorcycles is a multiple-choice test in restraint for motorcycle enthusiasts.
The brand is most widely recognized as the manufacturer behind the most aggressive stock sportbikes globally, but they also offer small-displacement starter sportbikes.
For the calm and collected riders, Suzuki offers a variety of cc-sized fuel intercede V-twins styled after the American cruisers, and aimed right between the eyes of the American moto-maniac, rivaling the competition.
Whether your interest in touring is on the highway or via an off-road adventure, Suzuki's line-up includes something that fits.
The Japanese brand makes bikes of all body shapes and displacement sizes, including:
Touring Baggers
Adventure Bikes
DualSport
Sportbikes
Street Bikes
Supermoto
Off Road
Youth bikes
Scooters
How do Suzuki Motorcycles Compare to Other Brands?
Good is a relative term, of course, so in this section, we'll compare Suzuki Motorcycles to some of their competitors to see what's good with Suzuki motorcycles.
Harley Davidson Vs. Suzuki
When it comes to the cruiser market, the brand the world thinks of is Harley Davidson; bikes that are chromed out and fabbed full of heavy metal.
Harley is one of the oldest moto-makers in the world, but their "tried-and-true" image pigeonholes the brand away from technological advantages, as their base isn't as open to change as Suzuki's.
Harley's are classic, but Suzuki outperforms Harley in the categories of:
Advanced features
Performance
Engine refinement
Ride quality
Reliability
Value for Money
Despite a huge following, Harley popularity isn't wreck-proof.
Enthusiasm for the iconic American motorcycle brand has waned in recent years as more and more riders opt for the high-performance, state-of-the-art Suzuki cruisers.
You may also be interested in our article: Are Harley Davidsons Worth the Money?
Yamaha Vs. Suzuki
Superbike enthusiasts tend to compare Suzuki and Yamaha, as the brands offer similar styles and tend to riff back and forth by releasing similar models.
Yamaha offers more beginner options than Suzuki, though, with the 300 cc R3 being an entry-level version of the classic R1, giving beginners a chance to get the breeze on their knees alongside the pros.
Suzuki and Yamaha are close to one another in the reliability category, but Yamaha uses slightly higher quality parts.
Yamaha also has more service centers internationally, especially in Europe.
Suzuki's focus is more on replicating bike model consistently on a mass scale and less on the quality of each component.
Yamaha is also a brand that isn't limited to vehicles.
They make technologies in all categories, giving them an advantage when it comes to superbike electronics.
Suzuki isn't far behind, but it's easier to find a new Suzuki with analog displays and devoid of slide control than it is a Yamaha at this point.
You may also be interested in our article: Are Yamaha Motorcycles Any Good?
Are Suzuki Motorcycles Reliable?
Suzuki motorcycles are rated highly in consumer-based reports regarding reliability. They are also one of the more affordable bikes to own and maintain. Owner maintenance is a crucial factor in determining a bike's reliability and longevity.
In these yearly consumer studies, the 'Big Four' Japanese brands tend to place interchangeably.
Suzuki is among the Big Four with a predicted failure rate of 11% to 15% within four years of ownership.
The study wasn't limited to Japanese brands, mind you.
Considering that there were other world-recognized brands in the survey with a reported 40% chance of failure within the first four years, Suzuki's numbers are pretty impressive.
The brand isn't without error, though.
At one point, specific models of Suzuki motorcycles left the factory with a defective regulator/rectifier, specifically the R/R's circuit board.
This consumer revelation led to the recall of 68,000 Suzuki motorcycles.
What were the symptoms of Suzuki's with faulty Regulator/ Rectifiers?
Failure to charge the battery.
Power loss.
Frequent stalling.
The bike won't start at all.
Suzuki handled upon their business, though, repairing or replacing the Regulator/Rectifier on all defective units at the local Suzuki dealerships, free of charge.
Do Suzuki Motorcycles Hold Their Value?
According to the Kelley Blue Book, Suzuki motorcycles are among the top six brands that hold their value well. A Suzuki's value of a bike has more to do with the bike's condition than it does with the miles on the odometer; service maintenance and riding and storage habits are essential in assessing a Suzuki motorcycle's worth.
Where the motorcycle was made and the number of motorcycle models produced can affect the long-term value of a bike.
Many consumers see a low level of production as a symbol of exclusivity and the mark of a quality vehicle, meaning they're willing to pay more for a bike there's less of in the world.
Suzuki isn't the most exclusive brand out there, though, but they're reliable and easy to maintain.
A well-maintained Suzuki will hold its value more than an exclusive motorcycle that's been ridden hard, stored poorly, and hasn't been serviced regularly.
A Suzuki Motorcycle can hold its value just as easily as a Suzuki car, depending on the models in question. A motorcycle is valued on a case-by-case basis, relying more on condition and service frequency than mileage.
In some cases, a bike can hold its value for far longer than a car.
What Is The Best Suzuki Motorcycle?
Of the wide variety of Suzuki motorcycles available, the Suzuki GSX-R1000 K5, the Suzuki GSX-S1100s Katana, and the Suzuki GSX1300R Hayabusa are among the best performing machines on the moto-market. Suzuki makes bikes in multiple veins, making it hard to pinpoint just one model as the superior Suzuki motorcycle.
Suzuki GSX-R1000 K5
The GSX-R1000 K5 packs the power and torque of a 1000cc superbike motor into the frame dimensions intended for the smaller 600cc GSX-R, making it the lightest and therefore the fastest of the 1000cc GSX-R options.
This little racetrack rocketship was a quick-handling machine, making it fast but not to be feared.
Its small size and enormous power made it accessible to riders of different:
Sizes
Backgrounds.
Styles of riding.
Levels of expertise
The legendary K5 was a phenom on the race track, housing the competition in multiple championships, even after the bike was old news.
The Suzuki GSX-R1000 K5 made the city street roastable and ripped its way to the top of the sales records.
Not only was this little beast recognized by race fans and superbike riders globally, but BMW also based a superbike of their own on Suzuki's brilliant concept.
Suzuki Katana
Sold between 1982 and 2006 the original Suzuki Katana redefined the motorcycle world and in 2019 it was re-released. Both models combine a powerful Suzuki engine with aggressive styling inspired by the traditional Japanese samurai sword.
Before the Katana, bikes still had that rigged 1940s look.
You had cruisers and cafes, and even then, most cafes were still custom fabrications.
When the Suzuki Katana hit the sales floor, the market changed forever.
It was the precursor to anti-drive fork engineering, adjustable preload suspension in the rear, and 110 horsepower, an impressive figure for the time.
Suzuki GSX1300R Hayabusa
If you're at all familiar with the Suzuki brand, this is the bike you're expecting to see on the list.
The Suzuki Hayabusa is a motorcycle legend. At the Hayabusa's conception, big motorcycle production plants were all in competition for the next phase of motorcycle engineering—who can build the fastest production motorcycle.
Suzuki once again was the first to draw with the power-packed GSX1300R Hayabusa.
In 1999, the Hayabusa flew out of the factory with over 170 Horsepower through the rear wheel and onto the street.
The Hayabusa defined superbike from day one, with top-speeds unmatched at that point (its top speed was limited to 186 mph due to speed governing regulations).
The Hayabusa is still celebrated today because its comfort, handling, fuel economy, price, and exhaust noise were uncompromised in the quest for speed.
The GSX1300R Hayabusa is a well-rounded racing machine widely considered to be Suzuki's masterpiece.
What are the Pros & Cons of Suzuki Motorcycles?
Pros
Exceptional stopping and braking power.
Comfortable and ergonomic designs without sacrificing power or speed.
Reliable
Fun to ride.
Higher resale value than other motorcycle brands.
Cons
Suzuki recalled Sixty-eight thousand units due to bikes leaving Suzuki's factory with Regulator/Rectifiers equipped with faulty circuit boards.
Stiff suspension.
Headlights on specific year models are dimmer than desirable by riders.
You may also be interested in our article: Are Triumph Motorcycles Any Good?
Are Suzuki Motorcycles Good Quality?
Suzuki makes some of the highest quality motorcycles on the market. The Japanese brand began turning heads with their unique motorcycles in 1952, and they continue to produce upgraded versions of its groundbreaking designs and models, fitting old favorites with modern technology.
Suzuki has managed to stay relevant in the motorcycle industry by staying at the forefront of superbike technology.
They've garnered a reputation for their ability to produce high-speed machines without sacrificing handling, comfort, and ergonomics.
Suzuki's best-known bikes have been in production for decades yet every year these globally recognized machines return with more power and new, cutting-edge features.
Suzuki motorcycles are of such high quality that other brands use their technology and design to inspire high-performance motorcycles.
Suzuki is known for the consistent reliability of their high-powered motorcycles that run well for years.
How Much Do Suzuki Motorcycles Cost?
Suzuki has one of the broadest range of bike prices in the industry.
The base MSRP for a new Suzuki Sportbike ranges from $11,599 – $18,599
The base MSRP for a new Suzuki Streetbike ranges from $7,299 – $13,499
The base MSRP for a new Suzuki Cruiser ranges from $5,799 – $15,299
The base MSRP for a new Suzuki DualSport ranges from $4,649 – $6,849
The base MSRP for a new Suzuki Adventure bike ranges from $8,904 – $16,999
The AEM Carbon Fiber Hayabusa costs $200,000
A used Suzuki costs upwards of $3500
Detailed below is the price of a selcetion of Suzuki bikes that are currently available.
| | | |
| --- | --- | --- |
| Model | Category | Base MSRP |
| Hayabusa | Sportbike | $18,559 |
| GSX-R1000RZ | Sportbike | $17,999 |
| GSX-R600 | Sportbike | $11,499 |
| GS250R | Sportbike | $4,599 |
| Katana | Street | $13,499 |
| GSX-1000F | Street | $11,599 |
| GSX-S750Z | Street | $8,499 |
| SV650X | Street | $8,399 |
| SV650 | Street | $7,299 |
| Boulevard M109R B.O.S.S | Cruiser | $15,299 |
| Boulevard M90 | Cruiser | $11,349 |
| Boulevard C50 | Cruiser | $8.349 |
| Boulevard C50T | Cruiser | $9,599 |
| Boulevard S40 | Cruiser | $5,799 |
| DR650S | DualSport | $6,849 |
| DR200S | DualSport | $4,649 |
| V-Strom 1050XT Adventure | Adventure | $16,999 |
| V-Strom 1000XT | Adventure | $13,299 |
| V-Strom 650 | Adventure | $8,904 |
You may also be interested in our article: Are Victory Motorcycles Any Good?
Things To Consider When Buying A Used Suzuki Motorcycle:
Recall History
Service History
Previous Owner's Storage Habits
Previous Owner's Riding Habits
Title Records
Import / Export History Records
Mechanic Check
Theft Records
Cost of Maintenance
Resale Value
Auction History
Resources
https://enginepatrol.com/how-long-do-suzuki-gsx-r600-last/
7 Common Suzuki Boulevard C50 and C50 T Problems (Explained)