BMW quickly rose to become a leading luxury car brand worldwide when it started marketing its vehicles in the 1970s as the 'Ultimate Driving Machine'.
Throughout the decades, BMW has been building cars and SUVs that turn heads and score top marks from automotive journalists.
They are also highly coveted by car enthusiasts as well as regular folks who simply want the best out of their vehicles.
BMWs are worth the money because they're high-performance luxury cars that offer great interiors, a refined ride, high levels of comfort and some of the best tech features on the market. BMW is synonymous with high status and their vehicles deliver a driving experience that's difficult to match.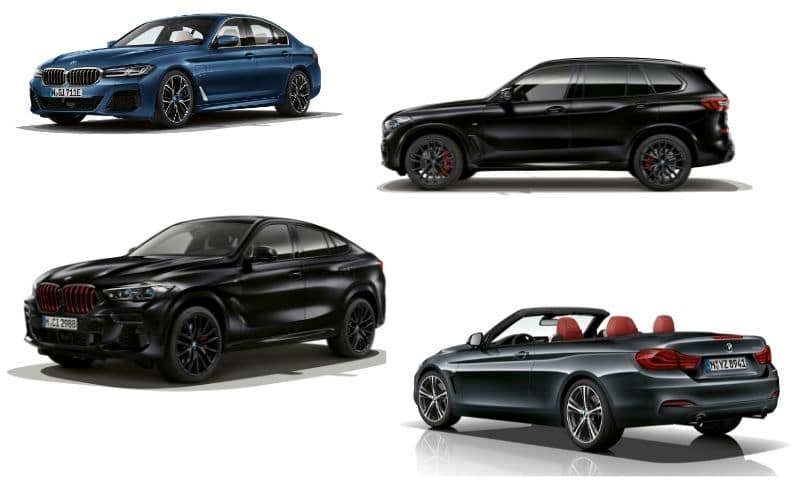 Why BMWs are Worth the Money
BMW often leads the luxury car sales charts not just because they have great marketing, but also because they make very well-rounded vehicles that feature the latest automotive technology and engineering.
Whether you're after refinement, luxury, performance, or practicality, BMW has something to offer that will tick the right boxes.
Performance
BMW typically places near the top of performance charts in car comparisons because of their:
Powerful engines
Superior speed
Agility
Overall driving experience
They continue to live up to their promise of being the 'Ultimate Driving Machine' by tuning every model's driving dynamics to perfection no matter what class of vehicle it is.
From the base models to the performance variants, BMWs regularly outshine most of its competition when it comes to power, braking, handling and driving satisfaction.
BMW are credited with giving birth to the modern sports sedan with the M3 and M5 — both of which combine everyday practicality, refinement and high-performance.
Build Quality
BMWs are well-known for their excellent build quality which many other brands tend to cut corners on.
They make sure everything they put in their cars has a premium look and feel, both inside and out – from the paintwork to the interior materials to the dashboard, its the attention to detail that sets BMW apart from the average car manufacturer.
BMWs also hold up very well to the test of time when properly looked after.
Even after a decade of hard use, they'll retain much of the refinement they had when they were new.
Lesser vehicles start to develop rattles and creaks in just a couple of years.
Electronics
BMW's iDrive system is one of the best implementations of in-car electronics in the entire industry.
It leads the pack when it comes to intuitiveness, ease of use and design.
The control layout is well thought out and the BMW designers intelligently used real buttons and dials for the most used and most important controls.
Features and Options
BMW offers many different trim levels and options for all their vehicles.
If all you want is a practical and refined daily driver, their base models are all exceptionally well-rounded vehicles that will exceed most people's expectations.
For those who want something a little more exciting, BMW has luxury and performance-oriented models — as well as many different trim levels and custom options in between.
Dealership Experience
BMW dealerships typically have great customer service and nice locations. This makes dealing with all things car-related more tolerable.
They're also known for being very accommodating with test drives and for giving vehicles on loan if you need to leave your vehicle at the shop for service.
They'll go the extra mile to make sure you stay with the BMW brand.
What Makes a BMW Different from Other Cars?
BMWs are different from most other cars because they are seen as a status symbol, they are fun-to-drive vehicles packed with technology, high levels of comfort, powertrain refinement and fuel efficiency all in a luxury package.
BMWs are also distinctive due to their stylish appearance that is accentuated by their famous kidney grille (a front grille shaped somewhat like our symmetrically placed organs).
They're generally very good-looking cars with just the right amount of small touches and accents to add to their sophisticated and sleek design.
Standard models have enough refinement and performance for even the most discerning individuals and you can customize your BMW's options and features to your heart's desire and spec it out exactly as you want it from the factory.
What really sets BMW apart from its competitors are their performance-oriented M models which are wolves in sheep's clothing.
To the untrained eye, BMW M cars look like slightly flashier and more aggressive versions of their standard models.
But underneath lies a race-inspired machine at the pinnacle of automotive engineering.
BMW M series cars regularly outperform flagship and performance-oriented models from other brands, including their main rivals — Mercedes-Benz and Audi — which just further cements their reputation for building the sportiest luxury sedans, coupes and SUVs.
Pros and Cons of BMW Cars?
Pros
Extremely refined vehicles with great build quality throughout.
Packed with technology
High levels of comfort
Fun to drive
Even BMW's low-mid range trim levels offer lots of performance and luxury
M Series cars give you sports car performance with the practicality of a normal sedan, coupe or SUV.
Class-leading performance
Wide variety of models including electric vehicles
iDrive is considered the best infotainment system in the industry.
Cons
BMWs are more expensive to maintain compared to a non-luxury brand.
Resale values for BMWs are not very good, and average at best.
Some models are more expensive to maintain while others are more reliable and cheaper to run, so it's important to do your research if you're buying used.
How Long Do BMW Cars Last?
BMWs should last on average between 150,000 – 200,000 miles providing they are regularly serviced and driven responsibly. Based on an annual mileage of 15,000 miles, you can expect 10 – 13 years of service before the vehicle breaks down or repair costs become uneconomical.
With proper maintenance and meticulous care, a BMW can last over 200,000 miles but repairs can be expensive at these higher mileages.
To keep a BMW running in great condition, you need to:
Closely follow the recommended maintenance schedule
Use high quality parts and fluids.
Quickly address small problems before they get worse.
Japanese cars are generally accepted as being more durable – a saying that can be taken with a pinch of salt is:
'BMW's go on forever if you maintain them. Honda's, however, will go for a long time, even when not maintained!'
Essentially, if you want your Beamer to live a long healthy life you really have to stay on top of maintenance.
Are BMW Cars Good Quality?
BMWs are built to a very high standard and everything you see and touch will have a high-quality feel and finish. This high standard is evident throughout the car including the interior, exterior, the drivetrain and under the hood. This of course comes at the cost of an MSRP higher than that of a non-luxury vehicle.
BMW uses premium parts and materials, particularly in their flagship models, to squeeze as much class, quality and performance out of their vehicles.
You'll often see higher-end models use a lot of aluminum and carbon fiber because they're much lighter and they add stunning, head-turning style, and can decrease the total weight of the car for increased speed.
Related: Are Mercedes Benz Worth the Money?
Are BMW Cars Reliable?
As long as they are properly maintained, BMWs can be very reliable cars. Failing to keep up with the service schedule will inevitably reduce reliability and the overall life span of the car.
BMW has developed somewhat of a reputation over the years for producing unreliable vehicles, however this might be a bit unfair on the German automakers…
In 2018, a reliability study was conducted by J.D. Power on over 500,000 vehicles to determine which vehicles on the market could accrue the most mileage, without it resulting in costly repairs.
To many people's surprise, BMW ranked in 8th position out of 29 brands, coming out on top over luxury automakers like Mercedes-Benz, Porsche, Acura, and Lincoln.
One of the reasons BMW is associated with poor reliability is because they're relatively expensive to maintain.
This causes people to skip service appointments and neglect repairs which ultimately leads to reliability issues.
Modern BMWs are packed with tech and electronic features and this means due to the added complexity there's more chance for something to go wrong – but this is true for similar brands like Mercedes.
How Reliable Is BMW Compared to Other Car Brands?
| | | |
| --- | --- | --- |
| Ranking | Brand | Score |
| 1 | Lexus | 76 |
| 2 | Mazda | 75 |
| 3 | Toyota | 71 |
| 4 | Infiniti | 69 |
| 5 | Buick | 66 |
| 6 | Honda | 66 |
| 7 | Subaru | 66 |
| 8 | Acura | 64 |
| 9 | Nissan | 63 |
| 10 | Mini | 60 |
| 11 | Hyundai | 56 |
| 12 | Chrysler | 54 |
| 13 | Porsche | 52 |
| 14 | Chevy | 48 |
| 15 | Audi | 47 |
| 16 | Cadillac | 47 |
| 17 | BMW | 45 |
| 18 | Ford | 44 |
| 19 | Kia | 43 |
| 20 | Volvo | 42 |
| 21 | Ram | 40 |
| 22 | GMC | 37 |
| 23 | Mercedes-Benz | 34 |
| 24 | Volkswagen | 31 |
| 25 | Genesis | 30 |
| 26 | Jeep | 26 |
| 27 | Tesla | 25 |
| 28 | Lincoln | 18 |
Source: Consumer Reports
Do BMW Cars Hold Their Value?
Depreciation on a BMW can be rated as below average to average.
It's average when compared to other European luxury vehicles, but below average compared to other brands like Lexus and Acura which have a better reputation for reliability.
A typical BMW will cost about half of its brand new price as it approaches the 5-year mark.
Higher trim levels and M cars will hold up better against depreciation because of their rarity.
You may also be interested in our article: Is a BMW a Good First Car?
Are BMWs Expensive to Maintain?
BMW dealerships tend to charge more for labor and parts just like any other luxury brand. RepairPal puts the estimated annual cost at $968, this makes it more expensive than the average manufacturer.
If you compare a BMW's maintenance costs to the likes of Mercedes Benz and Audi, it's going to be on the same level as they all charge premium prices for parts and service.
Even Lexus and Acura dealerships have higher prices compared to Toyota and Honda, so it's all par for the course.
Most mechanics are also not going to be familiar with every BMW model and engine, especially the more expensive and rarer models. Most won't have the right tools and diagnostic equipment to do a good job either.
You can save a lot on a BMW's upkeep if you:
Find a trustworthy independent BMW specialist for big repairs.
Shop around for authentic replacement parts.
DIY a lot of the regular maintenance items.
What is the Typical Cost of a BMW?
Prices for a brand new BMW range from $35,000 to over $100,000 for some of their top-of-the-line models.
BMW's cheapest models are the 2-series coupe and the X1 crossover which both start at around $35,000.
Prices can vary dramatically depending on model, trim level and added features.
BMW M4
In 2014, BMW renamed the iconic M3 coupe as the M4 while the M3 remained as the motorsport and performance-oriented sedan.
BMW wanted to rebrand all the 2-door coupes in their lineup with even numbers, and 4-door sedans and SUVs with odd numbers.
So the BMW M4 became the flagship model of the 4-series coupe, which is just a renamed 2-door 3-Series.
While it has staggering performance, it also has different drive modes that allow you to quickly change its character from being a quiet and supple daily driver to a high-performance track machine at the push of a button.
Prices for the M4 start at $71,700 and for this you get 473 hp, amazing handling, and a more aggressive body kit that transforms the look of the standard 4-series.
For $74,800, you can get the M4 Competition model which is even more powerful at 503 hp and has a more aggressive handling package making it even better as a weekend track toy.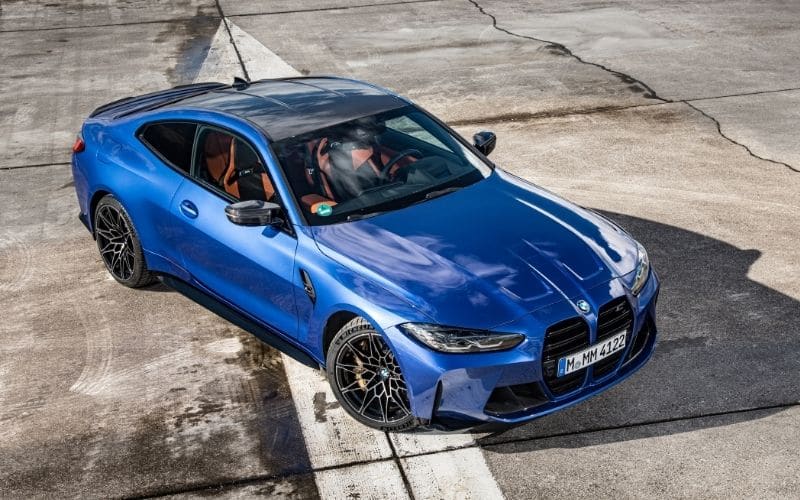 BMW 3-Series
The 3-series gave birth to the modern sports sedan and many have tried to copy BMW's formula though they often come short.
After almost 50 years since it was introduced, the 3-series remains the benchmark of the compact sedan segment.
The base model 330i starts at $41,450 and comes with 255 hp.
The M3 starts at $69,900 and has almost double the power with 473 hp to 503 hp on tap depending on the model you pick.
The 330i offers a lot for those who are looking for a comfortable commuter that has great handling. There are also more expensive 3-series models with bigger engines and performance that come close to the flagship M3.
But if you're looking for a luxurious sedan that also performs exceptionally well on a track, there are very few cars that can match the M3.
You may also be interested in our article: How Long Do BMW 3 Series Last?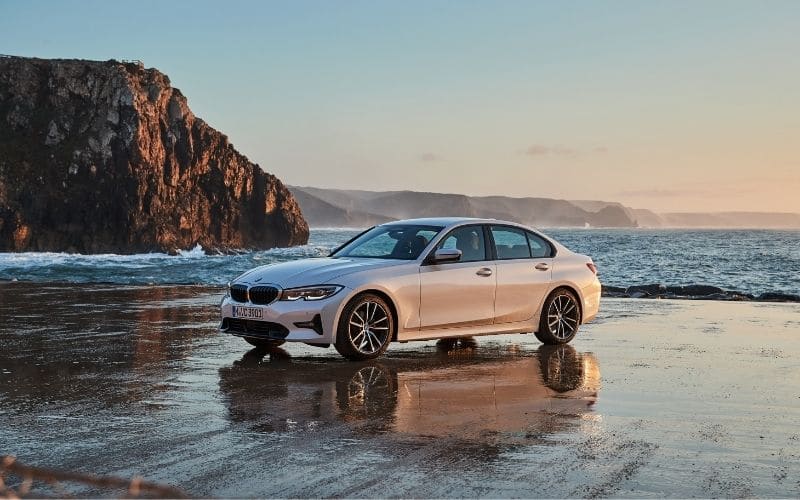 BMW X1
The BMW X1 is a subcompact crossover that is also the most affordable vehicle in BMW's entire lineup.
Prices for the BMW X1 start at $35,400 for the front-wheel drive version.
The all-wheel drive xDrive version of the BMW X1 starts at $37.400.
The X1 is powered by a fairly efficient 2.0-liter turbocharged inline-four that produces 228 hp.
Although it's an entry-level model, the BMW X1 is still considered one of the best small luxury crossovers in the market and it exudes premium build quality and materials both inside and out.
You may also be interested in our article: How Long Do BMW X1 Last?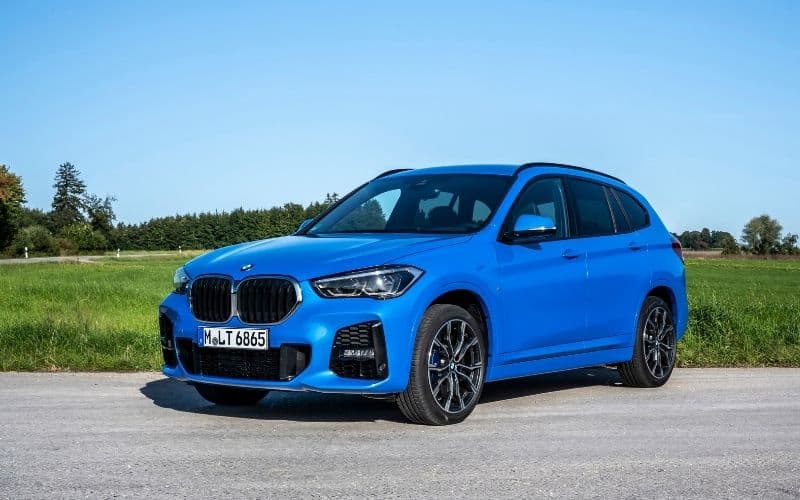 BMW X5
The BMW X5 is one of BMW's best-selling models and is currently in its fourth generation.
It was one of the first luxury SUVs ever produced and offers tremendous practicality and versatility in a very refined package.
The base model X5 starts at $39,400 and comes with a turbocharged inline-six that produces 335 hp.
The M versions of the X5 start at $82,800 and sport a turbocharged V8 that produces between 523 to 600 hp.
You may also be interested in our article: How Long Do BMW X5 Last?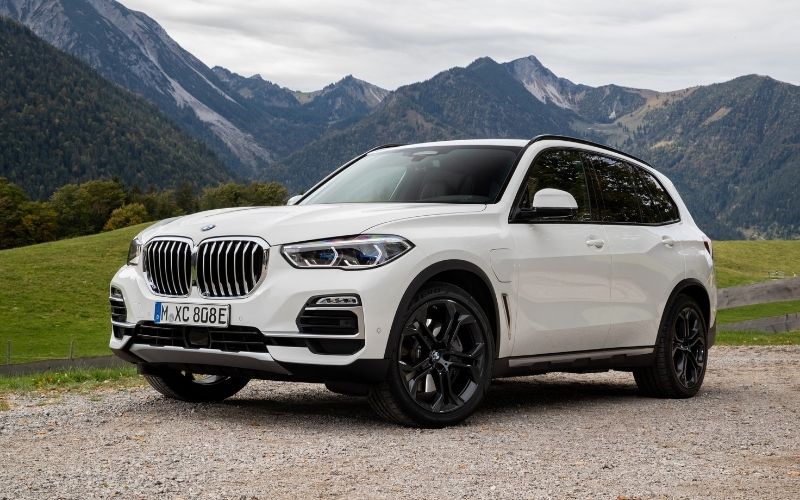 BMW i8
The BMW i8 is a plug-in hybrid sports car that was produced from 2014 to 2020.
Its design is supercar-inspired which is rare for BMW because they're best known for producing souped-up versions of their standard sedans, coupes and SUVs.
The BMW i8's small turbocharged gas engine and twin electric motors work together to propel the car from 0 to 60 mph in 4.1 seconds. It also delivers great fuel economy for normal trips and commutes.
A brand new BMW i8 started at $148,495 when it was last sold in 2020.
An used early model BMW i8 starts at around $60,000.
5-Series
The BMW 5-series is considered by many as the ideal sports sedan.
It combines agile handling, awesome performance, luxury, and the everyday practicality of a mid-size sedan.
The flagship of the 5-series is the M5 which produces a mind-boggling 627 hp for 2022.
A brand new BMW 5-series starts at $55,195.
The base model's 2.0-liter turbocharged inline-four produces 248 hp.
The standard BMW M5 starts at $113,095 while the M5 Competition starts at $143,995.
What's Your Bottom Line?
BMW caters to a wide range of needs and tries to offer as many options as possible.
Do you just need a really nice vehicle for daily commutes and trips?
A BMW X1 or a 3-Series will have more than enough performance as well as great practicality and an upscale interior.
If you're looking for a really luxurious ride, a BMW 5-Series or X5 feature will have more premium options and features.
For all-out performance, the BMW M4 can beat a lot of sports cars.
And of course, there's the supercar-inspired BMW i8 with its "butterfly doors" that open upwards if you want something that's really flashy.
Consider Buying a Pre-Owned BMW Instead of a New Model
BMWs, despite their higher price, are extremely popular vehicles. So it's not going to be hard to find a lightly used model in the exact same spec you're looking for.
A lot of BMWs are also leased for only a couple of years so BMW dealerships have a lot of CPO (Certified Pre-Owned) vehicles that come with their own warranty.
A 3 to 5 year old BMW will cost about half as much as a brand new one which is a real bargain for a fairly modern BMW.
A lot of BMWs that are over 10 years old can be had for $5,000 to $10,000 because most people are afraid of the maintenance costs associated with them.
If you're looking to buy a used BMW we recommend looking for one in a state that has moderate temperatures and sees little to no snow – these will generally be in better condition.
Full-service history is essential regardless of where the car has been driven, and you'll find a lot of people on owner forums who swear by the rule that they'll never buy a BMW out of warranty.
Owners will often trade their BMWs in when the vehicle's warranty expires.
With that said, an older 3-series from the 1990s and early 2000s can still be a great vehicle and its repairs won't be too unreasonable.
These older models don't use as many electronics and computers as their modern counterparts and are simpler to work on.
Setting aside a couple thousand dollars for emergency repairs will also come in handy.
If you're getting a used BMW, look for records that show that the vehicle has been regularly serviced by a BMW dealership or an independent BMW specialist.
Related: Are Acura's Worth the Money?
Things to Consider When Buying a Used BMW:
Research the model's reputation. Reliability with some BMWs can be hit or miss. Some have engines that are prone to developing problems after a couple of years which might end up becoming your problem.
Maintenance history. Check that the car was properly serviced and the owner can provide proof of this.
Get a second opinion. Take it to an independent BMW or Euro specialist, or at least let a mechanic you trust take a look at it.
Check the CarFax. This doesn't guarantee anything but it will help provide a clearer picture of wear-and-tear. Ensure it has minimal damage if any. Review the information to make sure if something happened, it wasn't transmission related or mechanical.
Number of previous owners. As a general rule, less is better. More owners usually means more wear-and-tear. If one family owned it and drove the full mileage and serviced the car, then you can almost guarantee they took good care of it throughout their ownership.
Examine the interior. The condition of the interior tells the story of how well the car was maintained and cared for. Does the steering wheel, pedals, or shifter look suspiciously new? If so there's a good chance that the car was very heavily used, and those parts were just replaced before sale.
Inspect engine for obvious leaks and obvious damage. If the engine looks immaculately clean it means it was washed. The question is why? Most likely to hide oil leaks and similar nasty problems.
Check the car's VIN and get a full history report. Was it a taxi or rental car? Recalls? How many owners? Real mileage? Stolen? Any accidents? If you're buying a used BMW, always check the VIN – you never know what the car has been through.
Check for rust. Rust is a problem that will spread. Some dishonest salesmen cover up the rust with a bit of paint or some stickers. It's always a good idea to look under the car.
Resources
https://www.bmwusa.com/all-bmws.html
https://www.statista.com/statistics/262921/global-production-of-luxury-cars-by-make/
https://www.autoexpress.co.uk/car-tech/104092/what-is-bmw-idrive
https://www.caranddriver.com/bmw/3-series
https://www.caranddriver.com/bmw/x1
https://www.caranddriver.com/bmw/i8