Honda's Africa Twin is a series of dual-sport adventure bikes of varying sizes, including engine displacements of 650cc, 750cc, 1000cc, and 1100cc.
When we say dual-sport here, we mean a bike that you can ride on or off the road, and the Africa Twin revolutionized this segment.
It was first launched way back in 1989 and over time has built a large loyal following, in this article we'll take a closer look at its reliability.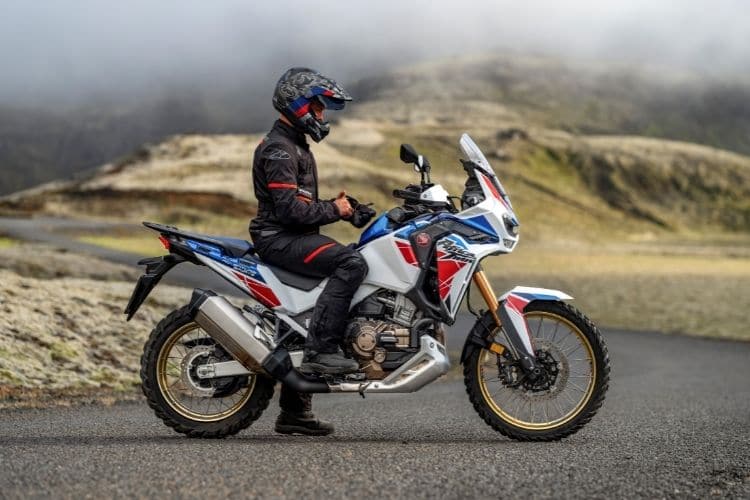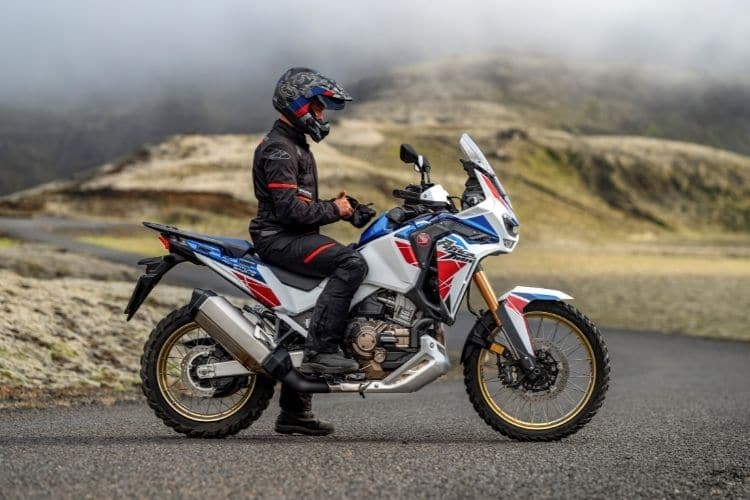 Here is the short answer to are Honda Africa Twins reliable:
The Africa Twin is one of the most reliable dual-sports on the market, according to many experienced riders. That said, its reliability is dependent on good ownership habits. The majority of owners experience few problems, most issues are easily sorted via warranty or a simple repair.
How Reliable Are Honda Africa Twins?
The Honda Africa Twin has earnt a reputation as being a truly dependable bike, that's not to say they are flawless – no bike is, but based on countless owner testimonies it's hard not to give a glowing review.
Most owners will experience one or two minor problems that are easily addressed via warranty or a quick DIY fix, whilst others have no complaints at all.
The engines are solid, as you would expect from a Japanese bikemaker, and Honda's recommended maintenance intervals also indicate they too have a LOT of confidence in this machine.
Japanese bikes tend to have lower compression for the displacement, and more often than not, lower compression translates to reliability.
There have been a few known issues though with the Africa Twin, namely with the suspension.
The suspension of some ATs has reportedly stopped working properly – otherwise known as stiction issues – due to wear incurred on the front fork's inner anodization. If the wear is excessive, it can lead to excessive play in the forks.
This problem was most common on 2016/17 forks, and in my experience, you can't identify fork anodizing wear without dismantling them.
In 2020 Honda issued a major recall on its Africa Twin Adventure Sports models regarding a clogged fuel filter issue (which causes engine hesitation or sudden stalling, increasing the risk of a crash). In total, 2,690 motorcycles, from model years 2018-2020, were affected by the recall.
Some owners have reported the front fork seal leaking which has been attributed (anecdotally) to wheelies.
However, Eric Lange of RIDE Adventures (guided motorcycle tours) had this to say:
"Typical Honda reliability – over three seasons now in Peru, Patagonia and Oregon we have literally only 2 leaking fork seals to report over what is now hundreds of thousands of kilometers that our customers have ridden these bikes for, so in traditional Honda fashion they made a reliable bike that is definitely a pro in the world of adventure riding".
As on many Honda's, the Africa Twin's engine requires valve maintenance, adjustment, and eventually replacement. Failing to keep up with valve maintenance can certainly cause reliability issues.
How Many Miles Can a Honda Africa Twin Last?
An Africa Twin can last for over 75,000 miles, more than 150,000 in some cases, if its owner rides, maintains and stores it responsibly.
If you're a responsible owner, who knows how many miles you can clock on your Africa Twin, it may even outlive you.
To verify the high-mile reputation the Africa Twin has, we swept the forums and found some Africa Twin owners who proudly posted their odometer readings:
The first owner I encountered claimed mileage of 67,600 miles on an Africa Twin, saying he's never had a problem.
Another provided an odometer of 78,000 all-original miles. They've yet to rebuild the engine.
The third rider we heard from has already passed the 100,000 miles mark. He admitted that the bike isn't perfect, as no bike is. A few of the problems this owner experienced include faulty wiring in their heated grips. Minor issues are all pretty standard on a bike that's ridden off-road, and this rider claimed they rode it off-road hard. Still, they've never had an engine failure in over 100,000 miles, nor have they experienced an issue with the bike's praised Dual Clutch Transmission.
One Africa Twin owner we encountered claimed a reading of 182,000 miles. While many of us readers were shocked, the owner himself was unimpressed with his feat, as he claims to know a rider who put 400,000 miles on their Honda Africa Twin without an engine rebuild! But 100k wasn't even the highest reading we found.
So, in short, if these above claims are valid, I'd say the Honda Africa Twin can last for however long you treat it right and are willing to invest time and money into standard upkeep.
Wear and tear are, of course, to be expected on any motorcycle, never mind on a bike that hits the trails from time to time.
There will be parts like suspension and wheel spokes that need to be tuned up regularly and eventually replaced, especially if the bike gets heavy off-road use.
Ownership habits like post-off-road-riding maintenance, standard service at the Honda-spec intervals, and responsible riding and storage will ensure maximum longevity.
Related: Are Ducati Multistrada Reliable?
What is Considered High Mileage for a Honda Africa Twin?
On the used market a dual-sport adventure bike like the Africa Twin is classed "high-mileage" once it clocks 40,000 – 50,000 miles. However, if the bike has been well-kept it could go on to last much, much longer.
The lifespan of an Africa Twin has more to do with the owner's upkeep habits and how its been ridden.
We're not saying that you shouldn't at least consider the mileage of a used Africa Twin before buying it, only that mileage is more of a pricing tool.
High mileage could mean the bike was often used, serviced, and stored with great care by a real bike enthusiast.
Low mileage could result from a life of neglect, sitting unused.
When shopping for a used bike, fewer previous owners is generally better, and a red flag is also lots of owners in a short amount of time.
An Africa Twin with multiple owners means the bike's lived through multiple break-in periods. Even seasoned riders need some time to adjust to a new motorcycle, especially a dual-sport.
Here are a few more tips when checking outa high mileage AT:
Create a checklist ahead of time: First and foremost, bring a checklist that summarizes the most common issues riders of adventure bikes like the Africa Twin experience. That way, you won't forget your concerns under pressure.
Ask for maintenance records: Ask for receipts and documents from general maintenance to aftermarket upgrades and history of repairs. A record is not just practical information for you to be aware of; it's a sign the seller valued their Honda.
Search the VIN: Running your future Africa Twins VIN draws any crash reports. It also lets you know if you're peeping at purchasing a hot bike registered as stolen.
Take it for a test ride while it's cold: You'll likely have to give the seller some collateral, but a test ride is a swift method to examine the Africa Twin's condition by seeing how well it starts up from cold. Call ahead of time and request that the seller leaves the bike cold before your arrival.
What Are the Best Model Years to Buy and Avoid?
Best Years: 2022, 2018-2019
The latest 2022 Honda Africa Twin received an upgraded shifting program for the Dual Clutch Transmission, providing the rider with smoother shifting and more reliable gearbox performance.
For those of you that can't swing the brand new AT, check out the 2018-2019 models.
They're equipped with three-stage traction control which is notably more intuitive to use than other TC programs.
They also feature an off-road specific ABS setting for better traction on the trails and an all-digital dash display, not to mention the slew of electronic bonus upgrades like improved heated grips and fog lights and a taller windscreen than the previous models.
Worst Years: 2016-2017
While there are plenty of great reasons to buy a 2017 or 2018 AT, these years tend to have the most complaints due to the wear inside the inner tube of the front fork.
The tube anodizing wears off, causing the fork tube to develop stiction, so the shock sticks and your suspension gets rough.
Riders say that it's self-evident on off-road trails.
The problem is fixable with fork replacements or upgrades.
Honda eventually claimed responsibility for this issue and rectified the problem, although previously their lack of involvement frustrated riders.
Related: Are Triumph Tigers Reliable?
What Usually Breaks First on a Honda Africa Twin?
The valves will be the first to break on your Honda Africa Twin unless you maintain them properly. Have your valves inspected and serviced by a Honda savvy mechanic as per the intervals outlined in the owner's manual.
While performing your routine valve inspections and adjustments yourself is possible, it requires specific tools.
The engine needs to be dropped on many models to make inspecting the valves possible, making it a technical procedure we don't recommend for new home mechanics.
On some year-model Africa Twins, the first problem riders report is the early wear to the anodization of the inner fork tube, resulting in sticky suspension.
A sticking suspension can be big deal on a bike that's intended for use on off-road trails that often include bumps, rocks, and generally rough terrain.
Related: 11 Common Honda Africa Twin Problems (Solutions Guide)
Honda Africa Twin Maintenance Costs
The maintenance cost of a Honda Africa Twin is standard for an adventure bike; Honda service costs are considered cheap compared to other motorcycle brands. In addition to routine maintenance, the Africa Twin requires thorough valve inspections.
Here are a few examples of AT maintenance prices:
$350 a set for tires
$208 for stator replacement
$70 for a new battery
$175 for chain and sprockets
$150 for fork seals, bushings, snap rings, washers, dust seals, and fluid
$100 for the wheel bearings front and rear
$54 an oil change
There are other ownership costs to factor in, such as:
Jacket = $200
Gloves = $100
Winter riding gear = $200-$500
Rain gear = $75-$300
Helmets = $100-$500
Fuel = $15 a tank
Storage =$?
Insurance =average cost of superbike motorcycle insurance is $721 a year.
9 Tips to Ensure Your Honda Africa Twin Is Reliable
If buying new, observe the break-in period per Honda's spec.
Inspect and adjust the valves per Honda's suggested intervals, replacing when needed.
Change the oil every 5,000 miles. Change it more often when riding off-road or in harsh or dusty weather.
Clean or replace the air filter according to the service schedule.
Ensure correct tire pressure; replace tires once the tread is worn.
Change the liquid coolant per Honda's spec.
Keep the chain-drive clean, lubed, and tightened according to Honda's owner manual recommendations.
Keep your Africa Twin stored away from harsh weather conditions.
Ride your AT regularly, preparing it for storage before long periods of inactivity.
Alternative Bikes
| | |
| --- | --- |
| Make & Model | Base MSRP |
| Honda Africa Twin | $14,399 |
| Ducati Multistrada | $15,295 |
| Triumph Tiger | $12,000 |
| BMW GS | $20,920 |
| Kawasaki Versys | $8,399 |
| KTM Super Adventure | $19,499 |