The Harley Davidson Fat Boy is a hot rod of a V-Twin cruiser in production since 1990.
As a member of the Softail family, it's based on concepts Harley had kicking around since the '80s.
With its iconic low frame, vast body, and solid disc wheels, the Fat Boy is one of the toughest looking cruisers on the street, but are they reliable?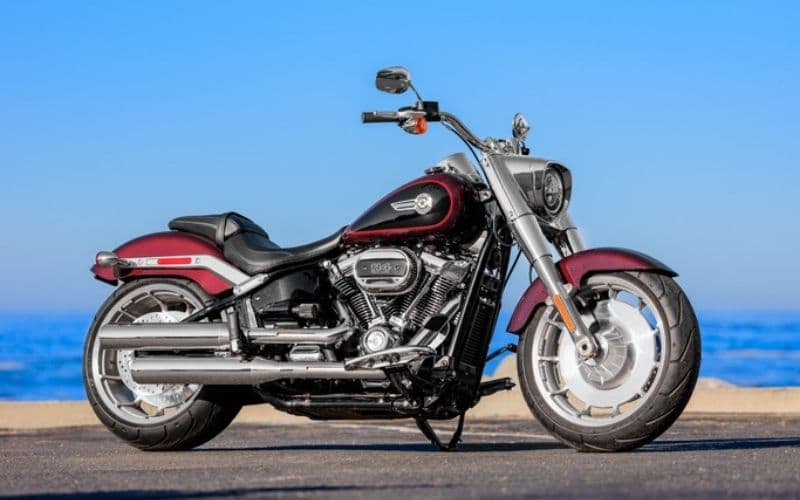 Here's the short answer to are Harley-Davidson Fat Boys reliable?
While numerous Fat Boys on the road haven't had reliability issues in their entire life, other models have incurred speedometer condensation, vibration caused by faulty O-ring sizes, clutch problems, and suspension complaints. Still, it's been considered a reliable bike for over 20 years.
How Reliable are Harley-Davidson Fatboys?
These days the Fat Boy is equipped with the dependable and powerful Milwaukee 114 Engine, a mainstay in their iconic lineup.
The bike has been in production since 1990; it's stocked multiple engines in that time, each with varying reliability, although most owners experience few problems.
Online you'll find plenty of satisfied customers and you'll often come across reviews like this:
"50,000km on my 2019 and I have zero regrets. pulls like a train, superbly dependable, just returned from a 2800+ round trip from the coast of South Africa and it just kept going. I'm never selling mine."
As a muscle bike, the Harley-Davidson Fat Boy is a popular choice for aftermarket performance upgrades like Power Commanders, fuel packs, pipe upgrades, etc. These components mess with the original engine tuning and tend to cause reliability issues once installed, especially when the bike isn't adequately tuned during the installation.
Furthermore, once you tamper with your motor, you void the warranty.
The Fat Boy's consumer score sometimes gets deducted because the seat's construction is poor enough to wear early and be uncomfortable; aftermarket seats are available, and this complaint is more model-specific than some of the others.
The Fat Boy's suspension system also takes some shots like this:
"I have a 2018 Fatboy 114 stock with only 215 miles. I experience a slight bounce no matter how smooth the road is at any speed. I have had it back to the dealer and had them take a look. They have test rode it and said 'that's just the way it rides with the bigger tires.'"
We do know the bike has a very unique feel to it, due to its wide tires, and has its own handling characteristics – it's not as nimble as some of the other Harleys.
For some owners, this will take some getting used to.
But the Fat Boy is low to the ground, especially the "Fat Boy Low" models – the complaints about suspension might not consider how being closer to the ground gives your suspension less space to absorb routine road shock.
The Fat Boy was on the list of bikes affected by the notorious 2018 Harley-Davidson Clutch Actuator Recall.
The recall was initiated because the secondary clutch actuator cylinder may leak fluid internally and the clutch master cylinder may lose the ability to generate enough lift to disengage the clutch.
If you're looking at a model from this year, make sure the recall has been addressed and the owner can provide proof of this.
In summary, the Fat Boy is a reliable motorcycle, sure it has its quirks but no bike is perfect.
Its reliability is also dependent on the owner, this includes staying up to date with maintenance, avoiding aftermarket upgrades and riding responsibly.
How Many Miles Can a Harley Davidson Fat Boy Last?
A Harley Davidson Fat Boy can last over 75,000 miles, providing it's responsibly ridden by its owner and serviced properly at the intervals outlined by Harley in the owner's manual. Based on an annual mileage of 4,000 miles, a well-kept Fat Boy can last over 18 years.
Fat Boys have been on the road for well over two decades now and there's plenty of evidence to suggest they can go the distance. Some of these models will have had some engine work done, but that's the case on all bikes eventually.
To put some meats on the bones of this answer, let's peep at some real-life testimonies from Fat Boy riders.
"Mine has over 110,000 miles on it. I bought it with about 40,000 miles on it. High mileage? Yep. But it burns no oil, has good compression, and the only oil leak is a bad starter solenoid gasket. Still on the original top end, though I did replace the base gaskets. My opinion is that Evo and Twinkie motors are 100,000-mile motors if maintained properly. And many of them are going lots longer than that."
"[Mine] was stolen. I had about 65 thousand on the odo. Although I did a lot of engine work (high compression branch heads, JE HC pistons, etc. The only thing that wore out was the clutch at about 50 thousand miles and the stator at around the same."
I know a few Fat Boy owners who have had their bikes since the 90s, have cleared over 70,000-80,000 miles and counting, and will likely never ride anything else.
These riders are constantly inspecting and lubricating their engines, retuning their carbs and jets as they go out, and replacing engine parts at the earliest signs of wear and tear, so the pieces don't cause more extensive damage down the road.
Further proof of the robustness of the FatBoy can be found on cycletrader.com, we even found a 2011 model with 167,000 miles on the clock although there's no guarantee any bike will last this long.
Related: How Long Do Harley-Davidsons Last?
What is Considered High Mileage for a Harley Fat Boy?
A Fat Boy is considered high mileage after 35,000 miles, though this has little to do with how much longer the bike will last. Some people assume that Harley cruisers are passed through multiple owners' hands and ridden hard although this is not necessarily the case.
A well-kept Fat Boy can last longer than 35,000 miles and the odometer reading is often more of a pricing tool.
If you're looking at a used Harley consider the following:
Ask For service and maintenance records and any aftermarket installation documentation.
Run the VIN to check for accident reports and to see if the bike in question was stolen.
Check for neglect, damage, weather exposure, and wear and tear – you really want to assess if the owner took good care of their bike.
Take it for a test ride: Ask the seller ahead of time to leave it cold, this way you'll see if it has any starting issues.
Remember, the Fat Boy has been around since 1990 – there are many variations of the model with different engines, etc.
Familiarizing yourself with the specific year and model Fat Boy you're looking at ahead of time allows you to ask specific questions about the bike such as recalls or common problems you may have come across during your research.
Making a list before you get there means you won't forget to ask, it's easy to forget in the heat of sales negotiations.
In short, high mileage doesn't always mean a Fat Boy is at the end of its life, but it could mean you score a Fat Boy that'll last for years for cheap.
What are the Best Model Years to Buy and Avoid?
Best Year: 2022, 1990
The 2022 Fat Boy is a low, beefy powerhouse with styling like a muscle bike featuring solid chrome disc wheels, fat tires, and a square headlight.
We're also big fans of the first year of Fat Boy, 1990.
The 1990 Fat Boy is more than just the original; it was a new extension of the Softail family, a series of Harley Cruisers with hidden suspension systems that looked like hardtails–bikes that have had their suspension chopped off.
The first iteration of the Fat Boy set the tone for the buffed-out, custom Hot Rod vibe that some people still consider to be the quintessential look, feel, and sound of American motos, making it a personal favorite over here at Engine Patrol.
I'd take any Fat Boy between 90-99 and 2008-2022.
Worst Year: 2007
2007 was the bad-luck year of the Fat Boy, though there are plenty of happy '07 FB owners on the road who swear by their bikes.
The 07 had a less-celebrated 96CI motor and an offset front end that set it apart from any other iteration, but the complaints don't stop there.
The '07 Fat Boy's transmission had straight cut gears which caused a disruptive whining sensation in 5th gear or, in extreme situations, a clutch rattle that can be intimidating.
There are fixes to this problem, but of all the available Fat Boy options, why not just avoid it and go for a different year model.
Related: Where Are Harley Davidson Made?
What Usually Breaks First on a Harley-Davidson Fat Boy?
The first thing to break on a 2017-2018 Harley Fat Boy is likely its clutch. In 2018, the Harley Fat Boy was among the 178,000 bikes Harley recalled due to their clutches getting stuck in the engaged position due to leaking secondary cylinders.
A Harley dealership will fix this problem for free; if you're in the market for a 2017-2018 Fat Boy, ask the seller if they've had their clutch upgraded via recall before buying it to save yourself the trouble of being the one who has to wait around while it gets fixed.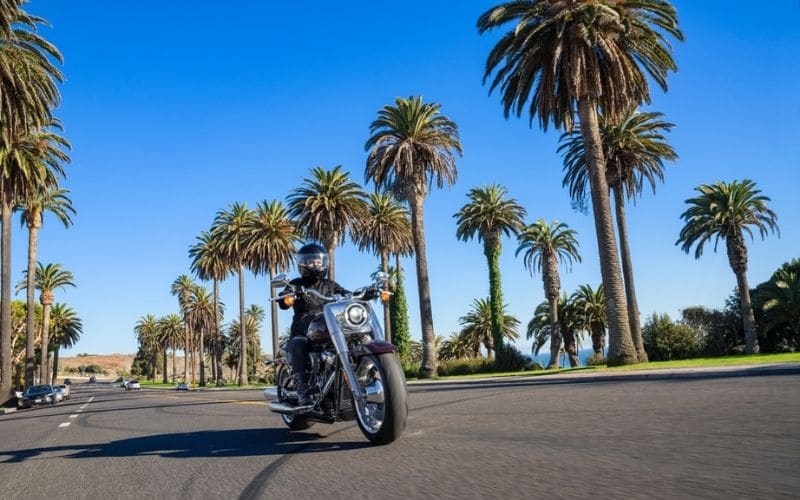 Harley-Davidson Street Glide Maintenance Costs
The Maintenance cost of a Harley Davidson Fat Boy is relatively average for a cruiser. Harley suggests servicing your Fat Boy every 5,000 miles. The average price for a service is $500-$600, putting the average maintenance cost at $1800 a year.
Routine Maintenance Costs of a Harley Street Glide:
Oil & Filter Change: $110-$160
Brake Pad Replacement: $200-$300
Clutch Replacement: $300-$500
Tire Replacement: $200-$500
Note: Maintenance costs vary by region.
There are other ownership costs to factor in besides maintenance, such as:
Jacket = $200
Gloves = $100
Winter riding gear = $200-$500
Rain gear = $75-$300
Helmets = $100-$500
Tires = $300-$500
Fuel = $15 a tank
Storage =$?
Insurance = The average cost of motorcycle insurance on a Cruiser like the Fat Boy $721
Related: Are Indian Scouts Reliable?
4 Tips to Make Sure Your Harley-Davidson Street Glide Lasts Long
Adhere to Harley's Suggested Schedule For Regular Service Maintenance
Maintain your Harley's Cleanliness, keeping it free of debris and moisture buildup by using Harley-Approved Cleaning Products
Store Your Bike Correctly. Per Harley's Spec Guidelines
Ride your Street Glide Often, Properly.
Alternative Options
| | |
| --- | --- |
| Bike Make & Model | Base Model MSRP |
| Harley Fatboy | $19,049 |
| Indian Scout | $8,999 |
| Honda VTX | $9,599 |
| Harley Softail Slim | $15,999 |
| Harley Sportster | $11,249 |