Marketed as a Sports Activity Coupe the BMW X4 has been turning heads since its launch in 2014.

Featuring a stylish fastback profile, the X4 is designed as a sportier alternative for SUV buyers looking for enhanced performance.

If you're researching this particular model you might be wondering about its average lifespan and reliability.

We'll cover all that and more in this article, read on to find out…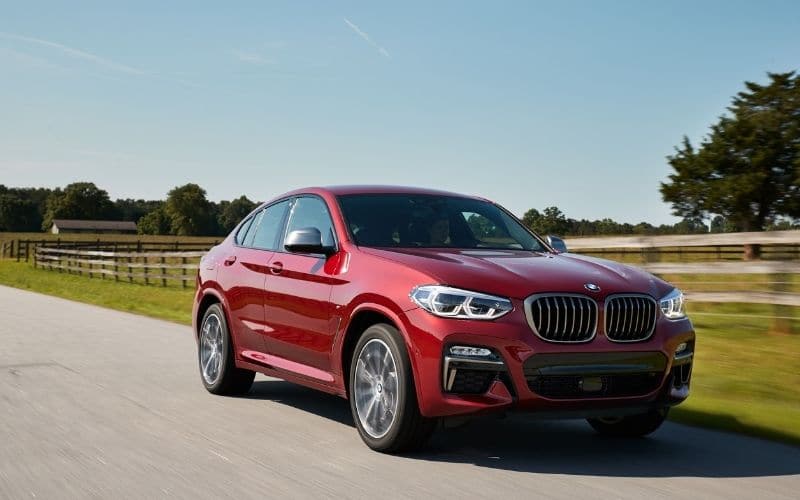 Here is the short answer to how long BMW X4 last:
The BMW X4 can last between 150,000 to 200,000 miles on average – with routine servicing, thorough maintenance, and conservative driving habits. Based on an annual mileage of 15,000 miles per year, this equates to 10 to 13 years of service before it will require uneconomical repairs or break down.
How Many Miles Can You Expect from a BMW X4?
The BMW X4 is expected to have a respectable lifespan owing to its solid German engineering.
Although there's not a huge amount of historical data for these models, based on other vehicles in BMW's SUV lineup which have been around a lot longer, we are confident that an X4 will achieve 150,000 – 200,000 miles.
Of course, as with any BMW the importance of maintenance can't be stressed enough, and failing to stay up to date with routine servicing will significantly reduce its longevity.
Over the years BMW has developed an unfair reputation for unreliable, expensive vehicles – and whilst there might be some truth in this, they are generally well built and of good quality.
J.D. Power awards the most reliable cars after studying every model year for years.
They placed BMW in their top ten most reliable makes, below is a list of J.D. Power Awards given to BMW in recent years:
J.D. Power Quality Award — fewest problems reported by 100 car owners during the first 90 days of ownership.
J.D. Power Dependability Award — brand with the fewest problems reported by 100 car owners during the last 12 months with their 3-year old vehicle.
J.D. Power Performance Award — highest new car owner design and performance ratings after the first 90 days of ownership.
Once your X4 has hit the high number on the odometer, there is a much greater chance of things breaking, not only engine-related but also (more commonly) electronics – this can include a wide range of tedious issues such as the windows not opening and sunroofs getting stuck.
When big-ticket items fail, the cost of repairs may outweigh the cost of the vehicle, in which case it makes more sense to invest your money in a new one.
The quality and design of the X4 plays a big part in how long it will last, ultimately though its life expectancy will be dependant on a few key factors at the ownership level.
The life expectancy of your X4 will be cut short if you avoid:
Service appointments
Routine oil changes
Tire rotations
Changing air filters
Driving smoothly
Checking fluid levels
As a general rule, BMWs are no different than other cars, just often more expensive to maintain.
Do BMW X4 Rust Easily?
Due to the use of higher quality materials and the under-body of the car being galvanized and sealed, BMW X4s are not expected to rust easily.

To back up their rust-proofing treatments and paint quality, BMW offers a 12-year/unlimited mileage corrosion warranty against perforation by rust.

The Warranty does not cover corrosion caused by neglect, accident damage, stone chips or other external influences.

Across owner forums, we were unable to find any serious rust complaints pertaining to the X4 and there have been no rust-related recalls for this model.
Rust problems are much more common in humid climates, places where roads are aggressively salted during the winter and coastal regions due to salt in the air.

If you live in a high-risk area, we recommend taking extra precautions, however rust-proofing an X4 is often not advised due to the high standard of rust-proofing that takes place during manufacturing.
Most BMW enthusiasts will tell you to save your money and only invest in additional rust-proofing if you're planning on keeping the car for 12 years or longer.

Tips to keep your X4 rust-free:
Clean: Regularly wash your car (and its underside) especially during the winter to remove the salt, dirt and grime that causes rust. We recommend having a detail shop wash everything underneath at the end of each winter.
Repair paint damage and scratches: Exposed metal will oxidize, if it's beyond a DIY fix speak to your local body repair shop.
Storage: Park your X4 in a garage to keep it dry and protected from the harsh weather, sunlight (fades paint) and bird droppings.
Waxing: Wax your car twice a year. Not only will this make your X4 look amazing, it also gives a protective coating against rust.
What is High Mileage for a BMW X4?
A BMW X4 with 100,000 miles is considered high mileage. This would make for a much riskier purchase due to a higher chance of electronic and mechanical faults occurring in the not too distant future.

Buying a used X4 with over 100k miles will not necessarily equate to a bad purchase, however it's essential to do a thorough background check and inspection of the vehicle.
A well-maintained X4 with 100,000 miles on the clock might be a better purchase than one with 60,000 miles that had lots of owners, led a rough life or was a prior rental car.
Quite a few BMW buyers will look for used vehicles in states (at least in the US) with little or no snow and moderate temperatures.
Full-service history is essential regardless of where the car has been driven, and you'll find a lot of people in forums who swear by their rule that they'll never buy a BMW out of warranty.
Owners will often trade their BMWs in when the vehicle's warranty expires.

Some important considerations to make:
Maintenance history. Check that the car was properly serviced and the owner can provide proof of this.
Get a second opinion: Have it inspected by an expert technician.
Check the CarFax. This doesn't guarantee anything but can help give a clearer picture of wear and tear. Make sure it has minimal damage, if any. Analyze the information to make sure if something did happen, it wasn't transmission related or mechanical.
Number of previous owners. As a general rule, less is better. More owners usually means more wear and tear. If one family owned it and drove the full 100k miles and had the car regularly serviced, then you can almost guarantee they took good care of it throughout ownership.
How long you are planning on keeping the car. If you're planning on keeping the car for a long time, you should evaluate whether the short-term savings outweigh spending a bit extra into something more reliable.
How Long Do BMW X4 Last Compared to Similar Car Models?
The following comparisons will give you a better idea of the X4's longevity, reliability, and ownership costs in relation to its competitors.
BMW X4 vs. Audi Q5
Launched in 2008 the Audi Q5 is a prestige compact SUV that combines performance and functionality.

The Audi Q5 can last between 150,000 – 200,000 miles or 10 – 13 years, which is on par with the projected lifespan of the X4.
Consumer Reports has given the Q5 an average of 3 / 5 for reliability vs. 2 / 5 for the X4.
According to RepairPal, Audi has an annual average repair and maintenance cost of $987 vs. $986 for BMW models.
J.D Power scores the Q5 65 / 100 for quality and reliability while the X4 outscores that with 80 / 100.
Both SUVs are prime examples of German quality with slightly different interpretations of luxury.
Buyers will choose either of these models based on styling and brand affiliation, but the X4 pips the Audi for sporty appeal.
You may also be interested in our article: How Long Do Audi Q5 Last?
BMW X4 vs. Mercedes-Benz GLC Coupe
Launched in 2015, the Mercedes-Benz GLS is a striking SUV that's big on luxury and comfort.

A well-kept Mercedes-Benz GLC can last between 200,000 – 250,000 miles or 13 – 17 years of service, slightly longer than the BMWs projection of 150,000 – 200,000 miles.
Consumer Reports has given the GLC an average of 3 / 5 for reliability vs. 2 / 5 for the X4.
According to RepairPal, Mercedes-Benz has an annual average repair and maintenance cost of $908 vs. $986 for BMW models.
J.D Power scores the GLC 77 / 100 for quality and reliability while the X4 outscores that with 80 / 100.
The GLC is more reliable than the X4, but the X4's style and ride dynamics set it apart.
You may also be interested in our article: How Long Do Mercedes GLC Last?
BMW X4 vs. Volvo XC60
Swedish automaker Volvo is synonymous with creating some of the safest vehicles in the world.
The XC60 SUV carries on this proud heritage and has gone on to become the automakers best selling model thanks to its style, luxury and advanced tech.
The Volvo XC60 can last between 200,000 – 250,000 miles, this is slightly longer than the X4s 150,000 – 200,000 miles.
Consumer Reports has given the XC60 an average of 3 / 5 for reliability vs. 2 / 5 for the X4.
According to RepairPal, Volvo has an annual average repair and maintenance cost of $769 vs. $986 for BMW models.
J.D Power scores the XC60 71 / 100 for quality and reliability while the X4 outscores that with 80 / 100.
Buyers of the XC60 will select this vehicle for its safety, reliability, and lower maintenance costs, whilst others will select the X4 for its sportier driving dynamics and brand prestige.
You may also be interested in our article: How Long Do Volvo XC60 Last?
Is the BMW X4 Reliable?
The X4 forged the way for the niche coupe SUV market and is one of the top picks in the segment. It must be noted that as with its X3 counterpart, reliability is not the X4's top-selling characteristic. However, our investigation concludes that the X4 is a reasonably dependable SUV.
Consumer Reports gives the BMW X4 a predicted reliability score of 2 / 5.
JD Power rated the X4 with a quality and reliability rating of 80 / 100.
The Kelley Blue Book consumer rating index gives the X4 a reliability rating of 4.3 out of 5.
There is no reliability rating available for the X4 from RepairPal due to insufficient data.
BMWs are generally reasonably reliable provided they are regularly maintained.
In 2018, a reliability study was conducted by J.D. Power on over 500,000 vehicles to determine which vehicles on the market could accrue the most mileage, without it resulting in costly repairs.
To many people's surprise, BMW ranked in 8th position out of 29 brands, coming out on top over luxury automakers like Mercedes-Benz, Porsche, Acura, and Lincoln.
The Best and Worst Years for BMW X4
Like any vehicle on our roads today, the X4 has had its good and bad years…
Worst Model Year
According to Car Complaints, the 2018 X4 was the worst model year and the most reported problems were related to its interior accessories as well as sharp edges on doors.

Since its launch in 2014, the X4 has received only 2 reports on the Car Complaints database.
This isn't to say that the X4 doesn't come with any problems.
As the X4 shares powertrains and undercarriage structures with the X3, it is worth investigating the common issues that affect X3 models.

For the model years 2014 to present, problems with the X3 have decreased.
You can find out more about the X3 in our article here.
Best Model Year
The 2020 and 2021 models have so far not received any complaints and the 2021 model is our top choice thanks to its next-generation engines, advanced technology, and sporty "M" performance derivatives.

The X4 model has a safety rating of 5 out of 5 from the Euro NCAP safety agency.
Model Year and Number of Complaints
Here are the number of complaints for each X4 model year, from the Car Complaints database:
| | |
| --- | --- |
| Model Year | Number of Complaints |
| 2021 | 0 (Best year) |
| 2020 | 0 |
| 2019 | 0 |
| 2018 | 1 (Worst year) |
| 2017 | 0 |
| 2016 | 1 |
| 2015 | 0 |
| 2014 | 0 |
What About Recalls for These Models?
The BMW X4 has a total of 25 recalls across all model years.

A recall is issued when a manufacturer or the NHTSA determines that a vehicle, equipment, car seat, or tire creates an unreasonable safety risk. Manufacturers are required to repair recalls for free.

You can check if your X4 has been subject to a recall campaign by entering your Vehicle Identification Number (VIN) into the BMW recall tool on their website.

Here are the total number of recall campaigns per year for the BMW X4:
2021: 4
2020: 9
2019: 7
2018: 0
2017: 1
2016: 1
2015: 3
BMW X4 Model Year List
Here are all the model years for BMW's X4:
First Generation (F26):
2014 BMW X4
2015 BMW X4
2016 BMW X4
2017 BMW X4
2018 BMW X4
Second Generation (G02):
2018 BMW X4
2019 BMW X4
2020 BMW X4
2021 BMW X4
Are BMW X4 Expensive to Maintain?
According to RepairPal, the BMW X4 has an annual repair cost of $988, while the average for mid-size SUVs is $652.

BMWs are generally regarded as being expensive in terms of ownership costs due to their specialty parts and technology.
How Long Do the Brakes Last?
The brakes pads on a BMW X4 are expected to last between 30,000 to 70,000 miles or 2 to 5 years, depending on driving habits.
If you drive in a lot of stop-and-go traffic you can expect your brakes to wear out faster.
Using smooth controlled braking will help your brakes last longer.
Full and complete stops from a high speed are the #1 cause of premature brake pad wear.
How Long Do the Tires Last?
The stock tires on a BMW X4 will last on average between 50,000 – 60,000 miles before requiring replacement, this will see owners changing tires every 3 to 5 years.
Have your tires rotated every 5,000 miles to ensure even wear.
Check your tire pressures every few weeks to make sure they're at the correct tire pressure.
Inspect your tires if you notice a change in handling, noise, or vibration.
How Long Do the Transmissions Last?
BMW X4 transmissions can last 150,000 – 200,000 miles with proper care and maintenance.

The first generations of the BMW X4 (from 2014 to 2018) were equipped with manual and automatic transmissions.

The most recent generation, produced from 2018, is solely equipped with an automatic transmission.
Please also read our article: Are BMW Cars Worth the Money?
How Long Do BMW X4 Batteries Last?
BMW X4 batteries usually last on average between 3-5 years. This can vary, depending on factors such as climate, driving habits, the type of battery, and more.

Four tips below to help prolong your X4 battery:
Keep your battery tightly fastened: The vibrations of your car can loosen the connections, potentially resulting in short circuits and internal damage.
Limit short rides: Quick car rides prevent the battery from fully charging. The Stop/Start system is also known to hinder the recharging of X4 batteries. To help maintain battery power, drive your X4 frequently and for extended periods.
Storage: Keep your X4 stored indoors away from extreme changes in temperature.
Control Corrosion: Clean the terminals (toothbrush dipped in baking soda and water mixture) and keep them free from build-up.

X4 batteries are located in the left side of the luggage compartment, under the carpet trim.
How Long Do the Spark Plugs Last?
BMW X4 spark plugs will require changing every 60,000 miles.

They are usually inspected and if needed, replaced when you go for routine maintenance.
What About Insurance Cost?
The BMW X4 has an average cost of $1,800 for full comprehensive insurance coverage per year, or $150 per month. Older year models cost less to insure.
Insurance costs can vary from person to person; be sure to shop around to find the best possible deal.
Tips to Prolong the Life of Your BMW X4
Adopt smooth driving habits, this includes accelerating and braking, the less stress you put the engine under the longer it will last.
Keep up to date with factory-recommended maintenance, use only a reputable mechanic or BMW service center.
Always read the owner's manual to learn the location of important components, what your X4 needs and what quantity and to understand the symbols and dashboard warning lights.
Regularly wash your X4 to remove dirt and grime to protect the paint and undercarriage from rust developing.
Check your BMW X4's engine oil, coolant, brake, and transmission fluid levels and top them up when required.
Your X4 can handle gravel roads and snow-filled roads, but you should always drive it carefully off-road.
Storing your X4 in a garage will help to protect it against the weather's elements and bird droppings.
Don't tow loads heavier than is recommended.
Pay attention to warning and information lights on your vehicle's instrument panel.
Keep on top of repairs to prevent them from developing into larger problems.
Resources
https://www.bmwusa.com/vehicles/x-models/x4/sports-activity-coupe/pricing-features.html
https://www.jdpower.com/cars/2021/bmw/x4/
https://www.consumerreports.org/cars/bmw/x4/
https://en.wikipedia.org/wiki/BMW_X4
https://www.consumerreports.org/cars/mercedes-benz/glc/
https://www.consumerreports.org/cars/audi/q5/
https://enginepatrol.com/how-long-bmw-x6-last/
https://www.jdpower.com/cars/2021/mercedes-benz/glc
https://www.jdpower.com/cars/2021/audi/q5
https://www.jdpower.com/cars/2021/volvo/xc60
https://www.carcomplaints.com/BMW/X4/
https://www.euroncap.com/en/results/bmw/x3-/-x4/33285