The Fit made its US debut in 2007 and was sadly discontinued for the 2020 model year.
It grew a large fanbase over the years thanks to its go-kart-like handling and impressive fuel economy.
If you're wondering how long a Fit will last, we'll cover that in this article.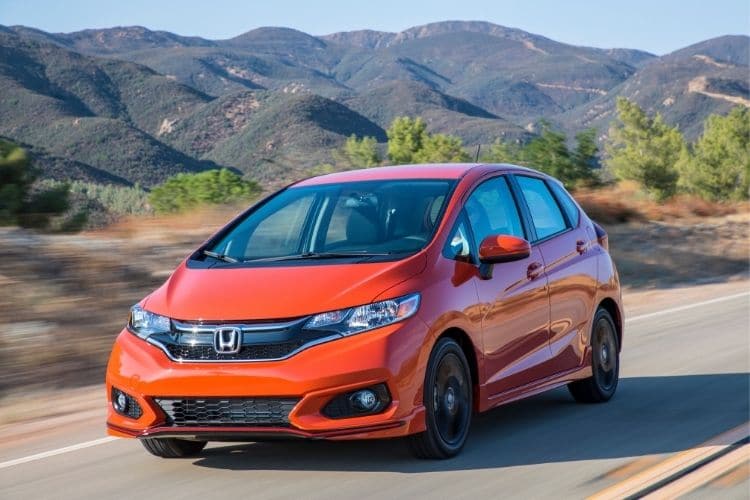 Here is the short answer to how long the Honda Fit lasts:
The Honda Fit is a highly dependable subcompact car that can typically last 250,000 – 300,000 miles when properly cared for. If you drive 15,000 miles per year this equals 17 – 20 years of service before it will need replacing or require costly repairs.
How Many Miles Can You Expect from a Honda Fit?
The Fit is built by Japanese automaker Honda who are well known for building cars and motorcycles that are highly robust.
Reliability and Honda seem to go hand in hand so it should come as no great surprise that the Fit has an impressive lifespan of around two decades.
Its been on the market since '07 and there are no shortage of high mileage examples.
On used car websites such as Car Gurus and Autotrader you can find models that have surpassed the 300,000-mile mark.
On the Fit Freak forum, we even found one owner who clocked over 425,000 miles, which goes to show how well built these cars really are.
That being said, not all Honda Fits will last that long but with good maintenance and smooth driving habits, you shouldn't have much trouble hitting high numbers.
Do Honda Fit Rust Easily?
Despite being a low-budget option the Honda Fit does not rust easily.
One Fit owner based in Massachusetts reported he didn't even have a speckle of rust on his 09 Fit Sport.
Most owners we came across during our research hadn't experienced any major rust issues, although rust spots on the Fit have been reported in the following areas:
Brakes
Brackets and welds on the underbody
Wheel wells
Some degree of rust is expected after 5-7 years even if it's just minor surface rust.
Factors such as humidity, road salt and even salt air from the coast can all contribute to rust.
To keep rusting to a minimum we advise:
Washing your Fit often. Especially during the winter, this includes the wheel wells and underbodt, making sure to rinse well and get all the salt, dirt and grime off.
Repair damaged paintwork. Rock chips that damage the paintwork leave points of attack for rust to set in. If you have any scratches its best to get them addressed asap at your local bodt repair shop.
Wax your Fit: If you wax your car a couple of times a year this gives an extra layer of protection from rust and also gives a nice shine.
What is High Mileage for a Honda Fit?
A Honda Fit with over 125,000 miles is considered high mileage.
A high mileage car isn't necessarily a bad car, it just means there's a good chance it's developed some degree of wear and tear and possibly rust.
If the previous owner has taken good care of the Fit then it could be a great investment, its important to assess the whole vehicle though and not just the odometer reading.
If your looking at buying a high mileage Fit consider the following:
Maintenance history. Check that the car was properly serviced and the owner can provide proof of this.
Get a second opinion. Take it to an independent auto repair shop or have it inspected by a mechanic you trust.
Check for rust. Rust is a problem that will spread. Some dishonest salespeople cover up the rust with a bit of paint or some stickers. It's always a good idea to look under the car.
Check the car's VIN and get a full history report. Was it a taxi or rental car? Recalls? How many owners? Real mileage? Stolen? Any accidents? If you're buying a used Honda, always check the VIN – you never know what the car has been through.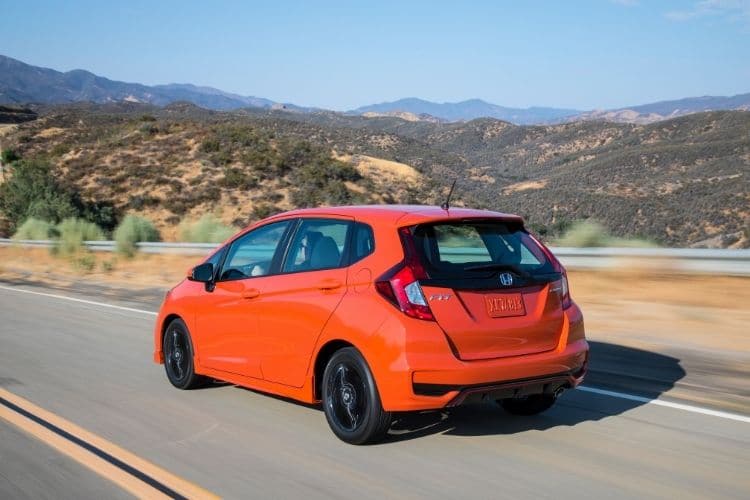 How Long Does the Honda Fit Last Compared to Similar Car Models?
In this section, we'll look at some of the Honda Fit's closest competitors and see how they stack up in terms of durability and repair costs.
Honda Fit vs. Fiat 500
The Fiat 500 is a fun size 2-door car that was sold in the US from 2012 to 2019.
The Fiat 500 can last 200,000 – 250,000 miles or 13 – 17 years, less than what is expected of the Honda Fit.
Honda Fit
Fiat 500
RepairPal Reliability Rating
4.5/5.0
3.5/5.0
RepairPal Reliability Ranking
4th / 21
Subcompact Cars
18th / 36
Subcompact Cars
Average Annual Repair Cost
$390
$522
The Honda Fit is superior in terms of reliability, longevity and is notably cheaper to maintain.
The biggest difference between the two cars is their sizing, if you need a slightly bigger vehicle you should opt for the 5-door Honda.
You may also be interested in our article: How Long Do Fiat 500 Last?
Honda Fit vs. Mini Cooper
The modern-day Mini Cooper is a premium subcompact car that has plenty of character and extremely agile handling.
The Mini Cooper can last 200,000 – 250,000 miles or 13 – 17 years, less than what is expected of the Honda Fit.
Honda Fit
Mini Cooper
RepairPal Reliability Rating
4.5/5.0
3.0/5.0
RepairPal Reliability Ranking
4th / 21
Subcompact Cars
21st / 21
Subcompact Cars
Average Annual Repair Cost
$390
$846
Despite the Mini's poor reliability scores, it makes up for it with its fun driving characteristics and upscale cabin.
If longevity is high up on your criteria list then the Fit will be the obvious choice.
Honda Fit vs. Toyota Yaris
The Toyota Yaris is another great subcompact that's been discontinued as automakers focus more on the SUV market.
The Toyota Yaris can last 250,000 – 300,000 miles or 17 – 20 years, equal to what is expected of the Honda Fit.
Honda Fit
Toyota Yaris
RepairPal Reliability Rating
4.5/5.0
4.5/5.0
RepairPal Reliability Ranking
4th / 21Subcompact Cars
1st / 21
Subcompact Cars
Average Annual Repair Cost
$390
$333
Both models are at the top of their class and deciding between the two will come down to personal preference.
You can't go wrong with either model and they're both proven to withstand the test of time.
You may also be interested in our article: How Long Does the Toyota Yaris Last?
Comparison Chart
| | | | | |
| --- | --- | --- | --- | --- |
| | Honda Fit | Mini Cooper | Fiat 500 | Toyota Yaris |
| Annual Repair Cost | $390 | $846 | $522 | $333 |
| Reliability Rating | 4.5/5.0 | 3.0/5.0 | 3.5/5.0 | 4.5/5.0 |
| Lifespan (miles) | 250k – 300k | 250k – 300k | 250k – 300k | 250k – 300k |
Is the Honda Fit Reliable?
According to data from Consumer Reports, Repair Pal and various other auto review sites, the Honda Fit is one of the most reliable cars money can buy.
Japanese cars have a very strong reputation when it comes to reliability and the Honda Fit supports this stereotype.
If you're buying a used Fit then the car will only be reliable if the previous owner(s) has looked after it, the same goes for any vehicle.
The Fit received the following reliability reviews:
Kelley Blue Book's consumer rating index gave the Honda Fit a great reliability rating of 4.6/5.0.
J.D. Power provided the Honda Fit with a below-average reliability rating of 82/100.
Consumer Report gave the Honda Fit the following reliability reviews:
| | |
| --- | --- |
| Model Year | Reliability Verdict |
| 2020 | 5/5 |
| 2019 | 3/5 |
| 2018 | 5/5 |
| 2017 | 5/5 |
| 2016 | 4/5 |
| 2015 | 1/5 |
| 2014 | NA |
| 2013 | 4/5 |
| 2012 | 4/5 |
| 2011 | 5/5 |
| 2010 | 4/5 |
| 2009 | 4/5 |
How Reliable is the Honda Fit Compared to Other Cars?
According to data from Repair Pal, the Honda Fit is one of the most reliable subcompact cars.
Model
Reliability
Toyota Yaris
4.5/5.0
Toyota Prius C
4.5/5.0
Mazda2
4.5/5.0
Honda Fit
4.5/5.0
Hyundai Accent
4.5/5.0
Kia Rio
4.5/5.0
Mitsubishi Mirage
4.5/5.0
Mazda MX-5 Miata
4.0/5.0
Nissan Versa
4.0/5.0
Chevrolet Spark
4.0/5.0
Chevrolet Sonic
4.0/5.0
Chevrolet Aveo
4.0/5.0
Ford Fiesta
4.0/5.0
Fiat 500
3.5/5.0
Mini Cooper
Countryman
3.5/5.0
Mini Cooper
3.0/5.0
Avg. Subcompact Car
4.0/5.0
The Best and Worst Years for the Honda Fit
We've done some research through the archives of Car Complaints and Car Problem Zoo to bring you the best and worst years for the Fit.
Worst Model Year
The worst model years for the Honda Fit are 2007, 2008, 2009 and 2015.
The worst year for the Honda Fit is 2015, this year sticks out from the rest with its large number of complaints which were mostly attributed to electrical issues and extremely uncomfortable seats.
Some reported problems include:
Starter failure
Car won't start
Battery dies
One unhappy owner shared "I can only drive the car very short distances before I feel the pain start in my neck. I cannot sit back all the way in the seat it causes my neck and back to curl forward. It is not comfortable at all!"
The earlier model years from 2007 – 2009 had some issues with the power steering and the body paintwork.
Best Model Year
The best Honda Fit models are from 2017-2020. The 2014 Fit is also a great choice.
Customer feedback data shows models after 2017 are far less problematic – this is to be expected as Honda fine-tunes their products over time.
You can expect the newer models to be more reliable as well as having all the latest tech and safety features.
Related: 13 Best & Worst Honda Fit Years (With Pictures)
Model Year and Number of Complaints
Here is the total number of complaints and problems for every Honda Fit model year from the CarComplaints and Car Problem Zoo databases:
Model Year
Car Complaints
No. of Complaints
Car Problem Zoo
No. of Problems
2020
0
8
2019
4
41
2018
7
36
2017
1
19
2016
40
89
2015
141
262
2014
4
1
2013
22
193
2012
39
120
2011
26
119
2010
51
201
2009
61
319
2008
43
266
2007
63
439
What About Recalls for These Models?
The Honda Fit has had a total of 67 recall campaigns since 2007.
To check if your Fit has been recalled, simply go to the Honda recalls web page and enter your Vehicle Identification Number.
Honda Fit recalls by model year:
2020 Honda Fit: 0
2019 Honda Fit: 2
2018 Honda Fit: 0
2017 Honda Fit: 0
2016 Honda Fit: 1
2015 Honda Fit: 4
2014 Honda Fit: 0
2013 Honda Fit: 10
2012 Honda Fit: 11
2011 Honda Fit: 11
2010 Honda Fit: 12
2009 Honda Fit: 11
2008 Honda Fit: 5
2007 Honda Fit: 0
Honda Fit Model Year List
First Generation (2001-2006)
2001 Honda Fit
2002 Honda Fit
2003 Honda Fit
2004 Honda Fit
2005 Honda Fit
2006 Honda Fit
Second Generation (2007-2012)
2007 Honda Fit
2008 Honda Fit
2009 Honda Fit
2010 Honda Fit
2011 Honda Fit
2012 Honda Fit
Third Generation (2013-2019)
2013 Honda Fit
2014 Honda Fit
2015 Honda Fit
2016 Honda Fit
2017 Honda Fit
2018 Honda Fit
2019 Honda Fit
Fourth Generation (2020)
Are Honda Fit Expensive to Maintain?
A Honda Fit will cost an average of $390 per year in repairs and maintenance. This is lower than the average of $456 for subcompact cars and the average for all vehicles in different segments, which is estimated at $652.
The Honda Fit is one of the most affordable vehicles in its class in terms of maintenance and this is one of its big selling points.
You can find a full price breakdown of ownership costs here.
Model
Avg. Annual Repair Cost
Frequency of Unscheduled Repairs
Probability of Severe Repairs
Toyota Yaris
$333
0.4
6%
Toyota Prius C
$383
0.36
7%
Mazda2
$449
0.3
7%
Honda Fit
$390
0.4
8%
Hyundai Accent
$444
0.2
8%
Kia Rio
$434
0.2
9%
Mitsubishi Mirage
$457
0.1
9%
Mazda MX-5 Miata
$429
0.3
10%
Nissan Versa
$456
0.4
11%
Chevrolet Spark
$434
0.3
11%
Chevrolet Sonic
$536
0.4
11%
Chevrolet Aveo
$616
0.2
11%
Ford Fiesta
$552
0.4
11%
Fiat 500
$522
0.2
17%
Mini Cooper
Countryman
$652
0.59
11%
Mini Cooper
$846
0.62
13%
Avg. Subcompact Car
$456
0.3
11%
How Long Do the Brakes Last?
Honda Fit brake pads will typically last between 30,000 and 70,000 miles. This can vary widely and depends mostly on your style of driving and the traffic conditions you normally experience.
You can expect your brakes to wear out sooner if you frequently stop and accelerate in rush-hour traffic
Brake pad replacement, which includes parts and labor, can cost anywhere between $117 and $129.
How Long Do the Tires Last?
The Honda Fit's stock tires usually last around 40,000 to 50,000 miles or 3 to 5 years. Although, they can wear out much sooner. This depends on various factors, such as driving habits, climate, and road conditions.
Rotate tires every 5,000 miles to ensure even wear.
Check your tire pressure every few weeks to make sure they're at the correct tire pressure.
Have a mechanic or tire shop check your wheel alignment every 6 months.
How Long Do Honda Fit Engines Last?
The Honda Fit engine should last for at least 250,000 miles.
Smooth driving habits will keep wear and tear on engine components to a minimum.
You may also be interested in our article: Honda Fit Beeping Problems? (7 Causes & Solutions)
How Long Do Honda Fit Batteries Last?
The Honda Fit battery should last between 3 – 5 years. A vehicle's battery life varies depending on many factors such as climate, driving habits, and battery type, among many others.
Keep your battery tightly fastened: The vibrations of your car can loosen the connections, potentially resulting in short circuits and internal damage.
Limit short rides: Quick car rides prevent the battery from fully charging.
Control Corrosion: Clean the terminals (toothbrush dipped in baking soda and water mixture) and keep them free from build-up.
How Long Do the Spark Plugs Last?
The spark plugs on the Honda Fit should last 105,000 miles or 7 years according to Honda.
The Fit uses iridium/platinum tipped spark plugs and these are designed to last longer.
Signs of a fouled spark plug include:
Reduced gas mileage
Lack of acceleration
Rough idling
Hard starts
Engine misfires
What About Insurance Costs?
The average cost of full comprehensive coverage for a Honda Fit is $1,176 per year or around $98 per month.
Insurance costs can vary from person to person; be sure to shop around to find the best potential deal for your Honda Fit.
Tips to Prolong the Life of Your Honda Fit
Adopt smooth driving habits.
Follow the routine service intervals outlined in the owners manual.
Have your car maintained by a reputable Honda specialist.
Use quality parts and fluids.
Address repairs asap to prevent bigger problems arrising.
Regularly wash your Honda Fit to keep rust at bay.
Check fluid levels and tire pressures regualry.
Sources