The X5 is a mid-size luxury crossover SUV produced by German automakers BMW.
The X5 kick-started the craze for sportier SUVs that felt more like cars to drive – sacrificing a bit of ruggedness and off-roading ability in favor of better handling, enhanced ride comfort and a smarter interior.
In this article we break down exactly how many years of service you can expect from the X5.
Read on to find out more…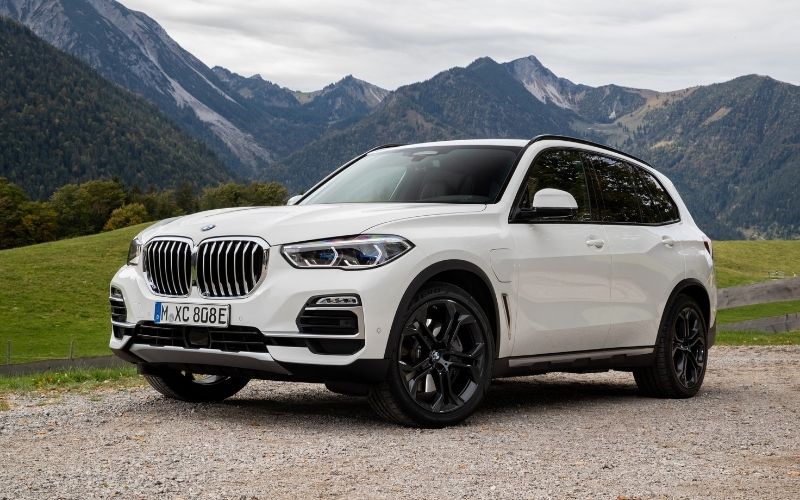 Here is the short answer to how long do BMW X5 last?
The BMW X5 can last on average between 150,000 to 200,000 miles, this is dependant on responsible use, conservative driving and proper maintenance. Based on driving 15,000 miles per year this equates to 10 -13 years of service before breaking down or requiring expensive repairs.
How Many Miles Can You Expect from a BMW X5?
The X5 was launched in 1995 and is currently in its fourth generation, a popular choice for families who do a lot of traveling the X5 has an extensive list of features, an expansive cabin, and boasts a powerful engine.
An X5 is expected to last between 150,000 to 200,000 miles – and with good care and maintenance, these numbers can be exceeded with some reports of X5's reaching 250,000 miles. However, as you approach the 200k mark, you can expect to get some expensive repair bills coming your way.
BMW has developed somewhat of a reputation over the years for producing expensive unreliable vehicles, this might be a bit unfair though on the German automakers…
In 2018, a reliability study was conducted by J.D. Power on over 500,000 vehicles to determine which vehicles on the market could accrue the most mileage, without it resulting in costly repairs.
To many people's surprise, BMW ranked in 8th position out of 29 brands, coming out on top over luxury automakers like Mercedes-Benz, Porsche, Acura, and Lincoln.
For many X5 owners, though reliability isn't their main priority and are more interested in a car that looks good and has excellent performance, and on these fronts the X5 delivers.
X5's are not terribly unreliable however they do have their share of problems, with some generations notably better than other.
To prolong the life of your BMW, follow a regular maintenance schedule, this includes checking oil and fluid levels and making sure tires are at the right pressure.
It's important to get your BMW serviced regularly around every 5,000 to 7,500 miles or at least once a year, but there is no harm in visiting your service center a little early.
Regularly servicing your BMW is one of the most important things you can do for your vehicle's health.
How Soon Should You Expect Rust on a BMW X5?
Rusting isn't an issue heavily associated with the X5, however reports of rusting aren't uncommon.
You could expect to see some degree of rusting within the first 4 years of ownership, with common problem areas along the bottom edge of doors, the edges of the hood and under the hood.
Residents of States in the Salt Belt or those living by the coast are at an increased risk of rusting due to the amount of salt there cars will be exposed to.
Salt buildup on vehicle surfaces is corrosive, and the sand, dirt and snow that accumulate can trap moisture in wheel wells and underbody structures.
During the winter months, when the roads are salty, it's important to make time to give your car a good clean. If you can afford it, pay to have the car professionally cleaned.
Prevention is key.
Related: 8 Most Common BMW X5 Problems (Explained)
What is High Mileage for a BMW X5?
A BMW X5 with 100,000 miles is considered high mileage. This would make for a much riskier purchase due to a higher chance of electronic and mechanical faults occurring in the not too distant future.

Buying a used X5 with over 100k miles will not necessarily equate to a bad purchase, however it's essential to do a thorough background check and inspection of the vehicle.
A well-maintained X5 with 100,000 miles on the clock might be a better purchase than one with 60,000 miles that had lots of owners, led a rough life or was a prior rental car.
Quite a few BMW buyers will look for used vehicles in states (at least in the US) with little or no snow and moderate temperatures.
Full-service history is essential regardless of where the car has been driven, and you'll find a lot of people in forums who swear by their rule that they'll never buy a BMW out of warranty.
Owners will often trade their BMWs in when the vehicle's warranty expires.

Some important considerations to make:
Maintenance history. Check that the car was properly serviced and the owner can provide proof of this.
Get a second opinion: Have it inspected by an expert technician.
Check the CarFax. This doesn't guarantee anything but can help give a clearer picture of wear and tear. Make sure it has minimal damage, if any. Analyze the information to make sure if something did happen, it wasn't transmission related or mechanical.
Number of previous owners. As a general rule, less is better. More owners usually means more wear and tear. If one family owned it and drove the full 100k miles and had the car regularly serviced, then you can almost guarantee they took good care of it throughout ownership.
How long you are planning on keeping the car. If you're planning on keeping the car for a long time, you should evaluate whether the short-term savings outweigh spending a bit extra into something more reliable.
How Long Does the BMW X5 Last Compared to Similar Car Models?
Let's see how well the longevity of the BMW X5 holds up against some of its competitors.
BMW X5 vs. Mercedes-Benz GLE Class
BMW and Mercedes are two of the most famous German automakers in the world who share something of a brotherly rivalry in the luxury SUV class, both manufacturers have a variety of options.
Mercedes-Benz have replaced their old M Class with the new GLE. Being that the GLE is only 6 years old, there isn't much data on the car's entire longevity.
However, it is safe to conclude that the GLE will share roughly the same average lifespan as the M Class, reaching 200,000 to 250,000 miles with proper maintenance, slightly more than the X5. The GLE has an above average reliability rating of 3.5/5.0 compared to the X5's below average score of 2.0/5.0, according to Repair Pal.
The BMW X5 will cost slightly less to maintain compared to the GLE, costing $1,166 annually. While the GLE will cost an average of $1,194.
The X5 starts from $59,400 and the GLE is slightly less at $54,750.
Drivers looking for sportier drive modes and an emphasis on engagement should opt for the BMW X5.
While drivers focused mainly on luxury features and technology should look to the Mercedes-Benz GLE.
You may also be interested in our article: How Long Do Mercedes GLE Last?
BMW X5 vs. Porsche Cayenne
The Cayenne has been dubbed by Porsche as the world's first sports-car SUV.
The Cayenne is expected to last 150,000 to 200,000 miles with proper care and maintenance. Repair Pal gave the Cayenne a reliability rating of 1.5/5 which is below average and less than the 2.0/5.0 given for the X5.
It will set you back $1,231 per year in maintenance costs, compared to the $1,166 per year needed to maintain the X5.
Trim levels of the Porsche Cayenne offer increased power and performance, from the base model Cayenne all the way to the range-topping Cayenne Turbo S, a worthy opponent of the V8 BMW X5M Competition.
What the Porsche Cayenne has in superior speed and handling, it lacks in luxury features and creature comforts.
If you want the perfect balance of performance, luxury, and usability, the BMW X5 may be the way to go.
You may also be interested in our article: Porsche Cayenne in snow & winter driving
BMW X5 vs. Audi Q5
The Audi Q5 is a durable and practical luxury SUV. With an MSRP of $48,020, the Q5 is an affordable option in the luxury SUV category and is built to last an average of 150,000 to 200,000 miles. The Q5 has an average reliability rating of 3.0/5.0 compared to the X5's below average score of 2.0/5.0, according to Repair Pal.
Although the Q5 and X5 share the same average lifespan, the Audi Q5 costs $238 less than the BMW X5 a year to maintain.
With an average maintenance cost of $928 per year, compared to BMW's $1,166 per year for the X5.
Despite being more affordable than most luxury SUVs, the Audi Q5 offers a wide range of safety features, luxury, and technology.
What the Q5 lacks in power and performance, it makes up for by offering excellent value for money.
You may also be interested in our article: How Long Do Audi Q5 Last?
Comparison Chart
X5
GLE
Cayenne
Q5
Annual Repair Cost
$1,166
$1,194
$1,231
$928
Repair Pal
Reliability Rating
2.0/5.0
3.5/5.0
1.5/5.0
3.0/5.0
Lifespan (miles)
150k-200k
200k-250k
150k-200k
150k-200k
How Reliable is a BMW X5?
Based on anecdotal evidence and research data, we can say the BMW X5 has average to below average reliability.
The BMW scores good consumer reliability ratings from J.D Power, averaging around 80/100. The RepairPal reliability rating is lower however, at 2.5 out of 5.0 which ranks it 11th out of 14 for luxury midsize SUVs.
J.D. Power reliability ratings based on year:
2021: Great 81/100
2020: Great 80/100
2019: Average 66/100
2018: Great 78/100
2017: Great 80/100
2016: Great 80/100
2015: Great 81/100
How Reliable is the BMW X5 Compared to Other Luxury SUVs
In this section we compare the X5 to the other luxury SUVs, this is based on data collected from Repair Pal.
As you can see, the X5 sits quite far down the taable.
Model
Reliability
Score
Lexus RX 450h
4.0/5.0
Acura MDX
4.0/5.0
Lexus RX 350
4.0/5.0
Infiniti FX35
3.5/5.0
Cadillac SRX
3.5/5.0
Lexus GX 640
3.5/5.0
Volvo XC70
3.5/5.0
Lincoln MKX
3.0/5.0
Volvo XC90
3.5/5.0
Audi Q5
3.0/5.0
Mercedes-Benz ML350
3.0/5.0
Mercedes-Benz ML550
2.5/5.0
BMW X3
2.5/5.0
BMW X5
2.0/5.0
Land Rover LR4
2.0
Porsche Cayenne
1.5/5.0
Average score for
Midsize Luxury SUVs
3.5/5.0
The Best and Worst Years of the BMW X5
An extensive list of data can be found on CarComplaints, making it easy to pinpoint the year models to avoid when looking for a BMW X5 on the used market.
The 2011 BMW X5 ranks as the worst year in the luxury SUV's history.
With the most number of total complaints and severe problems occurring at low mileage.
The biggest problem of the 2011 BMW X5 is stalling while driving. This has cost owners an average of $7,000 to repair, with an average mileage of just 64,000 when the problem occurs.
Other problems found in years 2008, 2009, 2012, and 2013 include:
Water leaks into interior
Transmission malfunction
Engine problems
Cooling system problems
Electrical problems
For those in the market for a BMW X5, the best model year with the least amount of complaints is 2017.
We can also recommend years 2018-present as being safe options to purchase.
Related: 23 Best & Worst BMW X5 Years (With Facts & Stats)
What About Recalls?
The BMW X5 has had it's fair share of recalls since it debuted in 2000.
Here is the full list of recalls:
2000: 6 recalls
2001: 12 recalls
2002: 4 recalls
2003: 4 recalls
2004: 5 recall
2005: 3 recalls
2006: 2 recalls
2007: 10 recalls
2008:10 recalls
2009: 13 recall
2010: 15 recall
2011: 14 recalls
2012: 12 recalls
2013: 6 recalls
2014: 4 recalls
2015: 4 recalls
2016: 2 recalls
2017: 3 recalls
2018: 3 recall
2019: 7 recall
2020: 6 recalls
BMW X5 Model Year List:
Here is the full list of model years and generations of the X5
First generation E53:
1999 BMW X5
2000 BMW X5
2001 BMW X5
2002 BMW X5
2003 BMW X5
2004 BMW X5
2005 BMW X5
2006 BMW X5
Second generation E70:
2007 BMW X5
2008 BMW X5
2009 BMW X5
2010 BMW X5
2011 BMW X5
2012 BMW X5
2013 BMW X5
Third generation F15, F85:
2014 BMW X5
2015 BMW X5
2016 BMW X5
2017 BMW X5
2018 BMW X5
Fourth generation G05:
2019 BMW X5
2020 BMW X5
2021 BMW X5
Is the BMW X5 Expensive to Maintain?
The BMW X5 has an above average maintenance cost of $1,166 per year, and an estimated average cost of $14,111 over a 5 year period.
BMW Ultimate Care offers free scheduled maintenance during the first 3-years/36,000 miles of ownership.
The vehicles carry a standard 4 year/50,000-mile warranty.
Model
Average Annual
Repair Cost
Frequency of
Unscheduled Repairs
Probability of
Severe Repairs
Lexus RX 450h
$540
0.5
7%
Acura MDX
$571
0.4
8%
Lexus RX 350
$550
0.4
8%
Infiniti FX35
$617
0.7
9%
Cadillac SRX
$703
0.4
15%
Lexus GX 640
$770
0.8
9%
Volvo XC70
804
0.6
10%
Lincoln MKX
$811
0.7
15%
Volvo XC90
$851
0.6
15%
Audi Q5
$928
1.2
9%
Mercedes-Benz ML350
$1,020
0.6
13%
Mercedes-Benz ML550
$1,084
0.8
16%
BMW X3
$1,034
0.8
14%
BMW X5
$1,166
0.8
17%
Land Rover LR4
$1,241
0.9
15%
Porsche Cayenne
$1,231
1.1
21%
Average score for
Midsize Luxury SUVs
$807
0.6
11%
You may also be interested in our article: is a BMW a good first car?
How Long Do the Brakes Last?
BMW X5 brake pads usually last between 30,000 and 70,000 miles.
Note that driving habits and off-road usage are a big factor in longevity of the brakes.
How Long Do the Tires Last?
The tires on the X5 can last up to 50,000-60,000 miles depending on usage.
Factors affecting the longevity of your tires include roadway conditions, driving style, braking habits, weather conditions, and frequency of driving.
How Long Does the Transmission Last?
The BMW X5 transmission is expected to last well over 100,000 miles
Fix any problem immediately and follow recommended service intervals to keep things running smoothly.
How Long Do Spark Plugs Last?
BMW spark plugs are designed to last up to 80,000 miles.
What About Insurance Cost?
The average insurance costs for a BMW X5 is $178 per month, or $2,136 annually.
Please also read our article: Where are BMW X5 made
Tips to Prolong the Life of Your BMW X5
Avoid aggressive driving, use controlled acceleration and braking
Keep up with scheduled maintenance
Rinse / wash salt off as soon as possible
Check engine oil once every 2 weeks and top up fluids regularly
Check your tire pressures
Keep vehicle weight down (don't overload your vehicle)
Consider rust proofing
Resources
https://www.carcomplaints.com/BMW/X5/
https://www.autotrader.com/cars-for-sale/bmw/x5
https://www.cargurus.com/Cars/l-Used-BMW-X5-d393
https://www.jdpower.com/cars/2011/bmw/x5
https://enginepatrol.com/where-are-bmw-x5-made/
https://enginepatrol.com/bmw-x5-snow-winter-driving/
https://enginepatrol.com/bmw-good-first-car/
https://enginepatrol.com/how-long-bmw-x4-last/
https://enginepatrol.com/how-long-bmw-x6-last/
https://www.bmwusa.com/vehicles/x-models/x5/sports-activity-vehicle/overview.html
https://enginepatrol.com/suv-long-distance-driving-road-trips/
https://enginepatrol.com/how-long-audi-q8-last/