The Chevrolet Equinox is a compact SUV introduced to the North American market in 2005.
It is a solid SUV with car-like driving dynamics, tons of interior space, high-tech features, and head-turning styling.
The Equinox is the second-best-selling compact SUV in the US, and it is also General Motors' most popular SUV on sale.
In this article, we'll take a closer look at the Equinox's average lifespan…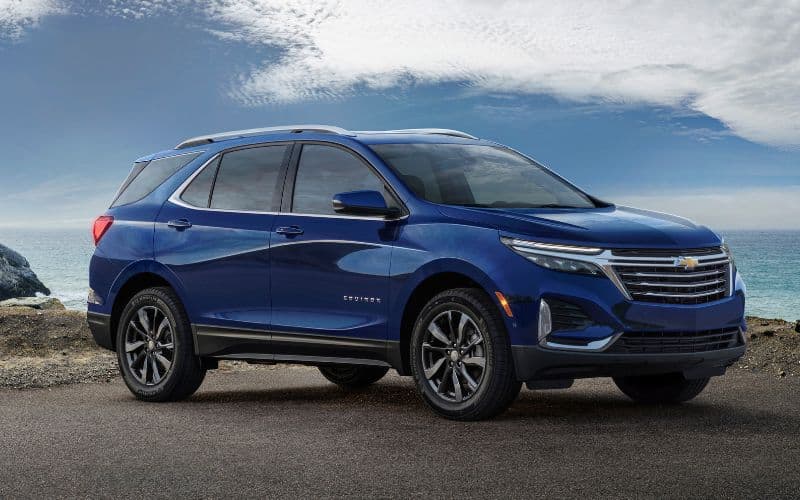 Here is the short answer to how long a Chevrolet Equinox will last:
The Chevrolet Equinox will last on average between 200,000 – 250,000 miles when it is regularly serviced and carefully maintained. Based on driving 15,000 miles per year, a Equinox will last between 13 – 17 years before requiring expensive repairs or breaking down.
How Long Do Chevrolet Equinox Last:
The Chevrolet Equinox has been around long enough to get a good idea on their longevity, and it's safe to say they can last a very long time.
Testament to this is the plentiful number of early models still on the roads today.
According to a recent survey of owners of 3-year-old Chevrolet Equinox's carried out by J.D. Power, it found that this vehicle had the lowest problems than any other compact SUVs, giving the Equinox the highest ranking in the class for dependability.
When looking up Equinox's on used car marketplaces such as Car Gurus and Autotrader, you'll find models with over 250,000 miles on the odometer – some even surpassing 300,000 miles.
Despite this research and reports of good reliability, there are no guarantees that any vehicle can reach that mileage without at least some hiccups along the way.
One owner of an Equinox posted their ownership experience on the forum GM-Trucks.com:
"I have a 2009 equinox 6 cyl and it has 250,000 miles and still driving it. My daughter has a 4 cyl and has had no issues. But we do make sure we do regular maintenance on them as well."
Here's what another Equinox driver had to say:
"My employer has given me 2 of them to drive for work since 2010. My first one was a 2010, V6, AWD. I drove it up to about 215,000 miles and it ran just as well at the end as it did brand new."
An Equinox in good order can last between 200,000 – 250,000 miles and more, provided it has been well-maintained and driven conservatively. Of course, there are complaints and problems although it has proven it has the potential to hit big numbers on the odometer.
The most common tips for ensuring the longevity of your Equinox are to:
Change engine oil regularly
Perform routine maintenance
Use smooth driving habits
Fix repairs ASAP to prevent them from turning into more significant problems
New Chevrolet Equinoxs come with a 3 year / 36,000 mile basic warranty and a 5 year / 60,000 mile powertrain warranty.
Common Problems of the Chevrolet Equinox
A car's longevity can be affected by its problems; listed below are what Equinox owners have had to deal with.
1. Excessive oil consumption
The most common – and biggest – problem of the Chevrolet Equinox is excessive oil consumption. This problem affected the 2013 model year the most.
Excessive oil consumption may result in damaged piston rings and total engine failure if the issue is not rectified timeously.
It is Chevrolet Equinox's 2.4-liter Ecotec engine that uses an abnormally high volume of oil, and this problem doesn't seem to affect the other engines offered in the Equinox's model line-up as severely as this one.
While the 2013 model year has the most complaints about this problem, keep an eye out for the 2010 through 2013 model years for this issue.
Ensure that the engine always has adequate oil; check the oil regularly and especially before long trips to avoid damage to the engine.
2. Fuel pump failure
A faulty fuel pump is the most common problem that was reported and complained about by owners of the 2013 model year Chevrolet Equinox.
The good news is that this isn't an overly expensive part. While replacing the fuel pump, also consider changing the fuel filter at the same time; once again, it isn't a costly replacement item.
Signs of a fouled fuel pump:
Whining noise from the engine bay.
Stuttering feeling when under acceleration.
Trouble starting the engine.
Engine won't start.
3. A/C compressor failure
Numerous model-year Chevrolet Equinox have suffered from A/C compressor failure, and this was the third most commonly reported problem by Equinox owners. The A/C system was unable to cool the air, instead sending warm air into the cabin.
The problem is resolved by replacing the A/C compressor. It is best to consult your trust mechanic should this problem strike your Equinox.
Symptoms of a problematic A/C Compressor:
The A/C blows warm air into the cabin instead of cold air.
A rattling noise from the front of the engine bay.
A high-pitched whining sound from the engine's serpentine belts.
4. Check Engine Light is on
Chevrolet Equinox owners complained of erratic flashing Check Engine Lights indicators.
A flashing Check Engine Light is usually a problem that immediately has most drivers panicked – and rightfully so.
It is a warning that something under the vehicle's hood is amiss and that it requires urgent attention.
For the Chevrolet Equinox, this seems to be a recurring and common problem for every generation of its production life.
While there are many reasons that a Check Engine Light may begin to flash, for Equinox owners, it became an irritation: no faults were found after taking their vehicle to a mechanic.
Mechanics usually clear the fault code, and some charge a diagnostic fee.
Related: 11 Most Common Chevrolet Equinox Problems (Explained)
What is High Mileage for a Chevrolet Equinox?
High mileage for a Chevrolet Equinox is around 150,000 miles, even though this compact SUV may still have plenty of life left, it will more than likely require repairs and higher levels of maintenance due to the age and wear and tear of the vehicle.
Buying a used Chevrolet Equinox with high mileage won't necessarily equate toa bad purchase.
It really depends on how well it's been looked after and maintained.
When looking to buy a second-hand Equinox, it is more important to assess the vehicle's overall condition than worry about its odometer reading.
When buying a used Equinox, consider the following factors:
Service history. Check that the vehicle was adequately serviced and that the owner has documented evidence.
Take it for a test drive. Ask the seller to leave the car cold; this way, you'll see how easily it starts up, and you can listen for any strange engine, transmission or exhaust noises.
Check for rust. Rust is a known factor for all makes and models; you must check the Equinox for any rust. If left untreated, the rust will spread.
Previous owners. More owners usually equate to more wear and tear issues. As a general rule, fewer owners are better.
Examine the interior. The condition of the interior tells the story of how well the vehicle was maintained and cared for.
Chevrolet Equinox Longevity Compared to Similar Compact SUVs
In this section, we'll compare the Equinox to some of its rivals in the compact SUV class.
Chevrolet Equinox vs. Honda CR-V
The Honda CR-V is a compact SUV by Japanese automaker Honda. It is one of the best-selling SUVs worldwide.
It is highly renowned for its durable engines, advanced safety systems, and spacious interiors.
The Honda CR-V can typically last between 250,000 – 300,000 miles, which is slightly longer than the expected lifespan of the Chevrolet Equinox.
| | | |
| --- | --- | --- |
| | Chevrolet Equinox | Honda CR-V |
| RepairPal Reliability Rating | 3.5 / 5.0 | 4.5 / 5.0 |
| RepairPal Reliability Ranking | 23rd / 26 compact SUVs | 2nd / 26 compact SUVs |
| Average Annual Repair Cost | $537 | $386 |
The Honda CR-V beats the Chevrolet Equinox in terms of reliability and average annual repair costs.
The longevity and reliability of the Honda CR-V make it hard to walk away from as a potential used vehicle purchase.
Having said that, the gap between the two compact SUVs isn't as large as the numbers may suggest.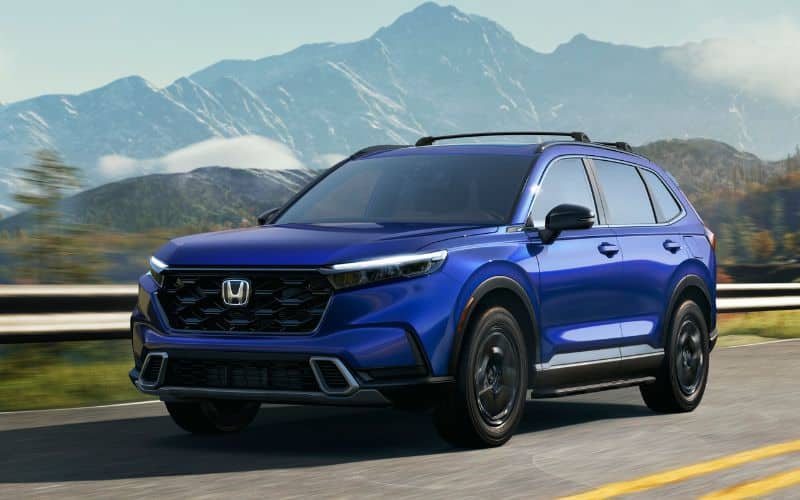 Related: How Long Do Honda CR-Vs Last? (12 Important Facts)
Chevrolet Equinox vs. Volkswagen Tiguan
The Volkswagen Tiguan is a sporty and fun-to-drive compact SUV.
It has been available on the North American market since 2009 and has quickly become VW's top-selling model.
The Tiguan can usually last between 150,000 – 200,000 miles, which is less than the Equinox's expected lifespan.
| | | |
| --- | --- | --- |
| | Chevrolet Equinox | Volkswagen Tiguan |
| RepairPal Reliability Rating | 3.5 / 5.0 | 3.0 / 5.0 |
| RepairPal Reliability Ranking | 23rd / 26 compact SUVs | 26th / 26 compact SUVs |
| Average Annual Repair Cost | $537 | $730 |
In this matchup, the Volkswagen Tiguan might have the sharper styling and slicker technology, but the Chevrolet Equinox's reliability and longevity outstrip that of the Tiguan.
The Tiguan is also far more expensive than the Equinox, which means that the Equinox is the clear winner for a dependable family vehicle.
Related: How Long Do Volkswagen Tiguan Last? (Complete Guide)
Chevrolet Equinox vs. Toyota RAV4
The Toyota RAV4 has been available in the United States since 1996, and its popularity has grown with each model year since.
It is the first compact SUV ever, and it continues to lead in driving characteristics, reliability, and quality.
The RAV4 can on average last between 250,000 – 300,000 miles, which is slightly more than the Equinox's expected longevity.
| | | |
| --- | --- | --- |
| | Chevrolet Equinox | Toyota RAV4 |
| RepairPal Reliability Rating | 3.5 / 5.0 | 4.0 / 5.0 |
| RepairPal Reliability Ranking | 23rd / 26 compact SUVs | 3rd / 26 compact SUVs |
| Average Annual Repair Cost | $537 | $429 |
The Chevrolet Equinox and Toyota RAV4 are similarly matched in terms of specifications, but the RAV4 edges ahead of the Equinox with its lower annual average repair costs and higher reliability rating.
For buyers of second-hand compact SUVs, the Toyota RAV4's longevity and reliability would make it the better buy.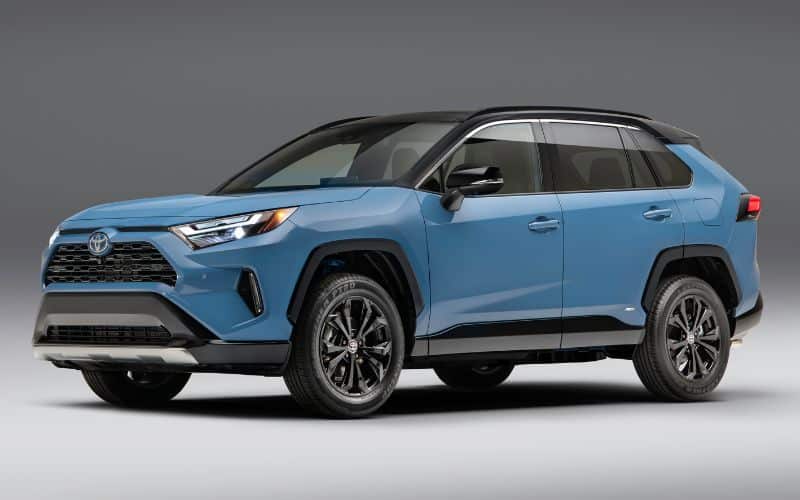 Comparison Chart
| | | | | |
| --- | --- | --- | --- | --- |
| | Chevrolet Equinox | Honda CR-V | Volkswagen Tiguan | Toyota RAV4 |
| Annual Repair Cost | $537 | $386 | $730 | $429 |
| Reliability Rating | 3.5 / 5.0 | 4.5 / 5.0 | 3.0 / 5.0 | 4.0 / 5.0 |
| RepairPal Rank | 23rd / 26 | 2nd / 26 | 26th / 26 | 3rd / 26 |
| Lifespan (Miles) | 200k-250k | 250k-300k | 150k-200k | 250k-300k |
Chevrolet Equinox Reliability
The Chevy Equinox is a dependable compact SUV, and it has knocked up solid reliability scores from automotive review websites in recent years. Generally speaking the most reliable models are from 2016 onwards as prior to this the Equinox had its fair share of engine problems.
If you're buying a used Equinox then the vehicle's reliability is also heavily dependent on how well its previous owner(s) took care of it.
Detailed below are the Equinox's reliability scores:
Consumer Reports gave the Equinox an average reliability rating of 3 / 5.
J.D. Power gave the Equinox a quality and reliability score of 85 / 100.
Kelley Blue Book gave the Equinox a reliability score of 4.1 / 5.0.
RepairPal ranked the Equinox 23rd out of 26 compact SUVs for reliability, with a score of 3.5 / 5.0.
Commonly reported Chevrolet Equinox problems include:
Excessive oil consumption
Fuel pump failure
AC compressor failure
Check engine light
To maximize the reliability of your Equinox be sure to have it regularly serviced and use smooth driving habits.
Related: Chevrolet Equinox Beeping? (8 Causes & Solutions)
How Reliable is the Chevrolet Equinox Compared to Other Compact SUVs?
Source: Repair Pal
Best and Worst Years of the Chevrolet Equinox
In this section, we'll take a look at the best and worst model years of the Chevrolet Equinox.
Worst Model Years
The worst model years of the Equinox are 2015, 2014, 2013, 2012, 2011, 2010, 2007, 2006, and 2005 according to the number of complaints reported on CarComplaints and CarProblemZoo. The worst of the bunch is the 2013 model.
The 2013 model year's biggest problem was engine problems, specifically excessive oil consumption problems.
Here's how one owner described the problem:
"It's horrible! It's cost me to keep paying for tune-ups and cause other components to fail. Getting oil changed twice a month. Have to keep putting oil in the truck, but you won't ever see oil in your carport. Oil light never comes on. This has made me lose so money on this truck."
Best Model Years
The best Chevrolet Equinox model years are 2023, 2022, 2021, 2020, 2019, 2017, 2016, and 2009.
These Equinox model years have the lowest number of reported faults.
We'd advise going for the more recent models as they have the latest tech and safety features.
Related: 16 Best & Worst Chevrolet Equinox Years (With Facts & Stats)
Chevrolet Equinox Recalls
The Chevrolet Equinox has had a total of 38 recalls since 2005.
You can check if your Chevrolet Equinox has been subjected to a recall campaign by entering your car's VIN (Vehicle Identification Number) on the NHTSA website.
Recalls are safety-impacting, manufacturer faults repaired at no charge to the consumer.
Chevrolet Equinox recalls, according to the NHTSA's records:
2005 Chevrolet Equinox: 1
2006 Chevrolet Equinox: 0
2007 Chevrolet Equinox: 4
2008 Chevrolet Equinox: 0
2009 Chevrolet Equinox: 0
2010 Chevrolet Equinox: 3
2011 Chevrolet Equinox: 3
2012 Chevrolet Equinox: 3
2013 Chevrolet Equinox: 2
2014 Chevrolet Equinox: 1
2015 Chevrolet Equinox: 2
2016 Chevrolet Equinox: 1
2017 Chevrolet Equinox: 0
2018 Chevrolet Equinox: 5
2019 Chevrolet Equinox: 4
2020 Chevrolet Equinox: 3
2021 Chevrolet Equinox: 2
2022 Chevrolet Equinox: 3
2023 Chevrolet Equinox: 1
Chevrolet Equinox Generations and Model Years
First Generation (2005 – 2009)
2005 Chevrolet Equinox
2006 Chevrolet Equinox
2007 Chevrolet Equinox
2008 Chevrolet Equinox
2009 Chevrolet Equinox
Second Generation (2010 – 2017)
2010 Chevrolet Equinox
2011 Chevrolet Equinox
2012 Chevrolet Equinox
2013 Chevrolet Equinox
2014 Chevrolet Equinox
2015 Chevrolet Equinox
2016 Chevrolet Equinox
2017 Chevrolet Equinox
Third Generation (2018 – present)
2018 Chevrolet Equinox
2019 Chevrolet Equinox
2020 Chevrolet Equinox
2021 Chevrolet Equinox
2022 Chevrolet Equinox
2023 Chevrolet Equinox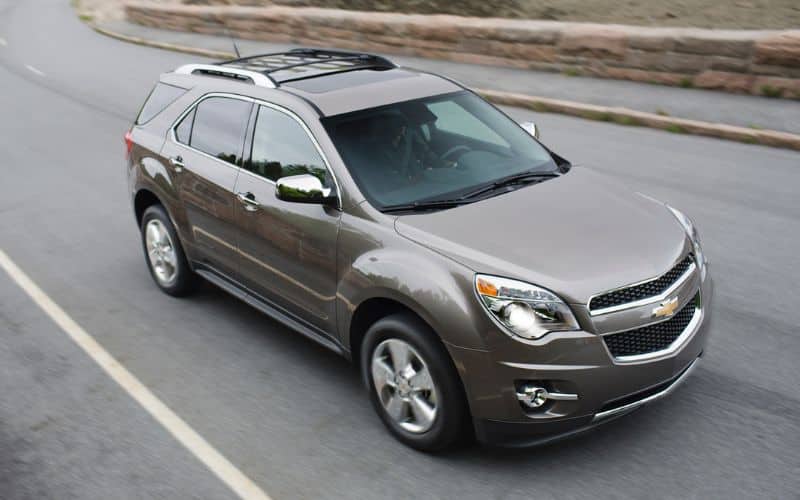 Maintenance Costs
The Chevrolet Equinox is a reasonably affordable compact SUV to own, its reliability and maintenance costs are average for the segment. RepairPal estimates the Equinox's average yearly repair cost to be $537, while the sector's average is $521.
For comparison's sake, the average annual repair cost across all makes and models of vehicles in the United States is $652.
Model
Avg. Annual Repair Cost
Frequency of
Unscheduled Repairs
(per year)
Probability of
Severe Repairs
Subaru Crosstrek
$492
0.1
7%
Honda CR-V
$407
0.3
9%
Toyota RAV4
$429
0.3
10%
Nissan Rogue Select
$436
0.3
10%
Hyundai Tucson
$426
0.3
10%
Kia Sportage
$462
0.2
11%
Mitsubishi Outlander Sport
$498
0.3
10%
Mitsubishi Outlander
$519
0.3
11%
Jeep Cherokee
$420
0.2
12%
Mazda Tribute
$523
0.3
11%
Jeep Compass
$526
0.3
11%
Kia Sorento
$533
0.3
11%
Nissan Rogue
$467
0.3
12%
Honda Element
$491
0.6
10%
Jeep Patriot
$596
0.3
12%
Ford Escape
$600
0.3
11%
Subaru XV Crosstrek
$631
0.4
11%
Nissan Xterra
$514
0.3
14%
Chevrolet Captiva
$585
0.3
13%
Nissan Murano
$507
0.5
14%
Subaru Forester
$632
0.4
13%
GMC Terrain
$558
0.3
17%
Chevrolet Equinox
$537
0.3
18%
Fiat 500L
$640
0.2
17%
Jeep Wrangler
$694
0.3
16%
Volkswagen Tiguan
$730
0.9
12%
Avg. Compact SUV
$521
0.3
11%
How Long Do Equinox Brakes Last?
The Chevrolet Equinox's brake pads can typically last between 30,000 – 70,000 miles. This depends mainly on driving style, traffic conditions, climate, and more.
A conservative driving style and smoother use of the brake pedal will help to maximize the lifespan of the brakes.
How Long Do Equinox Tires Last?
The Chevrolet Equinox's tires usually last between 45,000 – 60,000 miles or 3 – 4 years. However, they can wear out much sooner. Their lifespan depends on various factors, such as driving habits, climate, road conditions, and more.
Rotate tires every 5,000 miles to ensure even tire wear.
Check tire pressures regularly every two weeks to ensure they're at the optimum tire pressure.
Have a mechanic or tire shop check your wheel alignment every 6 months.
How Long Do Equinox Transmissions Last?
A Chevrolet Equinox's transmission can typically last over 200,000 miles, but the transmission's life can be maximized by regular maintenance, smooth driving habits and correct use of the parking brake.
Tip: Engage the parking brake after you park, but before you shift into 'Park' keep the pressure on the brake pedal until the parking brake is engaged, this will help reduce stress on the transmission.
How Long Do Equinox Spark Plugs Last?
Chevrolet mechanics recommend that Equinox's spark plugs are changed every 60,000 miles.
It is recommended that the spark plugs are inspected every time you take your Equinox in for a tune-up at your local mechanic.
Signs of fouled spark plug include:
Reduced gas mileage
Lack of acceleration
Rough idling
Hard starts
Engine misfires
How Long Do Equinox Engines Last?
A typical Chevrolet Equinox engine can usually last 200,000 miles or more before they're expected to suffer problems. Proper care and preventative maintenance will ensure Chevrolet Equinox engines can last a very long time.
You'll find many examples of Chevrolet Equinox with much higher mileages than 200,000 miles on used car marketplaces, underlining this model's robust engines.
How Long Do Equinox 12V Batteries Last?
The Chevrolet Equinox's 12V battery usually lasts for 3 – 5 years, but this varies greatly depending on several factors, such as battery size, weather conditions, driving habits, the condition of the battery, and more.
Keep your battery tightly fastened: The vibrations of the Equinox can loosen the connections, potentially resulting in short circuits and internal damage.
Limit short rides: Quick car rides prevent the battery from fully charging.
Storage: Keep your Equinox stored in a garage, away from extreme temperature changes.
Control corrosion: Clean the terminals (toothbrush dipped in baking soda and water mixture) and keep them free from build-up.
What are the Insurance Costs for a Chevrolet Equinox?
The average cost of full insurance coverage for a Chevrolet Equinox is $1,424 per year or $119 per month.
The average annual cost across all compact SUVs is $1,426 a year.
Insurance costs can vary greatly, so be sure to shop around to find the best possible deal for yourself.
How to Get the Most Life From Your Chevrolet Equinox
Follow the maintenance schedule outlined in the owner's manual
Have recalls and repairs addressed ASAP
Use your Chevrolet Equinox's air-conditioning system
Replace spark plugs regularly
Use quality parts
If possible, keep the vehicle stored in a garage, out of the elements
Invest in ceramic paint protection to keep the car looking new
Drive smoothly and conservatively
Check the tire pressure regularly and rotate the tires
Sources:
https://www.cargurus.com/Cars/l-Used-Chevrolet-Equinox-d616
https://repairpal.com/reliability/chevrolet/equinox
https://www.consumerreports.org/cars/chevrolet/equinox
https://www.jdpower.com/cars/2021/chevrolet/equinox
https://www.kbb.com/chevrolet/equinox/
https://www.carcomplaints.com/Chevrolet/Equinox/
https://www.carproblemzoo.com/chevrolet/equinox/
https://insuraviz.com/vehicles/chevrolet/chevrolet-equinox-insurance/