The Cadillac Escalade is a full-size luxury SUV manufactured by General Motors and released in 1999.
Widely regarded as the king of luxury SUVs, the Escalade comes standard with a 6.2L V8 pushing out 420hp and features high-end technology such as augmented reality navigation, infra red night-vision mode, and curved infotainment and gauge display screens.
In this article, we'll take a look at how many years of service you can expect from the Cadillac Escalade.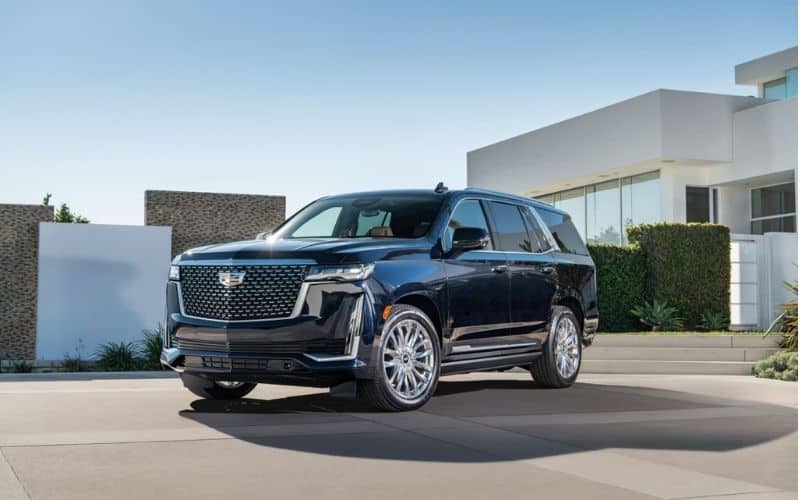 Here is the short answer to how long do Cadilac Escalades Last:
The Cadillac Escalade has an estimated lifespan of 200,000 miles. Based on the average annual mileage of 15,000 miles, the Escalade can last 13 years. This is provided that the vehicle is well looked after, the factory maintenance schedule is adhered to and good driving habits are adopted.
How Many Miles Can You Expect from a Cadillac Escalade?
Without doubt, the Cadillac Escalade is a durable vehicle which owners can certainly expect a decade of use from. However, with due care and attention there is no reason why this couldn't be surpassed.
There are some anecdotal reports of Escalades reaching 300,000 miles on the clock, however most do fall short of this milestone and will either break down or need expensive repairs before reaching such mileage. On average though, we would suggest a lifespan of 200,000 miles is reasonable.
As with any vehicle, longevity reports can vary greatly depending on a number of factors.
Primarily these include maintenance and driving habits, ultimately it is down to the owner to get the most life from their car.
It's important to note that the more stress a vehicle's engine is put under the faster components accumulate wear and tear, with this in mind be sure to tow within the vehicle's 7,500 to 7,700 lbs towing limit and drive as smoothly as possible.
In order to get the most life out of your Escalade:
Adopt good driving habits
Learn basic maintenance tasks such as topping up of fluids and checking tire pressures
Stay up to date with factory scheduled maintenance
How Soon Should You Expect Rust on a Cadillac Escalade?
Aside from a few problematic years, the Escalade has had a relatively low number of rust-related complaints compared to other American brands.
Undercarriage rust was a widespread problem on model years 2006, 2007, and 2008 of the Escalade. To a lesser extent, fender, brake rotor, and exhaust pipe rust has been reported throughout all model years with high mileage on them.
Although rust problems on the Escalade are few and far between, we still recommend investing in a ceramic coating upon purchase to prevent the onset of rust in the future.
Alternatively, rust-proofing sprays are widely available and are designed to protect your undercarriage and exposed metal parts.
Sprays form a layer to guard against moisture and air and help combat rust due to their anti corrosion properties.
For areas subject to heavy snowfall, such as the Salt Belt States and regions close to the sea, we recommend taking extra precautions to mitigate rust, primarily keeping the vehicle clean.
Salt buildup on vehicle surfaces is corrosive, and the sand, dirt and snow that accumulate can trap moisture in wheel wells and underbody structures.
Standard rust proofing and preventative measures to consider:
Regular car washes
Rustproofing sprays and treatment
Keeping the car's interior dry
Ceramic coatings
Storing the vehicle in a garage
How Long Does the Cadillac Escalade Last Compared to Similar Car Models?
The full-size luxury SUV market is a highly competitive segment of which the Cadillac Escalade is one of the most famous entries.
In this section, we'll see how the Cadillac Escalade stacks up against its rivals.
Cadillac Escalade vs. Land Rover Range Rover
The Range Rover is synonymous with luxury off roading and high performance engines.
However in terms of longevity, the Escalade gives Land Rover's benchmark SUV a run for its money by offering a superior lifespan.
With an average lifespan of 150,000 miles, the Range Rover offers roughly 10 years of service compared to the Escalade, which is expected to last 200,000 miles which equates to 13 years.
In terms of cost to maintain per year, the Cadillac Escalade is cheaper by a considerable margin.
With the Escalade and Range Rover costing $1,007 and $1,258 respectively, the difference between the two is a $251 which can certainly add up over the course of ownership.
The reliability scores of both SUVs are below average, with the Range Rover scoring 2.0 out of 5.0 and the Escalade scoring 2.5 out of 5.0 on RepairPal.
While neither vehicle can be considered reliable, the significantly lower entry-level price of the Escalade makes it the better value-for-money option.
Especially considering the tech and luxury features that rival and even surpass what is found in the Range Rover.
Cadillac Escalade vs. Chevrolet Suburban
When it comes to the American SUV market, few vehicles are as iconic as the Chevrolet Suburban and the Cadillac Escalade.
The Escalade has made its way into pop culture and modern hip-hop songs, while the Suburban is well respected for being one of the country's first full-size SUVs.
The two SUVs share an identical life expectancy of 200,000 miles or roughly 10 years. Both are also commonly reported to make it past 300,000 or more depending on maintenance and care.
Despite sharing the same average lifespan, the Chevrolet Suburban costs less to maintain on a yearly basis.
With an annual maintenance cost of $821, the Suburban will set you back $186 less than the $1,007 yearly maintenance of the Cadillac Escalade.
Given that both the Suburban and Escalade match up perfectly in terms of performance and hauling capacity, your budget will be the determining factor; as the Escalade starts at $70,000 which is nearly $15,000 more expensive than the Suburban which starts at $51,700.
Please also read our article: how long do Chevrolet Suburban last?
Cadillac Escalade vs. Lincoln Navigator
Both the Escalade and Navigator have been the go-to for celebrities, political figures, and other VIPs for over a decade.
These two iconic full-size luxury SUVs are built to last an average of 200,000 miles. Regardless of which one you choose, you can be sure to expect over 10 years of service.
Along with sharing identical lifespans, both SUVs cost almost the same to maintain per year, with the Escalade and Navigator costing $1,007 and $1,089 respectively.
The Lincoln Navigator and Cadillac Escalade are similarly unreliable, with both vehicles rated just 2.5 out of 5.0 on RepairPal.
When deciding between the Navigator and Escalade, the choice will come down to personal preference, brand bias, and even each SUVs gimmicky features.
How Reliable is a Cadillac Escalade?
The Cadillac Escalade offers luxury, comfort, hauling capacity, imposing design language, and superb longevity. However, when it comes to reliability, the Escalade is far from competitive.
RepairPal gives the Cadillac Escalade a below-average reliability score of 2.5 out of 5.0. Poor reliability coupled with above-average annual maintenance costs means that the Cadillac Escalade may set you back more money than you were originally expecting to spend.
However it should be pointed out, for many Escalade buyers reliability isn't high up on their criteria list – these SUV's are in high demand due to their luxury features and the high status associated with ownership.
Reliability Compared to Other Luxury SUVs
| | |
| --- | --- |
| Model | Reliability |
| Infiniti QX80 | 3.5 / 5.0 |
| Infiniti QX60 | 3.5 / 5.0 |
| Lincoln MKS | 3.0 / 5.0 |
| Infiniti JX35 | 3.0 / 5.0 |
| Lincoln Navigator | 2.5 / 5.0 |
| Cadillac Escalade | 2.5 / 5.0 |
| Lincoln MKT | 2.5 / 5.0 |
| Audi Q7 | 2.5 / 5.0 |
| Cadillac Escalade EXT | 2.5 / 5.0 |
| Land Rover Range Rover Sport | 2.5 / 5.0 |
| Mercedez-Benz R350 | 2.5 / 5.0 |
| Infiniti QX56 | 2.5 / 5.0 |
| BMW X5 | 2.0 / 5.0 |
| Cadillac Escalade ESV | 2.0 / 5.0 |
| Land Rover Range Rover | 2.0 / 5.0 |
| BMW X6 | 2.0 / 5.0 |
| Mercedes-Benz GL450 | 1.5 / 5.0 |
| Mercedes-Benz GL350 | 1.0 / 5.0 |
| Mercedes-Benz GL550 | 1.0 / 5.0 |
| Avg. Luxury Fullsize SUV | 2.5 |
The Best and Worst Years of the Cadillac Escalade
Despite having below average reliability numbers, the Cadillac Escalade has managed to maintain a relatively low number of complaints since its debut in 1999.
According to CarComplaints' extensive database, 2014 ranks as the worst model year of the Cadillac Escalade. A small number of owners reported ad extremely rough ride, with an average of $1,700 to repair, and an average of only 35,000 miles when the problem occurs. The 2014 Escalade was also awarded the worst model year for electrical problems.
Other problems found throughout the Escalade's lifetime include:
Exterior accessory problems
Engine problems
Transmission failure
Body/pain problems
Suspension failure
2018 – 2021 model years of the Cadillac Escalade have so far not had a single complaint listed on the Car Complaints database. Choosing one from this period would be the safest option when looking to purchase. We would suggest avoiding models from 2014 and 2018 to minimize any potential issues.
Below is a table compiled from data obtained from the Car Complaints website:
| | |
| --- | --- |
| Model Year | Number of Complaints |
| 2021 | 0 |
| 2020 | 0 |
| 2019 | 0 |
| 2018 | 0 |
| 2017 | 1 |
| 2016 | 7 |
| 2015 | 4 |
| 2014 | 2 |
| 2013 | 0 |
| 2012 | 1 |
| 2011 | 0 |
| 2010 | 3 |
| 2009 | 2 |
| 2008 | 10 |
What About Recalls?
The Cadillac Escalade has been entirely free of recalls in recent years.
A recall is issued when a manufacturer or the NHTSA (National Highway Traffic Safety Administration) deems that a vehicle or one or more of its components creates an unreasonable safety risk or does not meet minimum safety requirements – recall related problems are fixed free of charge.
To find out if your Escalade has been subject to a recall, you can use the GM recall search bar on the Cadillac website, by simply entering in your vehicle VIN number.
Here is the full list of recalls:
1999: 5 recalls
2000: 2 recalls
2002: 3 recalls
2003: 6 recalls
2004: 4 recalls
2005: 2 recalls
2006: 2 recalls
2007: 2 recalls
2008: 2 recalls
2009: 2 recalls
2010: 0 recalls
2011: 4 recalls
2012: 1 recalls
2013: 2 recalls
2014: 1 recalls
2015: 6 recalls
2016: 3 recalls
2017: 1 recall
2018: 0 recalls
2019: 0 recalls
2020: 0 recalls
Cadillac Escalade Model Year List:
Here is a full list of model years for the Cadillac Escalade:
First Generation: 1999 – 2000
1999 Cadillac Escalade
2000 Cadillac Escalade
Second Generation: 2002 – 2006
2002 Cadillac Escalade
2003 Cadillac Escalade
2004 Cadillac Escalade
2005 Cadillac Escalade
2006 Cadillac Escalade
Third Generation: 2007 – 2014
2007 Cadillac Escalade
2008 Cadillac Escalade
2009 Cadillac Escalade
2010 Cadillac Escalade
2011 Cadillac Escalade
2012 Cadillac Escalade
2013 Cadillac Escalade
2014 Cadillac Escalade
Fourth-Generation: 2015 – 2020
2015 Cadillac Escalade
2016 Cadillac Escalade
2017 Cadillac Escalade
2018 Cadillac Escalade
2019 Cadillac Escalade
2020 Cadillac Escalade
2021 Cadillac Escalade
Please also read our article: Where are Cadillac Escalade's made
Is the Cadillac Escalade Expensive to Maintain?
The Cadillac Escalade will cost an average of $1,007 a year to maintain, with an expected cost of $5,870 over a 5 year period. The average annual repair cost for luxury fullsize SUVs is $1,127 according to Repair Pal.
The Escalade comes with a 4 yr/50,000 mile basic warranty and a 6 yr/70,000 mile powertrain warranty should any unexpected issues occur within early ownership.
Model
Avg. Annual Repair Cost
Frequency of
Unscheduled Repairs (per year)
Probability of Severe
Repairs
Infiniti QX80
$718
0.7
8%
Infiniti QX60
$639
0.9
10%
Lincoln MKS
$886
0.6
15%
Infiniti JX35
$837
1.2
11%
Lincoln Navigator
$1,089
0.4
18%
Cadillac Escalade
$1,007
0.3
20%
Lincoln MKT
$996
0.6
19%
Audi Q7
$1,185
0.9
13%
Cadillac Escalade EXT
$940
0.6
21%
Land Rover Range Rover Sport
$1,179
0.7
16%
Mercedez-Benz R350
$1,153
0.6
18%
Infiniti QX56
$807
0.8
24%
BMW X5
$1,166
0.8
17%
Cadillac Escalade ESV
$1,127
0.5
22%
Land Rover Range Rover
$1,258
0.6
19%
BMW X6
$1,206
1.0
21%
Mercedes-Benz GL450
$1,293
1.2
20%
Mercedes-Benz GL350
$1,308
1.3
22%
Mercedes-Benz GL550
$1,295
1.5
23%
Avg. Luxury Fullsize SUV
$1,127
0.7
19%
How Long Do the Brakes Last?
Cadillac Escalade brake pads usually last between 30,000 and 40,000 miles.
How you drive your vehicle will play a big part in brake longevity. If you tend to do a lot of stop-and-go driving or are prone to heavy braking then your brakes will need frequent replacement.
Full and complete stops from a high speed are the biggest culprit of premature brake pad wear.
How Long Do the Tires Last?
Cadillac Escalade tires up to 3 years, which means an average of 50,000 miles given the 15,000 miles driven per year.
Maintaining the correct tire pressure will not only keep you safe it will also bolster your tire's lifespan, the correct pressure for your tires is usually located in the driver's door jamb.
To ensure even wear of your tires, have them rotated regularly as specified in the owner's manual or new-tire warranty guidelines, this is usually every 5,000 – 8,000 miles.
How Long Does the Transmission Last?
The transmission on the Cadillac Escalade is built to last between 150,000 to 200,000 miles without ever needing replacement, so long as a proper servicing schedule is followed.
Ensure fluid levels are topped up and fix any problems immediately to keep the transmission running smoothly.
How Long Do Spark Plugs Last?
Cadillac Escalade spark plugs are built to last between 30,000 miles before needing replacement.
Spark plugs are responsible for creating the spark that ignites the air/fuel mixture, causing the explosion which makes the engine produce power.
They are usually inspected and if needed, replaced when you go for a tune up.
What About Insurance Cost?
The average insurance costs for a Cadillac Escalade is $125 per month or $1,502 annually according to Finder.
Insurance costs can vary from person to person; be sure to shop around to find the best possible deal.
Tips to Prolong the Life of Your Cadillac Escalade
Keep up to date with factory scheduled maintenance.
Keep fluids topped up and check fluid levels regularly
Drive smoothly, use controlled acceleration and braking
Check your tire pressures at regular intervals
Check engine oil every two weeks
If possible, keep the vehicle stored in a garage, out of the elements
Use good quality parts and fluids
Invest in a ceramic coating to protect against contaminants and minor scratches
Consider all rust-proofing options
Wash the vehicle regularly particularly when encountering salt and snow
Confirm the weight of objects before attempting to tow them, do not overload your vehicle.
Resources
https://www.edmunds.com/cadillac/escalade/2019/cost-to-own/
https://www.carcomplaints.com/Cadillac/Escalade/2020/
https://repairpal.com/reliability/cadillac/escalade
https://www.hotcars.com/10-most-reliable-cars-400000-miles-5-that-wont-last-a-year/
https://www.cadillac.com/suvs/escalade
https://enginepatrol.com/suv-long-distance-driving-road-trips/